Sensoriamento para aplicações Logísticas
N4300 Series 1D Scan Engines
Only laser engine with built-in object detection for hands-free applications. Achieves highest reading accuracy among available laser scanner engines
Geral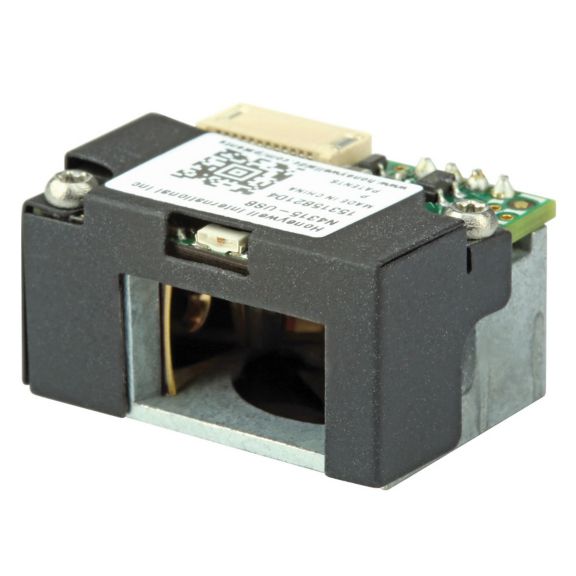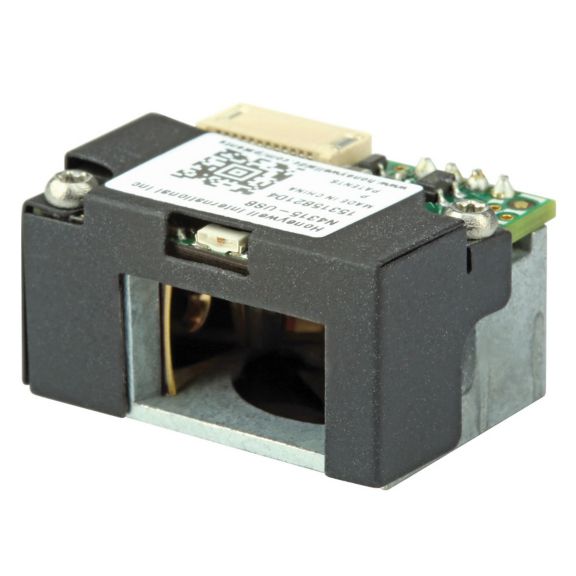 From a leading provider of OEM scanning solutions, the N4300 series offers high levels of performance and reliability for OEM customers and end users. The N4300 series achieves the highest reading accuracy among available laser scanning engines and can scan poor quality codes quickly and easily. And it's the only laser engine that includes built-in object detection for hands-free applications.
Designed from the ground up with Honeywell's patented technologies, the N4300 series meets our strict quality standards. Unlike competing engines, the N4300 brings high performance scanning and unique capabilities to a wide range of applications, from mobile computers to scanners, kiosks and other self-service devices.
The Smart Pick List mode improves targeting accuracy when scanning one barcode that's surrounded by other codes and the TTL model supports full duplex RS232 communication at a higher max baud rate, providing more flexibility and faster data communication than competitor products.
The N4300 series delivers aggressive barcode scanning performance with a standard form factor and interface. Whether you're upgrading existing devices or adding a scanning solution to a new application, you'll find N4300 series engines easy to integrate, offering a durable, electrically grounded metal chassis and standard mounting hole locations.
Features
Compact and lightweight: Delivers a standard form factor and communication for easy integration, even in tight spaces
Metal chassis: Provides durability with a grounded metal case, single board design, non-ZIF connector and shock protection up to 2,000 G
Built-In object detection: Facilitates hands-free operation, eliminating the cost of adding external object detection on the host
Advanced decoding technology: Offers lowest misread rate compared to competing laser engines: configurable decoding security levels eliminate costly reading errors on hard-to-read poor quality codes
Smart Pick List: Program the device to read only bar codes found at the center, or any other location on the scan line, improving targeting accuracy
SR and HD available: We provide both SR (standard range) and HD (high density) versions, to meet multiple applications with vertical focus
Ficha Técnica
Nome
Descrição
Tamanho do arquivo
Data
Tamanho
N4300 Series 1D Scan Engines Datasheet
application/pdf 257.77 KB
9/2/2021
257.77 KB
Manuais e guias
Nome
Descrição
Tamanho do arquivo
Data
Tamanho
Optical Sensing Pocket Guide
application/pdf 2 MB
10/1/2021
2 MB
N431X User's Guide
application/pdf 1.43 MB
9/2/2021
1.43 MB
Optical Sensing Pocket Guide --
application/pdf 2.56 MB
11/1/2022
2.56 MB
instruções de instalação
Nome
Descrição
Tamanho do arquivo
Data
Tamanho
N4300 Installation Guide
application/pdf 195.38 KB
9/9/2021
195.38 KB
Folheto
Nome
Descrição
Tamanho do arquivo
Data
Tamanho
Work Smarter With Honeywell Logistic Sensing --
application/pdf 4.07 MB
11/23/2022
4.07 MB
Foto do produto
Nome
Descrição
Tamanho do arquivo
Data
Tamanho
N4300 Series 1D Scan Engine Highres Photo
image/jpeg 192.08 KB
9/2/2021
192.08 KB
N4300 Series 1D Scan Engines Product Photo
application/zip 216.96 KB
9/2/2021
216.96 KB
N4300 Series 1D Scan Engine Lowres Photo
image/jpeg 29.54 KB
9/2/2021
29.54 KB
Nome
Descrição
Tamanho do arquivo
Data
Tamanho
Nome
Descrição
Tamanho do arquivo
Data
Tamanho