General Purpose Gloves
NorthFlex Cold Grip Plus 5™
Cold Weather Performance with double the protection! Cold Grip Plus 5 provides a high-level of cut, slash as well as cold weather protection.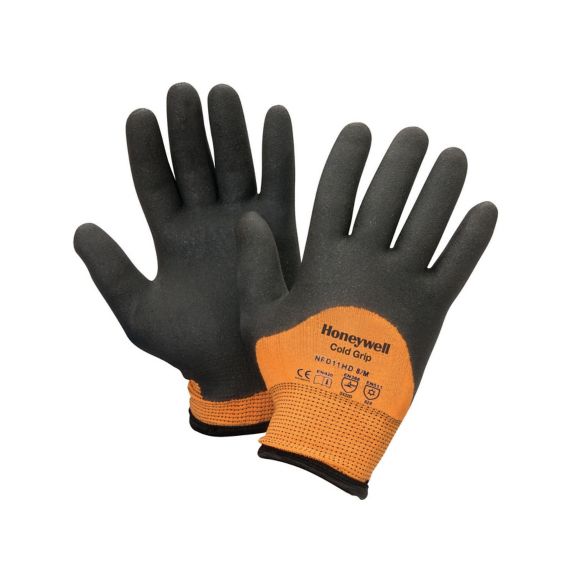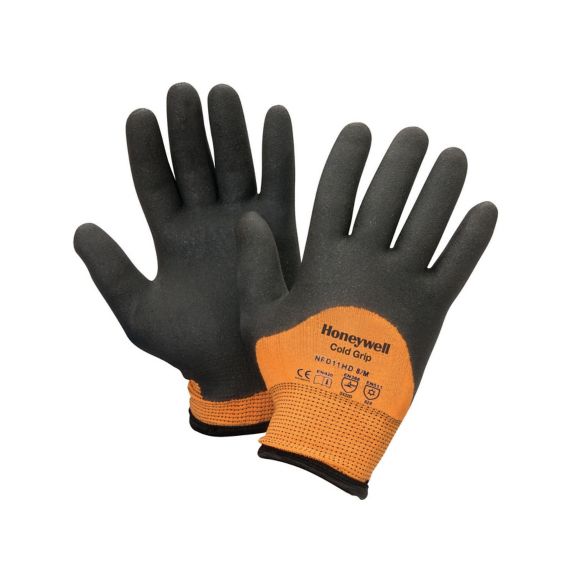 Key Features
Double layer construction provides a high-level cut-resistant outer shell and thermal inner

Outer shell is a 15 gauge seamless knit, lightweight and thin for excellent dexterity

Foamed PVC coating has excellent abrasion resistance and grip to help keep hands from slipping over surfaces in wet or dry environments

High-visibility orange shell increases worker awareness in low-light environments

PVC coating extends over knuckles to help prevent liquid penetration as well as add protection from knuckle abrasions

Thermal interior is soft and provides extra cushion for palms of hand

Gloves retain flexibility, even at low temperatures

Recommended for temperatures down to -15° F (-26° C)

EN511 Level 0 permeability to water (Level 0 = water permeation after 30 minutes)

ANSI cut level A4 and EN511 level 2 resistance to contact cold

Recommended Industries/Use
Agriculture
Construction
Food Services
Manufacturing
Steel and Metals

Hazards
Abrasion
Cut / Puncture
Thermal

Regulations
ANSI/ISEA 105 - ASTM D3389-05 Abrasion Test
ANSI/ISEA 105 - ASTM F1790-97 Cut Test
EN388 - Mechanical risks from abrasion, cut, tear and puncture
EN420 - General Requirements - This standard defines the general requirements for protective gloves in terms of construction, fitness of purpose and safety.
OSHA Standard -29 CFR 1915.157 - The employer shall ensure that each affected employee uses appropriate hand protection and other protective clothing where there is exposure to hazards such as skin absorption of harmful substances, severe cuts or lacerations, severe abrasions, punctures, chemical burns, thermal burns, harmful temperature extremes, and sharp objects.

Warranty Information
LIMITED WARRANTY. Except for any warranty for a particular product or part specifically stated in our product literature, we warrant all goods sold under this agreement against defects in materials and workmanship for one year from shipment. In the event of such defects, we will, at our sole option and as your exclusive remedy, repair or replace the defective product without charge, or refund the price you have paid. In order for this warranty to be effective, you must notify us within 15 days of discovery of the defect. you must return the defective product to us within the warranty period, properly packaged and with insurance and transportation costs prepaid. We will reship the product to you at our expense in the United States. Products will conform to Honeywell published specifications if properly used and maintained and will be free from defects in materials and/or workmanship. no changes to Honeywell published specifications will be valid without Honeywell written consent. This warranty does not cover defects which we determine are because of accident, alteration, modification, negligence, misuse, abuse failure to perform adequate maintenance, or normal wear and tear.
Others
Construction

Two layer, seamless knit, dipped
Others
Construction

Two layer, seamless knit, dipped
Construction : Two layer, seamless knit, dipped