Détection pour la logistique
Extended FlexRange™ EX30 2D Scan Engine
Near and Extended FlexRange™ read ranges of 10 cm to 20 m. Fast, aim-and-scan. Compact. Compatible with N670X, N660X, & N360X Series scan engines
Vue d'ensemble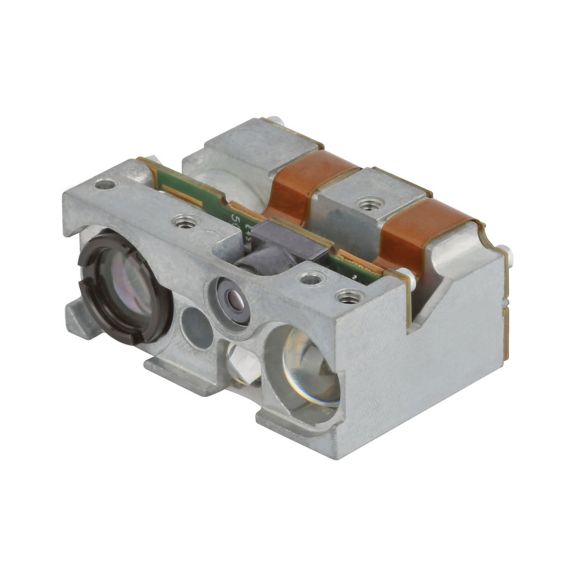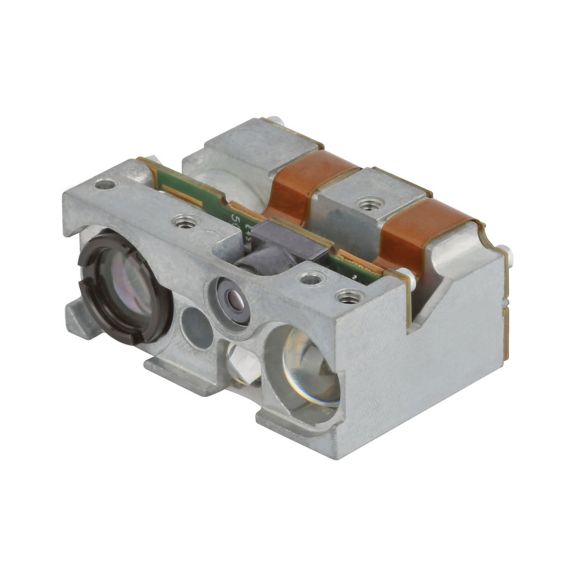 The Extended FlexRange™ EX30 2D Scan Engine for warehouse and distribution center operations seamlessly reads barcodes from 10 cm to 20 m [4 in to 66 ft] using the latest technology for a fast auto-focus mechanism.
Warehouse and distribution center operation managers need barcode scanning solutions that can read barcodes at close distances as well as those farther away, such as package labels on shelves as high as 10 cm to 20 m [4 in to 66 ft]. The EX30 answers this key requirement by enabling a wide angle read range of 42° at close distances and up to 20 m [66 ft].
Operators reading barcodes at both near and far distances expect to switch seamlessly between both operations. The Extended FlexRange EX30 uses the latest technology for a fast auto-focus lens mechanism that provides the focus change multiple times faster than its predecessor. At this level of performance, the operator feels no latency in reading across the entire distance range, allowing an efficient and comfortable work pace.
The Extended FlexRange EX30's electrical interface is fully compatible with Honeywell's N670X Series, N660X Series, and N360X Series fixed-focus, compact scan engines. This compatibility provides customers with a complete barcode scanning performance offering, ranging from better to best, that fits into the same mobile device, keeping design time and resources to a minimum. The Extended FlexRange EX30 is available with either a parallel or the MIPI interface, now commonly used with the newest generation of processors.
The Extended FlexRange EX30 may easily be embedded into mobile devices running under an OS by using the resources of the device's main processor. Honeywell supports its customers with integrating decoder software into their solutions, saving the cost of ownership by eliminating hardware and also enhancing performance by using the main processor's power.
The Extended FlexRange EX30 may also be powered by the new Honeywell Gen7 DB Decoder Board, allowing easy integration into non-OS devices such as drones, mobile accessories and sleds.
Features
Near and Extended FlexRange read ranges of 10 cm to20 m [4 in to 66 ft] allow both near and far barcode reading in the same device.
MIPI interface provides compatibility with newer processors.
Patented, embedded, auto-focus lens mechanism enables fast, aim-and-scan operation, allowing job efficiency.
Compact dimensions of 13 mm x 30,5 mm x 22,2 mm [5.12 in x 1.2 in x 0.87 in] allow easier fit into slimmer mobile device designs.
Fully compatible with Honeywell's N670X, N660X, and N360X Series scan engines, reduces integration time and increases design flexibility.
Flexible choice of decoder software or hardware (Honeywell Gen7 DB Decoder Board) options allow integration into both OS and non-OS supported devices.
Potential Applications
Both near and far barcode scanning in same device for use in warehouse and distribution centers.
Fiche technique
Nom
La description
Taille du fichier
Date
Taille
Extended FlexRange™ EX30 2D Scan Engine - Datasheet
application/pdf 183.83 KB
7/20/2021
183.83 KB
Manuels et guides
Nom
La description
Taille du fichier
Date
Taille
Optical Sensing Pocket Guide --
application/pdf 2.56 MB
11/1/2022
2.56 MB
Brochure
Nom
La description
Taille du fichier
Date
Taille
Barcode Scanning OEM Solutions for Medical Applications
application/pdf 334.94 KB
7/20/2021
334.94 KB
Work Smarter With Honeywell Logistic Sensing --
application/pdf 4.07 MB
11/23/2022
4.07 MB
Autres
Nom
La description
Taille du fichier
Date
Taille
EX30 2D Scan Engine
image/jpeg 110.68 KB
7/20/2021
110.68 KB
Nom
La description
Taille du fichier
Date
Taille
Nom
La description
Taille du fichier
Date
Taille