Industrielle Drucksensoren
SPT-Serie
Verstärkt und unverstärkt. Absolut, relativ, relativ (abgedichtet), Vakuumanzeige. Benetzte Teile 316L SS. 0 psi bis 3 psi bis 0 psi bis 5.000 psi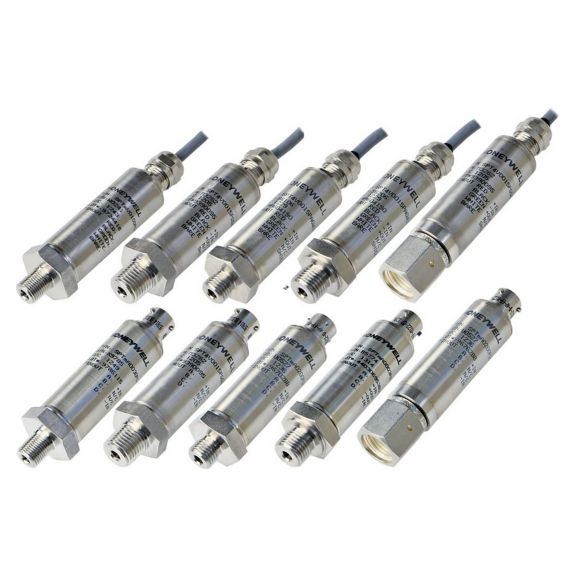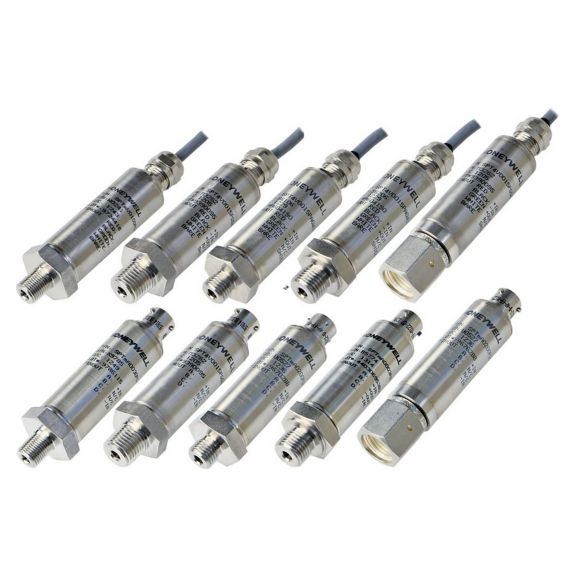 Die Edelstahl-Drucksensoren der SPT-Serie von Honeywell wurden f&uuml:r den m&ouml:glichen Einsatz in Druckanwendungen zur Messung aggressiver Medien in rauer Umgebung entwickelt und eignen sich f&uuml:r alle Medien, die nicht die Medium ber&uuml:hrenden Teile aus Edelstahl 304 oder 316 nachhaltig angreifen.
Die SPT-Serie ist f&uuml:r drei Ausgangsstile kalibriert und kompensiert: 4,0.mA bis 20,0.mA (mA-Version): 1,0.VDC bis 5,0.VDC (4 V-Ausf&uuml:hrung): Und 0.mV bis 100.mV (mV-Ausf&uuml:hrung).
Alle Ausf&uuml:hrungen verf&uuml:gen &uuml:ber verschiedene Druckanschl&uuml:sse, um eine Anwendung f&uuml:r viele Originalteile-Hersteller zu erm&ouml:glichen.
Die Edelstahlger&auml:te der SPT-Serie sind robuste und zuverl&auml:ssige Messumformer f&uuml:r die Verwendung f&uuml:r eine Vielzahl an Druckmessanwendungen, bei denen &auml:tzende Fl&uuml:ssigkeiten oder Gase &uuml:berwacht werden m&uuml:ssen.
Datenblatt
Name
Beschreibung
Dateigröße
Datum
Größe
SPT Series Low Cost, Stainless Steel Media Isolated Pressure Sensors
706.93 KB
8/2/2021
PDF 706.93 KB
Handbücher und Anleitungen
Name
Beschreibung
Dateigröße
Datum
Größe
Airflow sensors contain advanced microstructure technology to provide a sensitive and fast response to flow, amount/direction of air or other gases. Potential applications include HVAC, gas metering, chromatography, vent hoods, and medical equipment.
4.14 MB
5/11/2021
PDF 4.14 MB
Broschüre
Name
Beschreibung
Dateigröße
Datum
Größe
Embedded Products in Hospital Applications
4.7 MB
5/11/2021
PDF 4.7 MB
Technischer Hinweis
Name
Beschreibung
Dateigröße
Datum
Größe
Industrial Product Line Card
1.84 MB
5/11/2021
PDF 1.84 MB
Anwendungshinweis
Name
Beschreibung
Dateigröße
Datum
Größe
Solutions for Ventilators
2.8 MB
5/11/2021
PDF 2.8 MB
Sensors and Switches in Mobile Cranes
1.97 MB
5/11/2021
PDF 1.97 MB
Sensors and Switches in Oil Rig Applications
6.35 MB
5/11/2021
PDF 6.35 MB
Sensors and Switches in Front Loaders
2.54 MB
5/11/2021
PDF 2.54 MB
Sensors and Switches: Solutions for Medical Applications
1.35 MB
5/11/2021
PDF 1.35 MB
Sensors in Anesthesia Machines
2.3 MB
8/2/2021
PDF 2.3 MB
Name
Beschreibung
Dateigröße
Datum
Größe

SPTMV0200PG5W02

SPTMV0003PG5B

SPTMV0005PG5W09

SPTMA0030PA5W10

SPT4V0005PG6W02

SPTMA0030PG5B

SPT4V0300PG4W07

SPT4V0015PG4W06

SPT4V5000PS5W10

SPTMV0100PA7B