Interruptores sellados
Serie SE
5 A CA y CC. Variedad de actuadores auxiliares, fuerzas de funcionamiento y terminaciones. Montaje lateral de 9,5 mm. Códigos de catálogo UL selectos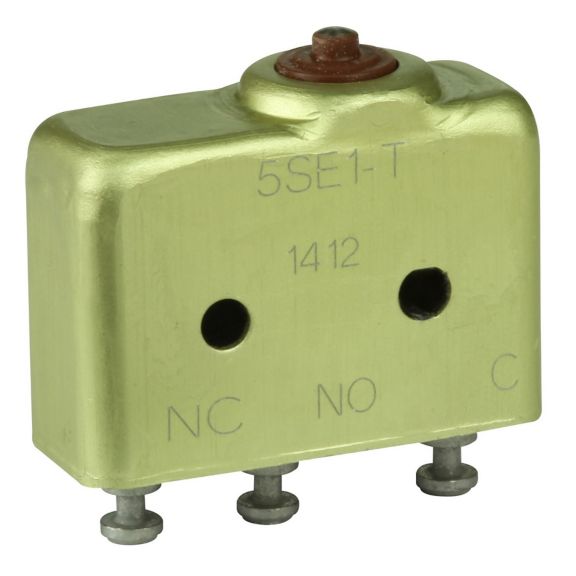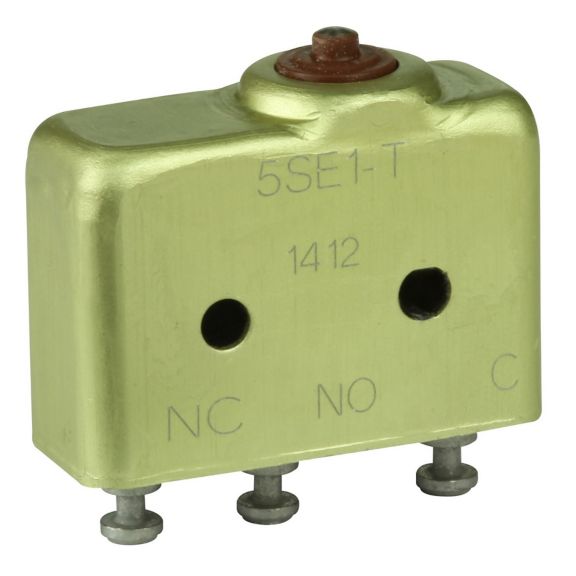 Los interruptores básicos miniatura sellados Series SE y XE de Honeywell están diseñados para brindar indicación de posición precisa y confiable de aplicaciones críticas en sistemas militares y de aeronaves. Las aplicaciones varían desde aeronaves militares y comerciales y helicópteros hasta vehículos terrestres militares (vehículos sobre carriles y cuatro ruedas). Además, estos interruptores son adecuados para otras aplicaciones industriales y comerciales en las que se requiere un sellado a prueba de factores ambientales.
La Serie SE de productos sellados a prueba de factores ambientales está diseñada para aplicaciones exigentes en las que hay presente agua y/o partículas contaminantes junto con la posibilidad de una amplia variedad de temperaturas. The SE Series incorporates the Honeywell time-proven MICRO SWITCH SM Series electromechanical switches in the SE housing.
La Serie XE de productos miniatura sellados a prueba de factores ambientales es similar a la Serie SE, a excepción por el tamaño más pequeño del paquete, que utiliza el interruptor electromecánico subminiatura SX MICRO SWITCH de Honeywell. Además, ciertos interruptores XE de Honeywell cuenta con la calificación MIL-PRF-8805 que satisface los requisitos en los que se requiere un interruptor que cumpla con las especificaciones militares.
Para incorporar mayor versatilidad a la familia de productos de las Series SE y XE, los productos con certificación CSA y UL están disponibles cuando la aplicación no está relacionada con aplicaciones aeroespaciales o militares.
Otros
Mercadería UNSPSC

Interruptor de acción rápida 39122209

Circuitos

SPNC

SPNO

Unipolares de un tiro (SPST)

Terminación

Terminales

Conexión rápida

Hilo conductor

Código UNSPSC
Sellado

Sellado a prueba de factores ambientales

Centros de montaje

9,5 mm [0.38 in]

9,53 mm ±0,05 mm [0.375 in ±0.002 in]

Amperaje
Tipo de interruptor

Subminiatura MICRO SWITCH™ de 12,7 mm de altura x 6,35 mm de ancho x 20,3 mm de longitud (0.5 in de altura x 0.25 in de ancho x 0.8 in de longitud)

Nombre de la serie
Otros
Mercadería UNSPSC

Interruptor de acción rápida 39122209

Circuitos

SPNC

SPNO

Unipolares de un tiro (SPST)

Terminación

Terminales

Conexión rápida

Hilo conductor

Sellado

Sellado a prueba de factores ambientales

Centros de montaje

9,5 mm [0.38 in]

9,53 mm ±0,05 mm [0.375 in ±0.002 in]

Tipo de interruptor

Subminiatura MICRO SWITCH™ de 12,7 mm de altura x 6,35 mm de ancho x 20,3 mm de longitud (0.5 in de altura x 0.25 in de ancho x 0.8 in de longitud)
Mercadería UNSPSC : Interruptor de acción rápida 39122209
Circuitos : SPNC|SPNO|Unipolares de un tiro (SPST)
Terminación : Terminales|Conexión rápida|Hilo conductor
Sellado : Sellado a prueba de factores ambientales
Centros de montaje : 9,5 mm [0.38 in]|9,53 mm ±0,05 mm [0.375 in ±0.002 in]
Tipo de interruptor : Subminiatura MICRO SWITCH™ de 12,7 mm de altura x 6,35 mm de ancho x 20,3 mm de longitud (0.5 in de altura x 0.25 in de ancho x 0.8 in de longitud)
Manuals and Guides
Installation Instructions
Product Photo
Others
Nombre
Descripción
Tamaño del archivo
Fecha
Tamaño