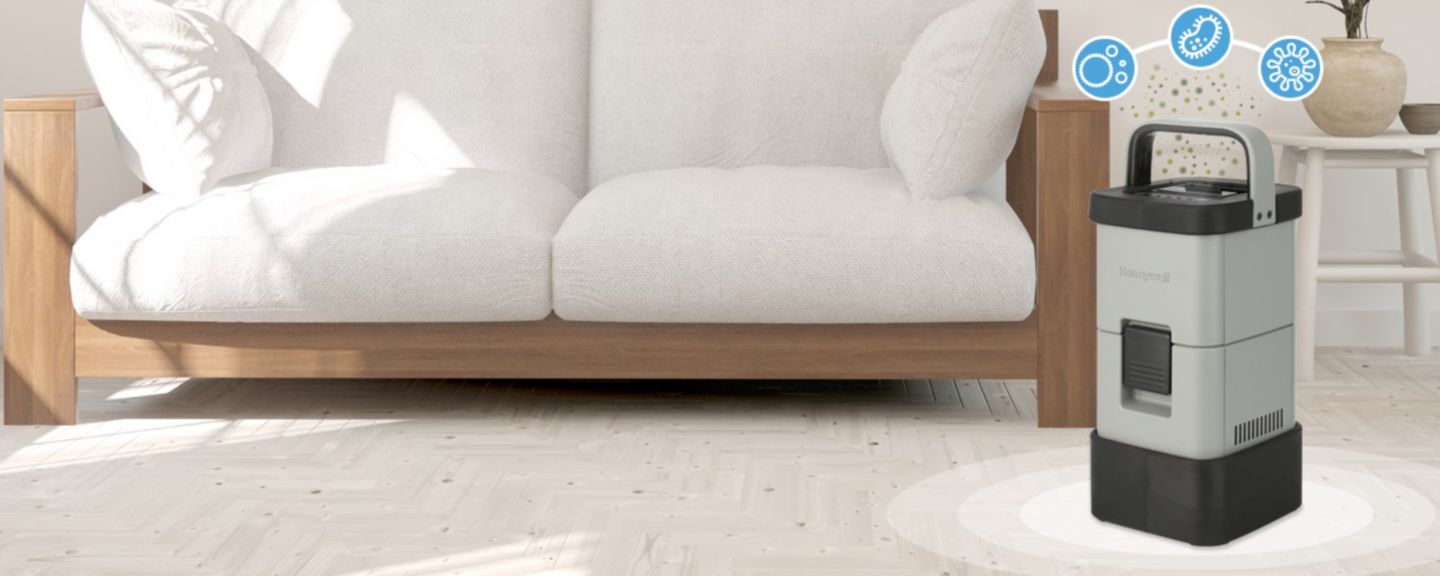 Provide near real-time air quality analysis of airborne particles with the Honeywell Air Detective
The system allows HVAC and environmental test professionals to take a "snapshot" of indoor air and connects them to an extensive, current allergen database to yield near real-time air quality analysis. The results help professionals better inform their customers "on-the-spot" of present airborne particles and the products and services that may be useful in their homes.
HOW IT WORKS
The Honeywell Air Detective system consists of three elements:
The device and its associated hardware that collects the air samples and provides the particle holographic imagery to the cloud database for analysis.
The cloud-based, machine-learning software that analyzes the detected particles and provides a particle report in near real-time.
The user-supplied iPad tablet that controls the device application and the interface to the cloud, and also displays the particle report.
Differentiation
Unlike particle sensors that only provide the amount of particles present and do not provide a picture and classification, or samplers that require analysis of air sampling cassettes in a remote lab, the Honeywell Air Detective provides on-the-spot airborne particle analysis including visualization and classification.
The portable Honeywell Air Detective, with cloud connectivity, enables the user to take advantage of imaging technology and algorithms that leverage artificial intelligence.
Features and Benefits
On-the-spot particle analysis and display on the user's iPad provide both the professional and homeowner with preliminary data that can enable more informed decisions – without waiting for lengthy and expensive third-party analysis.
The portable, battery-powered device, single-use, disposable air analysis cassettes, straightforward iPad app cloud interface, and report all contribute to a system that is easy to use.
Visual display and identification of common allergens, including specific pollen and other organic allergen particles, provides results in a clear, easy-to-understand format which can also be sent to the customer directly from the app via e-mail.
The application's artificial intelligence algorithms are updated periodically and deployed automatically, eliminating the need for manual intervention to enable device or system upgrades.
Allows HVAC and environmental test professionals to differentiate themselves from the competition through access to this innovative and unique offering.
VALUE TO HVAC AND ENVIRONMENTAL TEST PROFESSIONALS
The Honeywell Air Detective is an innovative new tool for the test professional's toolbox. The system enables the professional to provide preliminary insights into the customer's indoor air, which will allow the customer to make more informed decisions about his/her HVAC system. This, in turn, may drive additional business for you such as:
Additional filters and upgraded air cleaning system sales during service visits
Increased sign-up and renewal rate of HVAC service contracts
Increased high value web traffic to dealer home page with regularly updated pollen counts
Where appropriate, additional testing of the homeowner's indoor air
Watch the videos
Meet the Honeywell Air Detective
Meet the Honeywell Air Detective
Meet the Honeywell Air Detective
How to use the Honeywell Air Detective
How to use the Honeywell Air Detective
How to use the Honeywell Air Detective
Contact us