2D Standard Scan Engines
EA11 2D Scan Engine
Exceptional motion tolerance. Outstanding decode performance. Higher scanning speed. Omnidirectional. Compact. Used with ED40 Decoder Board.
Overview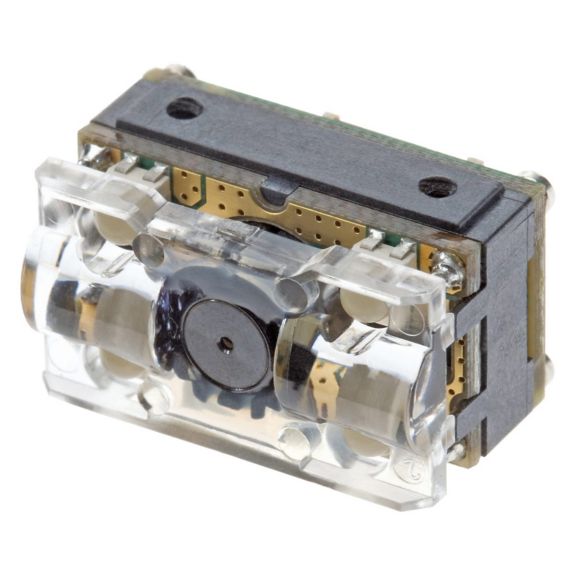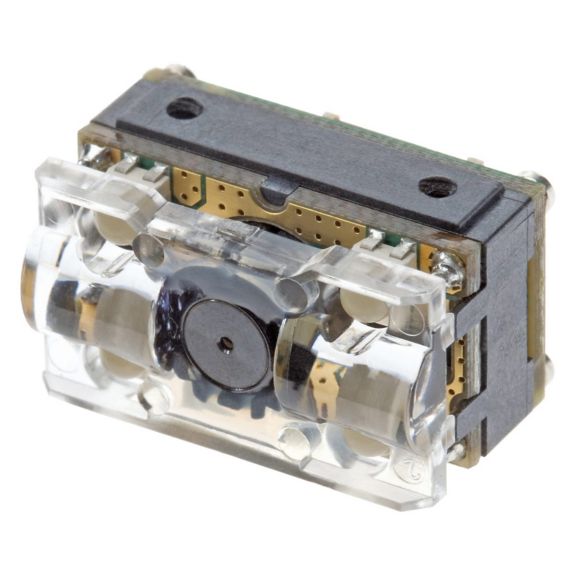 Honeywell has announced the obsolescence of EA11 Decoded 2D Imager, which is no longer available for new designs:
https://sps.honeywell.com/us/en/products/advanced-sensing-technologies/logistics-sensing/barcode-scan-engines-modules-and-decoding-software/2d-barcode-scan-engines/n4680-series-compact-decoded-2d-scan-engines
The EA11 Decoded 2D Imager combines decode speed with exceptional motion tolerance to deliver an easy-to-use scanning solution.
Based on state-of the-art CMOS technology and advanced decoding algorithms, its scanning speed is twice as fast as traditional 2D imagers. And it scans linear barcodes five times faster. Plus, the EA11 imager can decode down to one pixel per dot, so it gives you outstanding decode performance even on poorly printed or damaged barcodes.We've done everything to simplify integration. The compact size, multiple mounting possibilities, low power operation and high-speed USB 2.0 and RS-232 standard interfaces all make design integration easier.This device is compatible with other Honeywell EA decoded engines, enabling an easy transition from linear to bi-dimensional scan engines.Leverage your integration efforts across multiple OEM product platforms, reducing time to market and ensuring easier product migration.The EA11 is available either as an integral engine or separated engine and decode board to ease the mechanical integration into a large variety of host devices.
Features
Best in class scan rate: Reads 1D and 2D barcodes omnidirectionally: rapid scan rate of up to 60 scans/s (2D) and 200 scans/s (1D) to provide maximum productivity in scan-intensive applications.
Very compact design: Provides option of one of the smallest USB 2.0 decode boards in the industry to fit tight mechanical constraints.
Rugged durability: Built to withstand harsh environments.
Plug-compatibility with other Honeywell EA imagers (1D and 2D): Provides maximum design flexibility.
Standard and high-density optics available: Meet your customer requirements.
Contactless technology and automation are transforming the way we live and work. Honeywell Logistics Sensing is developing the latest vision solutions to support a wide range of applications for: access control, retail, healthcare, transportation and logistics, warehouse and distribution, and hospitality. Find out more
Data Sheet
Name
Description
File Size
Date
Size
EA11 2D Scan Engine Datasheet
application/pdf 293.57 KB
7/15/2021
293.57 KB
Manuals and Guides
Name
Description
File Size
Date
Size
Optical Sensing Pocket Guide --
application/pdf 4.48 MB
4/25/2023
4.48 MB
Brochure
Name
Description
File Size
Date
Size
Work Smarter With Honeywell Logistic Sensing --
application/pdf 4.07 MB
4/25/2023
4.07 MB
Case Study
Name
Description
File Size
Date
Size
Intermec End User License Agreement
application/pdf 104.06 KB
7/15/2021
104.06 KB
Product Photo
Name
Description
File Size
Date
Size
EA11 2D Scan Engine Highres Photo
image/jpeg 177.72 KB
7/15/2021
177.72 KB
EA11 2D Scan Engine Lowres Photo
image/jpeg 35.12 KB
7/15/2021
35.12 KB
Name
Description
File Size
Date
Size
Name
Description
File Size
Date
Size