Wearable Computers
Honeywell Voice A500 Mobile Device
Honeywell Voice A500 Mobile Device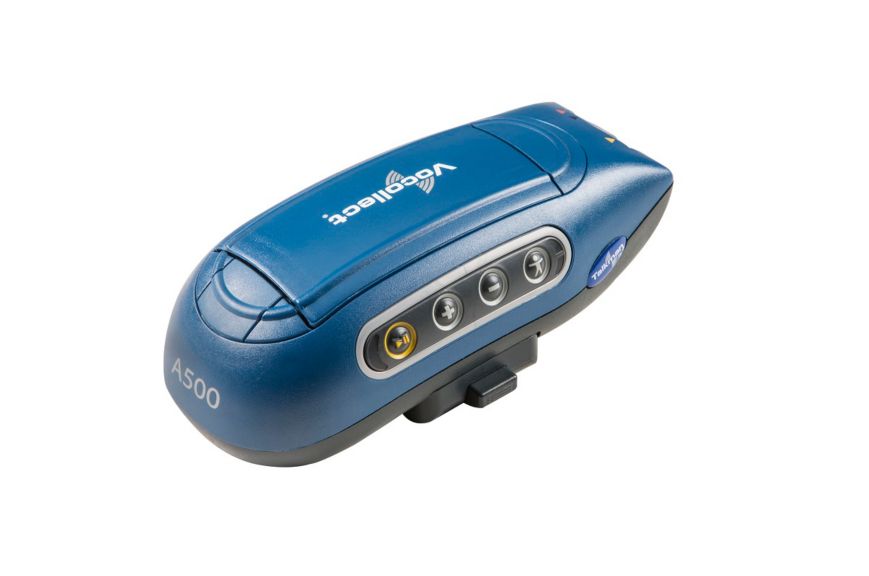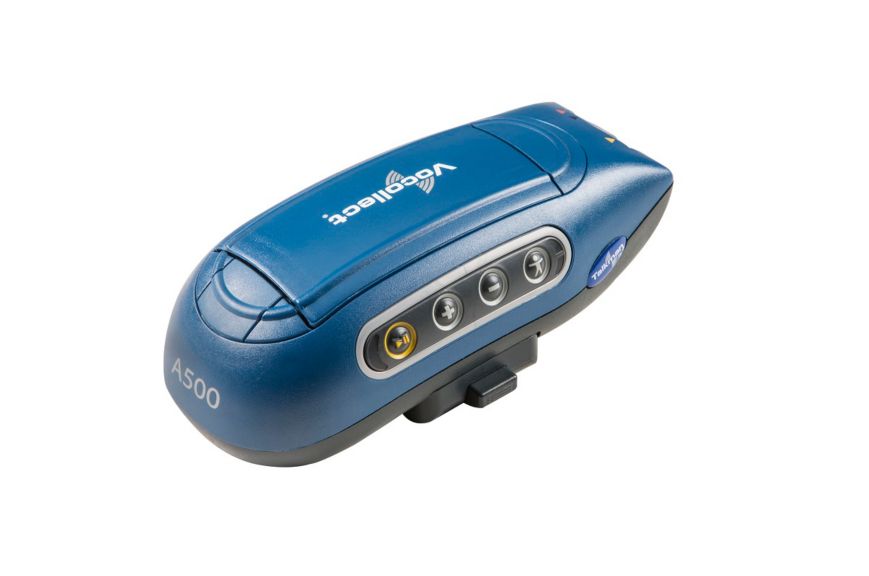 For high-performance, voice-directed workflows, the Honeywell Voice™: A500 mobile device is an ideal entry-level, hands-free, eyes-free solution. Wirelessly connect the A500 to external Bluetooth®:-enabled displays. And use the A500':s standard TCO connectors with Honeywell Voice headsets and peripherals.
A500 combined with VoiceCatalyst supports multi-configurations –: from voice-only to voice combined with other tasks such as a scanning or display output.
Offers one solution for multiple workflows, door to door –: for simple task interleaving and redeployment of workers where they':re needed.
Enables 10-20% gains in productivity and up to 99.99% accuracy across most DC workflows.
Today':s AIDC workflows require solutions that optimize their operations with flexible and robust technology, while maximizing existing IT investments. The Honeywell Voice A500 mobile device offers flexibility and connectivity for workflows in harsh warehouse environments. And the A500 device':s award-winning ergonomic form factor is a proven, robust solution for voice-directed work. The A500 mobile device':s expanded capabilities enable you to use voice as the foundation for all of your workflows in the DC. The A500 model was the first in a series of Honeywell Voice mobile devices that can be wirelessly connected to Bluetooth®:-enabled display devices. Today, our A500 and A700 series customers have voice-enabled workflows that require their mobile workers to occasionally reference long lists or images that may be best viewed on a display. The Honeywell Voice A500 uses the same chargers, headsets and batteries as previous Honeywell Voice device series, such as Honeywell Voice Talkman T5. And its VoiceCatalyst software lets you use existing Voice Tasks, allowing side-by-side installations with prior Honeywell Voice investments. Find out more about what your business can accomplish with the Honeywell Voice A500 mobile device and Honeywell workflow solutions.
Features
Compatible Operation Software

VoiceCatalyst®

VoiceClient®

Compatible Management Software
Features

Flexible, Multi-Workflow Device

For Use With

Honeywell SR and SL Wired and Wireless Headsets, Honeywell Wired or Wireless Scanners, Honeywell Wireless Printers

Compatible Headset

Honeywell SR and SL Wired and Wireless Headsets

Product Type
Application
Network
WiFi Specifications
Bluetooth Specifications
Wireless Communication
Environmental
Storage Temperature Range

-40 °F - 70 °C

-40 °C - 158 °F

Maximum Operating Humidity
Operating Temperature

- 30 - 50 °C

- 22 - 122 °F
Standards & Approvals
Vibration Resistance

Meets MIL-STD-810F method 514.6

Drop Specifications

4 drops at 1.5 m (5 ft) on 6 surfaces (24 drops); 2 drops at 1.8 m (6 ft) on 6 surfaces (12 drops)

Protection Ratings
Features
Compatible Operation Software

VoiceCatalyst®

VoiceClient®

Compatible Management Software

Features

Flexible, Multi-Workflow Device

For Use With

Honeywell SR and SL Wired and Wireless Headsets, Honeywell Wired or Wireless Scanners, Honeywell Wireless Printers

Compatible Headset

Honeywell SR and SL Wired and Wireless Headsets
Environmental
Storage Temperature Range

-40 °F - 70 °C

-40 °C - 158 °F

Maximum Operating Humidity

Operating Temperature

- 30 - 50 °C

- 22 - 122 °F
Standards & Approvals
Vibration Resistance

Meets MIL-STD-810F method 514.6

Drop Specifications

4 drops at 1.5 m (5 ft) on 6 surfaces (24 drops); 2 drops at 1.8 m (6 ft) on 6 surfaces (12 drops)
Compatible Operation Software : VoiceCatalyst®|VoiceClient®
Compatible Management Software : VoiceConsole®
Features : Flexible, Multi-Workflow Device
For Use With : Honeywell SR and SL Wired and Wireless Headsets, Honeywell Wired or Wireless Scanners, Honeywell Wireless Printers
Compatible Headset : Honeywell SR and SL Wired and Wireless Headsets
Application : Distribution
WiFi Specifications : 802.11a/b/g|822.11b/g
Bluetooth Specifications : v2.1
Wireless Communication : Bluetooth|WiFi
Memory : 512 MB Flash/256 MB RAM
Number of Serial Ports : 1
Storage Temperature Range : -40 °F - 70 °C|-40 °C - 158 °F
Maximum Operating Humidity : 100%
Operating Temperature : - 30 - 50 °C|- 22 - 122 °F
Vibration Resistance : Meets MIL-STD-810F method 514.6
Drop Specifications : 4 drops at 1.5 m (5 ft) on 6 surfaces (24 drops); 2 drops at 1.8 m (6 ft) on 6 surfaces (12 drops)
Protection Ratings : IP67
Data Sheet
Name
Description
File Size
Date
Size
Vocollect A500 Mobile Device Data Sheet
699.6 KB
12/3/2020
PDF 699.6 KB
Regulatory Information
Name
Description
File Size
Date
Size
Declaration of Conformity - A500 Terminal- Document - 1004606 REV A - June 2017
1.49 MB
12/3/2020
PDF 1.49 MB
Declaration of Conformity - A500 Platform - Document - 1002174 REV P - June 2017
32.38 KB
12/3/2020
PDF 32.38 KB
Name
Description
File Size
Date
Size
Declaration of Conformity - A500 Terminal- Document - 1004606 REV A - June 2017
1.49 MB
12/3/2020
PDF 1.49 MB
Declaration of Conformity - A500 Platform - Document - 1002174 REV P - June 2017
32.38 KB
12/3/2020
PDF 32.38 KB
Vocollect A500 Mobile Device Data Sheet
699.6 KB
12/3/2020
PDF 699.6 KB

TT-802
Talkman(R) A500 Wearable Device (A/B/G/N)