Anchorage Systems
Miller Vi-Go™ Vertical Ladder Climbing Cable System
System components for the Miller Vi-Go Ladder Climbing System
Overview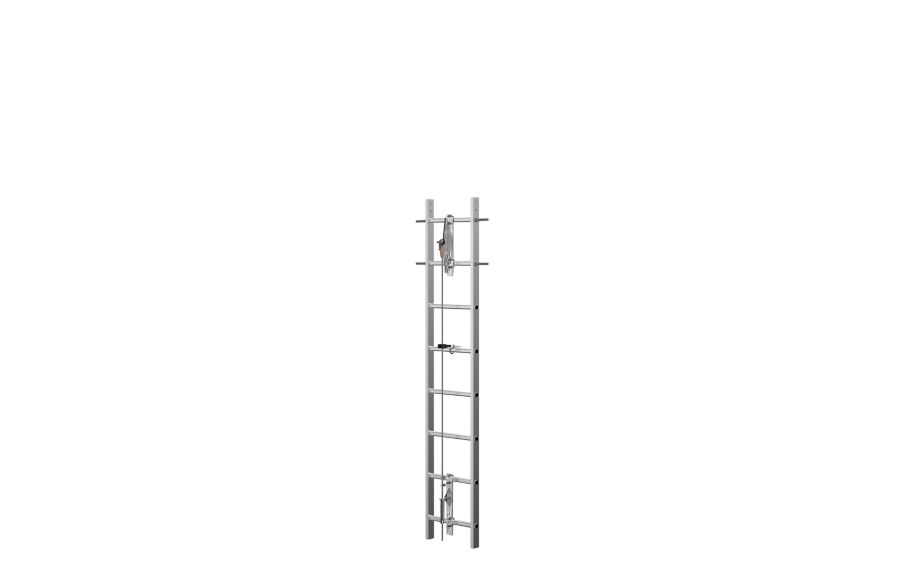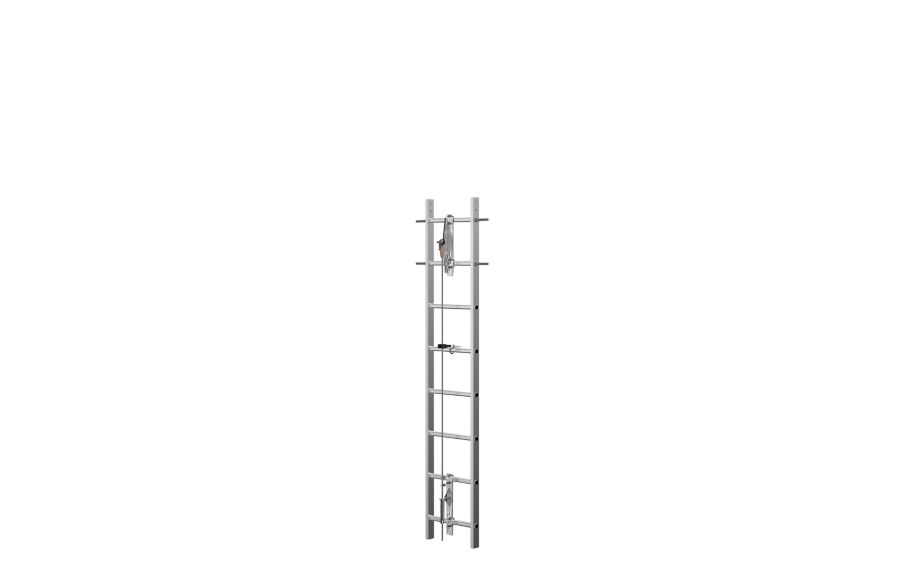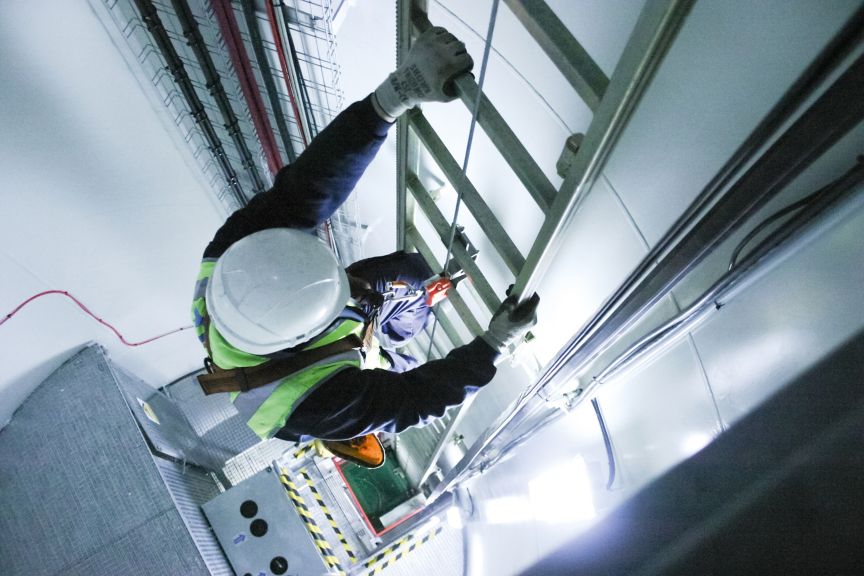 Miller Vi-Go™ Ladder Climbing Cable Systems provide the ultimate in safety with continuous fall protection when climbing fixed ladders.
Miller Vi-Go™ system is available with Manual or Automatic pass-through brackets and available in easy-to-install kits or as a build your own option.
Features & Benefits:
Attachment mechanism engineered to prevent incorrect installation – Unit will not open if attached incorrectly
Cable sleeves integrated shock-absorbing element
Accommodate up to four (4) workers at a time, 3 for the manual system
Accommodate 3/8-in. (10 mm) cable
Miller Vi-Go System Kits
Include all the components needed to install a vertical cable system
Available with either Galvanized or Stainless Steel components
Manual or Automatic kits
Multiple cable lengths available
Cable sleeve must be purchased separately
Build Your Own System- For multiple system installations requiring cutting cable on site
On a job site: exact cable lengths may vary and pre-cut cable length system kits will not meet installation requirements.
The solution is to
Build Your Own System
by selecting the following components:
Top bracket assembly
Bottom bracket assembly with cable tensioner
Vi-Go cable guides – automatic or manual -(Minimum one (1) required per 50-ft. [12.2 m] length)1
Fast-Attach Fitting for 3/8-in.(10 mm) diameter galvanized steel cable
Cable
Vi-Go (Automatic) o VC300 (Manual) cable sleeve
Manuals and Guides
Name
Description
File Size
Date
Size
Söll Vi-Go - Installation Guide
application/pdf 3.33 MB
7/15/2021
3.33 MB
Miller VC300 - User Guide
application/pdf 3.32 MB
7/15/2021
3.32 MB
Brochure
Name
Description
File Size
Date
Size
Miller Vi-Go Vertical Cable System - Brochure
application/pdf 3.91 MB
7/15/2021
3.91 MB
Name
Description
File Size
Date
Size
Miller Vi-Go Vertical Cable System - Brochure
3.91 MB
7/15/2021
3.91 MB
Söll Vi-Go - Installation Guide
3.33 MB
7/15/2021
3.33 MB
Miller VC300 - User Guide
3.32 MB
7/15/2021
3.32 MB
Name
Description
File Size
Date
Size
Söll Vi-Go - Installation Guide
3.33 MB
7/15/2021
Miller VC300 - User Guide
3.32 MB
7/15/2021
Miller Vi-Go Vertical Cable System - Brochure
3.91 MB
7/15/2021
SKUs

150084/RMKIT
Rung Reinforcement

TRBB/
Dual function tensioner

TRTB-10/
Top bracket shock absorber 10ft

TRTB-7/
Top bracket shock absorber 7ft

TRTB/
Top bracket shock absorber 5ft

VGBB-3/8-GS
Universal tensioner - Galvanized Steel

VGBB-3/8-SS
Universal tensioner - Stainless Steel

VGCG/
Automatic intermediate bracket

VGHDW/
Hardware kit

VGMB-3/8-GS
Manual intermediate bracket - Galvanized Steel

150084/RMKIT
Rung Reinforcement

TRBB/
Dual function tensioner

TRTB-10/
Top bracket shock absorber 10ft

TRTB-7/
Top bracket shock absorber 7ft

TRTB/
Top bracket shock absorber 5ft

VGBB-3/8-GS
Universal tensioner - Galvanized Steel

VGBB-3/8-SS
Universal tensioner - Stainless Steel

VGCG/
Automatic intermediate bracket

VGHDW/
Hardware kit

VGMB-3/8-GS
Manual intermediate bracket - Galvanized Steel