Handheld Computers
ScanPal EDA56 Wi-Fi6 Mobile Computer
ScanPal EDA56 WLAN is a Wi-Fi 6 mobile computer that provides higher data rates and lower latency even in highly dense connected environment. It is designed for use inside four walls in retail, manufacturing, logistics and public service applications
Overview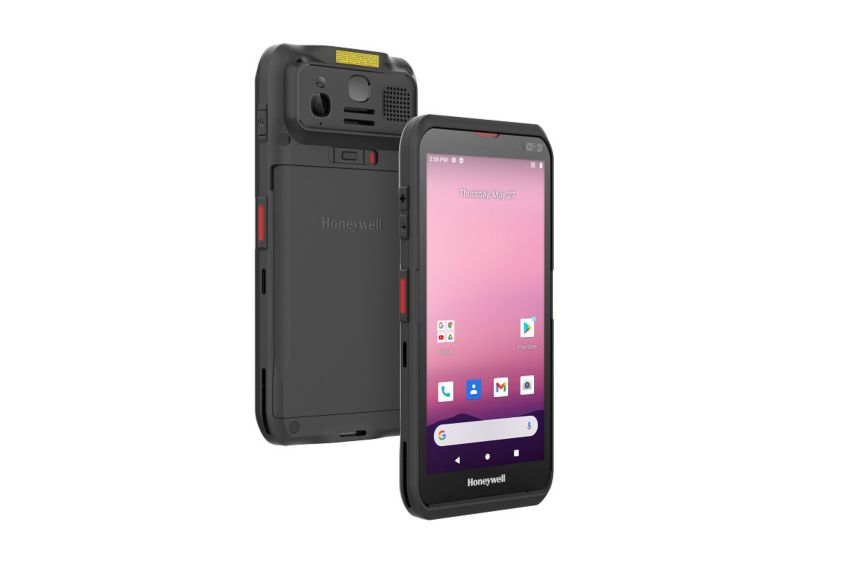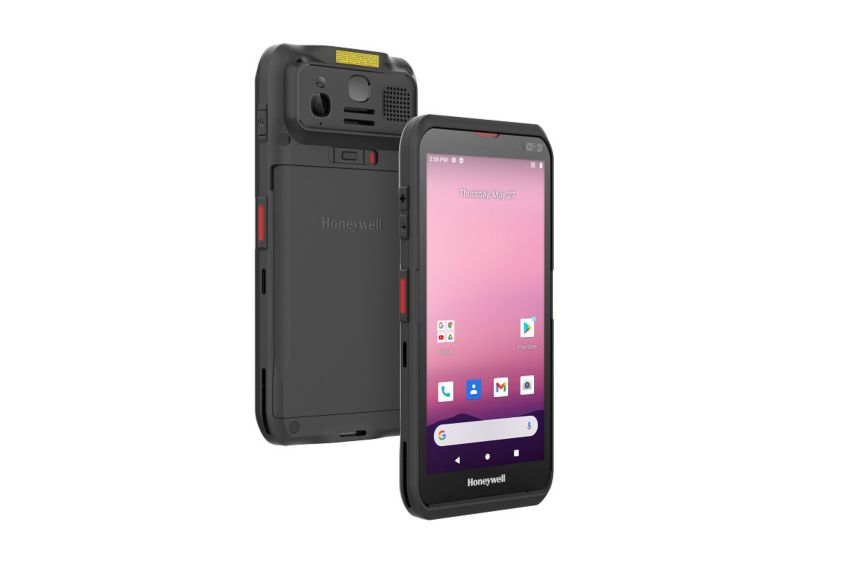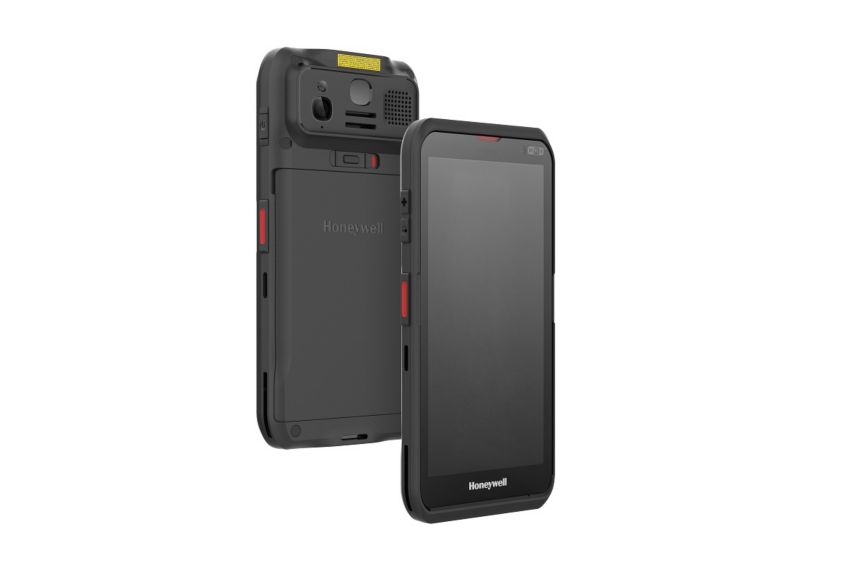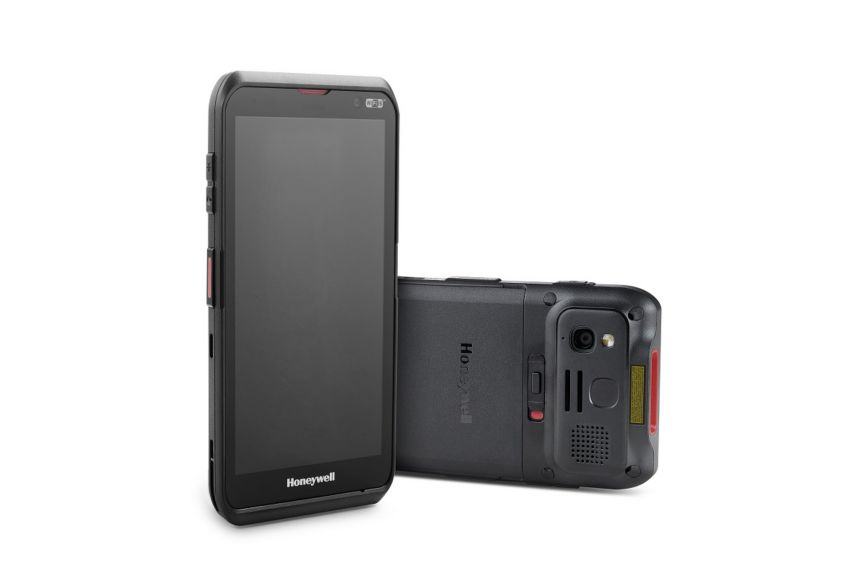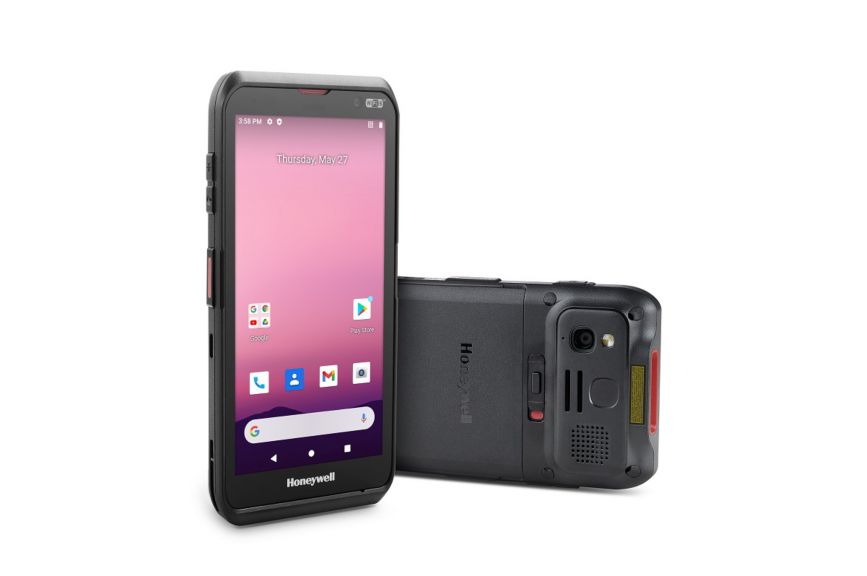 The ScanPal EDA56 is one of Honeywell's ScanPal series mobile computers equipped with the Qualcomm Snapdragon octa-core 2.0GHz processor and robust wireless connectivity through Wi-Fi 6, NFC, and Bluetooth 5.1.
Wi-Fi 6 technology built-in, the EDA56 provides a faster, better, and stronger connection to the network. Compared to Wi-Fi 5 models, EDA56 as the client devices enjoy a big increase in speed and support multiuser by OFDMA.
EDA56 incorporates the all-new and powerful Honeywell S0703 scan engine, which enables fast reading of damaged or incomplete barcodes.
Outfitted with a rugged housing and IP67 rated sealing, the EDA56 can operate under rough usage and demanding environmental conditions. A 4500mAh battery allows for prolonged and uninterrupted use between each charge***. The battery is also easily removable and supports quick charge 3.0.
The EDA56 is built on Android 11 and can be upgraded to Android 13* minimizing maintenance issues and ensuring long-term feature support. It is validated under AER (Android Enterprise Recommended) **, a Google-led initiative that helps businesses confidently select, deploy, and manage Android devices and services best suited to their needs.
A prominent 5.5-inch Gorilla Glass touch screen interface and ergonomic industrial design help to greatly improve user comfort and experience. Its lightweight and slim design means that users can easily operate the device with one hand, carry it in their pockets, and stay comfortable all day.
The 13-megapixel rear camera allows users to capture high-resolution images for quality image documentation, while the 5-megapixel front camera allows users to engage in video communication.
The EDA56 can be easily paired with Honeywell's IH25/IH40 RFID readers. Users can quickly capture large volumes of RFID information in applications such as retail and warehouse inventory tracking.
For existing Honeywell mobile computer users, the EDA56 can be backward-compatible with existing accessories for the ScanPal EDA52. This will further help our existing customers reduce their total cost of ownership (TCO).
Serval value-added software also enhances EDA56 Wi-Fi6 models for different applications.
Honeywell Operational Intelligence delivers deep operational insights, enables workflow automation that prevents issues before they happen and helps manage issues in real time to greatly reduce IT support costs.
Honeywell Smart Talk provides unified communications to overcome the problem of fragmented communications and empowers teams with enterprise-grade security for voice calling, text and media messaging, and user presence – all from one device.
Features
Camera

13-megapixel color front camera; 5-megapixel color rear camera

Application

retail, manufacturing, logistics, and public service
Dimensions
Overall Dimensions

159mm x 75 mm x 14.4 mm (6.26 in x 2.95 in x 0.57 in)
Network
Computer Wireless Communication

NFC: Integrated Near Field Communication

Bluetooth Specifications
WLAN Specifications

(Wi-Fi certified): IEEE 802.11 a/b/g/n/ac/ax ,2*2 MU-MIMO WLAN Security: OPEN, WEP, WPA/WPA2/WPA3 (Personal and Enterprise) WLAN Supported EAP: TLS, PEAP, TTLS, PWD, LEAP, CCX compliant

GPS Specifications

Simultaneous receiver support for GPS, GLONASS and BeiDou (WWAN Only)
Software & Firmware
Operating System

Android 11, upgradeable to Android 13*
Memory & Data
Memory

4 GBRAM/64 GB Flash; 6 GB RAM/128 GB Flash
Hardware
Display Resolution

1440 x 720 High Definition

Scan Engine Model

Honeywell S0703 Slim Imager

Display Size

Gorilla Glass 5, 5.5-inch

Processor

Qualcomm Snapdragon SM6115, Quad high-performance Kryo cores 2.0 GHz +Quadlow-power Kryo cores 1.8 GHz
Electrical
Battery Capacity
Battery Types
Battery Type
Environmental
Storage Temperature Range

-30°C to +70°C (-22°F to 158°F)

Operating Temperature

-20°C to +50°C (-4°F to +122°F)

Operating Humidity

5% to 90% (non-condensing)

Cold Storage

-30°C to +70°C (-22°F to 158°F)
Standards & Approvals
Tumble Specifications

550 times at 0.5 m (1.64 ft)

Drop Specifications

Multiple 1.3m (4.3ft) per MIL-STD 810G drops to concrete at room temperatureMultiple 1.5m (5ft) per MIL-STD 810G drops with rubber boot concrete at room temperature

Protection Ratings
Service Terms
Warranty Duration

One-year factory warranty
Features
Camera

13-megapixel color front camera; 5-megapixel color rear camera

Application

retail, manufacturing, logistics, and public service
Dimensions
Overall Dimensions

159mm x 75 mm x 14.4 mm (6.26 in x 2.95 in x 0.57 in)
Network
Computer Wireless Communication

NFC: Integrated Near Field Communication

WLAN Specifications

(Wi-Fi certified): IEEE 802.11 a/b/g/n/ac/ax ,2*2 MU-MIMO WLAN Security: OPEN, WEP, WPA/WPA2/WPA3 (Personal and Enterprise) WLAN Supported EAP: TLS, PEAP, TTLS, PWD, LEAP, CCX compliant

GPS Specifications

Simultaneous receiver support for GPS, GLONASS and BeiDou (WWAN Only)
Software & Firmware
Operating System

Android 11, upgradeable to Android 13*
Memory & Data
Memory

4 GBRAM/64 GB Flash; 6 GB RAM/128 GB Flash
Hardware
Display Resolution

1440 x 720 High Definition

Scan Engine Model

Honeywell S0703 Slim Imager

Display Size

Gorilla Glass 5, 5.5-inch

Processor

Qualcomm Snapdragon SM6115, Quad high-performance Kryo cores 2.0 GHz +Quadlow-power Kryo cores 1.8 GHz
Environmental
Storage Temperature Range

-30°C to +70°C (-22°F to 158°F)

Operating Temperature

-20°C to +50°C (-4°F to +122°F)

Operating Humidity

5% to 90% (non-condensing)

Cold Storage

-30°C to +70°C (-22°F to 158°F)
Standards & Approvals
Tumble Specifications

550 times at 0.5 m (1.64 ft)

Drop Specifications

Multiple 1.3m (4.3ft) per MIL-STD 810G drops to concrete at room temperatureMultiple 1.5m (5ft) per MIL-STD 810G drops with rubber boot concrete at room temperature
Service Terms
Warranty Duration

One-year factory warranty
Camera : 13-megapixel color front camera; 5-megapixel color rear camera
Application : retail, manufacturing, logistics, and public service
Overall Dimensions : 159mm x 75 mm x 14.4 mm (6.26 in x 2.95 in x 0.57 in)
Decode Capability : 1D/2D barcode
Computer Wireless Communication : NFC: Integrated Near Field Communication
Bluetooth Specifications : Bluetooth Class 5.1
WLAN Specifications : (Wi-Fi certified): IEEE 802.11 a/b/g/n/ac/ax ,2*2 MU-MIMO WLAN Security: OPEN, WEP, WPA/WPA2/WPA3 (Personal and Enterprise) WLAN Supported EAP: TLS, PEAP, TTLS, PWD, LEAP, CCX compliant
GPS Specifications : Simultaneous receiver support for GPS, GLONASS and BeiDou (WWAN Only)
Operating System : Android 11, upgradeable to Android 13*
Memory : 4 GBRAM/64 GB Flash; 6 GB RAM/128 GB Flash
Display Resolution : 1440 x 720 High Definition
Scan Engine Model : Honeywell S0703 Slim Imager
Display Size : Gorilla Glass 5, 5.5-inch
Processor : Qualcomm Snapdragon SM6115, Quad high-performance Kryo cores 2.0 GHz +Quadlow-power Kryo cores 1.8 GHz
Battery Capacity : 4,500 mAh
Battery Types : removable
Battery Type : Li-Ion, 3.8 V
Storage Temperature Range : -30°C to +70°C (-22°F to 158°F)
Operating Temperature : -20°C to +50°C (-4°F to +122°F)
Operating Humidity : 5% to 90% (non-condensing)
Cold Storage : -30°C to +70°C (-22°F to 158°F)
Tumble Specifications : 550 times at 0.5 m (1.64 ft)
Drop Specifications : Multiple 1.3m (4.3ft) per MIL-STD 810G drops to concrete at room temperatureMultiple 1.5m (5ft) per MIL-STD 810G drops with rubber boot concrete at room temperature
Protection Ratings : IP67
Warranty Duration : One-year factory warranty
Camera Position : Rear and Front
Data Sheet
Name
Description
File Size
Date
Size
EDA56 Wi-Fi6 2PIN Mobile Computer Datasheet
application/pdf 104.01 KB
10/14/2022
104.01 KB
Manuals and Guides
Name
Description
File Size
Date
Size
Quick Start Guide: ScanPal EDA56 Mobile Computer – English (EDA56-A-EN-QS-01 Rev A)
application/pdf 994.24 KB
8/17/2022
994.24 KB
User Guide: HUpgrader (HUPGDR-A-EN-UG-01 Rev B)
application/pdf 413.22 KB
11/17/2023
413.22 KB
User Guide: Enterprise Browser for Android (935-098-007 Rev C)
application/pdf 626.07 KB
5/12/2023
626.07 KB
User Guide: Android Network and Security (ALLSKU-AND-ENUS-ZY Rev J)
application/pdf 407.77 KB
7/20/2023
407.77 KB
User Guide: ScanPal EDA56 Mobile Computer – English (EDA56-A-EN-UG-01 Rev A)
application/pdf 2.05 MB
8/17/2022
2.05 MB
Decode Filter Script Command Reference Guide (HS-DFS-A-EN-CR-01 Rev D)
application/pdf 181.21 KB
5/12/2023
181.21 KB
User Guide: Dolphin Power Tools for Devices Powered by Android 12 (PTL-A-EN-UG Rev B)
application/pdf 1.35 MB
5/12/2023
1.35 MB
Regulatory Information
Name
Description
File Size
Date
Size
Regulatory Sheet: ScanPal EDA52/EDA5S/EDA57/EDA56 Accessories (EDA52-ACC-ML-RS-05 Rev A)
application/pdf 1.18 MB
11/20/2023
1.18 MB
Regulatory Sheet: ScanPal EDA56/EDA57 Mobile Computer – English (EDA56-ML-RS-04 Rev A)
application/pdf 1.57 MB
9/29/2023
1.57 MB
White Paper
Name
Description
File Size
Date
Size
White Paper: Battery Maintenance for Portable Devices - English
application/pdf 332.35 KB
11/17/2023
332.35 KB
Catalog
Name
Description
File Size
Date
Size
ScanPal EDA52 / EDA52 HC / EDA56 Wi-Fi 6 / EDA57 - 2PIN Accessories Guide
application/pdf 272.34 KB
4/18/2023
272.34 KB
Brief
Name
Description
File Size
Date
Size
Application Brief: Developer Options on Honeywell Mobile Computers with Android OS (HDO-A-EN-AB-01 Rev A)
application/pdf 70.58 KB
3/11/2023
70.58 KB
Name
Description
File Size
Date
Size
Name
Description
File Size
Date
Size
EDA56 Wi-Fi6 2PIN Mobile Computer Datasheet
104.01 KB
10/14/2022
Quick Start Guide: ScanPal EDA56 Mobile Computer – English (EDA56-A-EN-QS-01 Rev A)
994.24 KB
8/17/2022
User Guide: HUpgrader (HUPGDR-A-EN-UG-01 Rev B)
413.22 KB
11/17/2023
User Guide: Enterprise Browser for Android (935-098-007 Rev C)
626.07 KB
5/12/2023
User Guide: Android Network and Security (ALLSKU-AND-ENUS-ZY Rev J)
407.77 KB
7/20/2023
User Guide: ScanPal EDA56 Mobile Computer – English (EDA56-A-EN-UG-01 Rev A)
2.05 MB
8/17/2022
Decode Filter Script Command Reference Guide (HS-DFS-A-EN-CR-01 Rev D)
181.21 KB
5/12/2023
User Guide: Dolphin Power Tools for Devices Powered by Android 12 (PTL-A-EN-UG Rev B)
1.35 MB
5/12/2023
Regulatory Sheet: ScanPal EDA52/EDA5S/EDA57/EDA56 Accessories (EDA52-ACC-ML-RS-05 Rev A)
1.18 MB
11/20/2023
Regulatory Sheet: ScanPal EDA56/EDA57 Mobile Computer – English (EDA56-ML-RS-04 Rev A)
1.57 MB
9/29/2023
White Paper: Battery Maintenance for Portable Devices - English
332.35 KB
11/17/2023
ScanPal EDA52 / EDA52 HC / EDA56 Wi-Fi 6 / EDA57 - 2PIN Accessories Guide
272.34 KB
4/18/2023
Application Brief: Developer Options on Honeywell Mobile Computers with Android OS (HDO-A-EN-AB-01 Rev A)
70.58 KB
3/11/2023