Powered Air Purifying Respirators (PAPR)
Honeywell Primair 100 Series Hoods
The Primair® 100 Series includes one loose fitting head cover and several hoods that can be used with the CA200 Series PAPR and the CF1000 Series CF-SAR. The manifold directs air over lens to reduce fogging.
Overview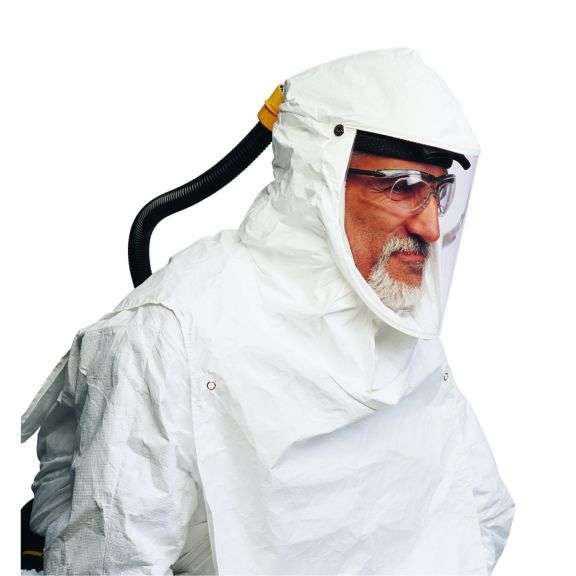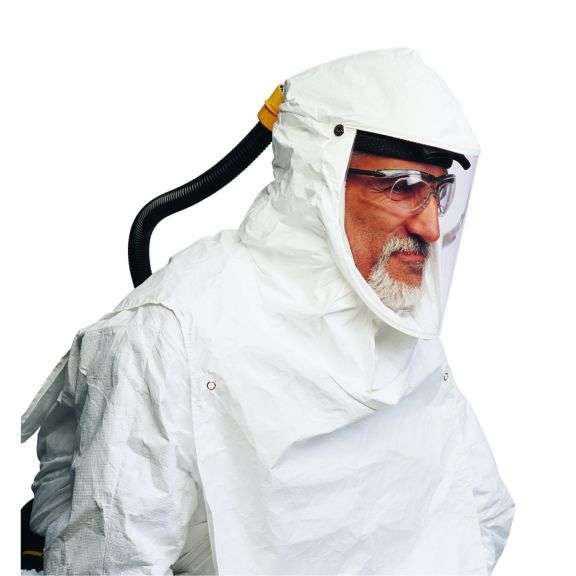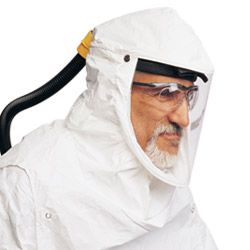 Key Features
Hoods available with under the chin, nylon collar and full bib versions. Hoods with collar and full bib have an assigned protection factor (APF) of 1000. Manifold directs air over lens to reduce fogging. PA121 and PA141 are coated for protection from intermittent splash. Primair 100 Series hoods for use with Compact Air 200 Series PAPR and CF1000 Series continuous flow airline feature a comfortable headgear that directs air over the lens for cooling comfort. Triple adjustment headgear for a comfortable fit.

Recommended Industries/Use
Other
Chemical
Construction
Food Services
Government
Manufacturing
Medical
Municipal Services
Pharmaceutical
Steel and Metals
Utilities
Nuclear

Hazards
Airborne Particulates
Biohazard
Chemical
Contamination
Gas, Vapors, Smoke
Splash

Regulations
Regulation - NIOSH certified when used with North Compact Air PAPR, CF1000 supplied air assembly, and North hoses and couplers.

Historical Brand
North

Warranty Information
Honeywell Safety Products warrants the Primair Series to the original owner to be free from defects in materials and workmanship for a period of one (1) year from the date of original shipment from Honeywell's factory. Honeywell's obligation under this warranty will be, at Honeywell's option, to repair or replace without charge the Primair Series Hood or any of its components found by Honeywell to have been defective during the warranty period, under the following terms:1) The warranty claim is made (i) by the owner who purchased the Primair Series Hood new from Honeywell or an authorized Honeywell Distributor, and (ii) not more than three (3) months after the end of the warranty period. 2) The Primair Series Hood or component is found by Honeywell to have been defective in normal use and service during the warranty period of one (1) year from the date of purchase by the owner. 3) The Primair Series Hood or component is returned freight prepaid to Honeywell, either to its factory or to a Honeywell authorized service center, and is thereafter returned to the owner freight collect. 4) This warranty does not apply to (i) any respirator or component found by Honeywell to have become defective as a result of any accident, alteration, misuse, abuse, or servicing with parts not approved by Honeywell; or (ii) deterioration or aging of any component made of rubber or other elastomer since such components can be adversely affected by undue exposure to heat, sun, water, chemicals, ozone or other deteriorating elements; (iii) ) facepiece lens, compressed-air cylinders and parts that become defective through normal use. The decision as to what constitutes normal use shall be made solely by HONEYWELL SAFETY PRODUCTS. 5) To maintain this warranty, the purchaser must perform maintenance and inspections as set forth in the Instruction Manual which shall include prompt replacement or repair of defective parts, and replacement of parts per the maintenance schedule as set forth in the User's Instructions. THE OWNER ASSUMES ALL OTHER RISKS, IF ANY, SUCH AS THE RISK OF ANY DIRECT, INDIRECT OR CONSEQUENTIAL LOSS OR DAMAGE ARISING OUT OF THE USE OF, OR INABLILTY TO USE, THE PRODUCT. SERVICING HONEYWELL SAFETY PRODUCTS RESPIRATORS WITH PARTS NOT APPROVED BY HONEYWELL WILL VOID THIS WARRANTY AND THE NIOSH APPROVAL FOR THE RESPIRATOR UNIT. THIS WARRANTY IS MADE IN LIEU OF ALL OTHER WARRANTIES, EXPRESS OR IMPLIED AND MAY NOT BE VARIED OR EXTENDED EXCEPT IN WRITING BY AN AUTHORIZED OFFICIAL OF HONEYWELL SAFETY PRODUCTS
Data Sheet
Name
Description
File Size
Date
Size
North Compact Air PAPR Technical Data Sheet
application/pdf 93.76 KB
10/21/2021
93.76 KB
Honeywell Primair 100 Series Hoods Datasheet
application/pdf 134.68 KB
10/26/2021
134.68 KB
Brochure
Name
Description
File Size
Date
Size
North Compact Air Powered Air Purifying Respirators Brochure
application/pdf 774.44 KB
10/21/2021
774.44 KB
Primair 100 Series Hoods Literature
application/pdf 471.86 KB
471.86 KB
Honeywell North APR Cartridge and Filter Reference Chart
application/pdf 879.47 KB
10/21/2021
879.47 KB
Others
Name
Description
File Size
Date
Size
North Compact Air PAPR FAQs
application/pdf 42.86 KB
10/21/2021
42.86 KB
Name
Description
File Size
Date
Size
Name
Description
File Size
Date
Size

PA101M

PA101S

PA102M

PA102S

PA105

PA111

PA112

PA121

PA122

PA131

PA101M

PA101S

PA102M

PA102S

PA105

PA111

PA112

PA121

PA122

PA131