Sealed Switches
XE Series
7 A ac & dc. Variety of auxiliary actuators, operate forces, & terminations. 4,8 mm centers side mount. MIL-PRF-8805 & UL listings
Overview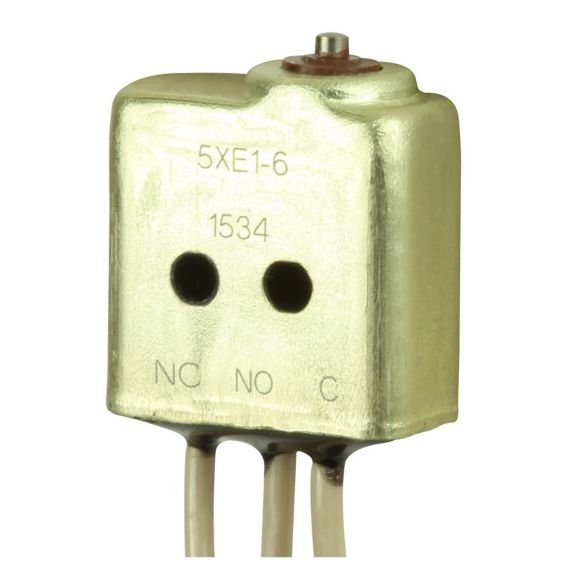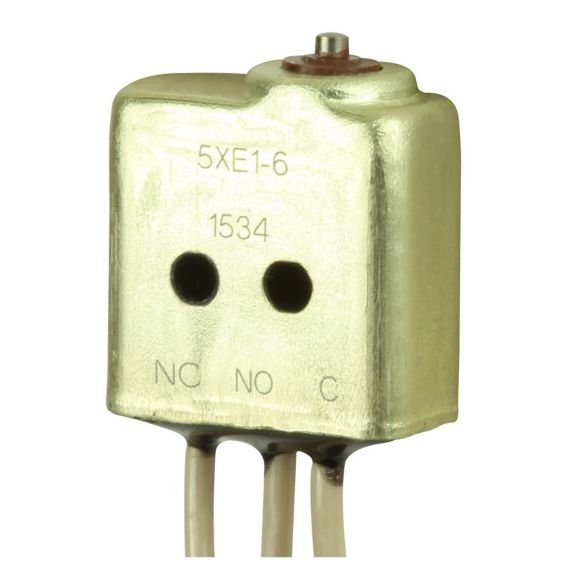 Honeywell SE and XE miniature sealed basic switches are designed for precise and reliable position indication of critical applications on aircraft and military systems. The applications range from military and commercial aircraft and helicopters to military land vehicles (track and wheeled vehicles). These switches are also suitable for other commercial and industrial applications where a degree of environmental sealing is required.
The environmentally sealed SE Series is designed for demanding applications where water and/or particulate contaminant is present along with the potential for a wide range of temperatures. The SE Series incorporates the Honeywell time-proven MICRO SWITCH SM Series electromechanical switches in the SE housing.
The environmentally sealed miniature XE Series is similar to the SE Series except smaller in package size, utilizing the Honeywell MICRO SWITCH SX subminiature electromechanical switch. In addition, select Honeywell XE switches are MIL-PRF-8805 qualified satisfying the requirements where a military qualified or compliant switch is required.
To add to the versatility of the SE and XE family of products, CSA and UL certified products are available where the application is not aerospace or military related.
Manuals and Guides
Name
Description
File Size
Date
Size
MICRO SWITCH Sealed and High Accuracy Switches Line Guide
application/pdf 828.36 KB
10/21/2021
828.36 KB
Aerospace and Defense Product Range Guide -
application/pdf 16.33 MB
10/25/2022
16.33 MB
Basic, Toggle, and Rocker Switches Range Guide -
application/pdf 6.48 MB
10/25/2022
6.48 MB
Application Note
Name
Description
File Size
Date
Size
Defence Ground Vehicles -
application/pdf 872.87 KB
6/14/2023
872.87 KB
Product Photo
Name
Description
File Size
Date
Size
XE Series Product Photo
application/zip 1.03 MB
10/21/2021
1.03 MB
AT Series,XE Series Product Photo
application/zip 247.89 KB
10/21/2021
247.89 KB
Others
Name
Description
File Size
Date
Size
MICRO SWITCH - Sealed Switches Comparison
application/pdf 488.49 KB
10/24/2022
488.49 KB
Name
Description
File Size
Date
Size
Name
Description
File Size
Date
Size

1XE1
SEALED SWITCH

1XE1-T
XE Series Environmentally Sealed Basic Switch, Single Pole Double Throw Circuitry, 7 A at 115 Vac, Pin Plunger Actuator, Solder Termination, Military Part Number MS27994-3

1XE201
XE Series Environmentally Sealed Basic Switch, Single Pole Double Throw Circuitry, 7 A at 115 Vac, Pin Plunger Actuator, Leadwire Termination, Military Part Number MS27994-4

1XE202
XE Series Environmentally Sealed Basic Switch, Single Pole Normally Open Circuitry, 7 A at 115 Vac, Pin Plunger Actuator, Leadwire Termination, Pin Plunger Actuator

1XE203
XE Series Environmentally Sealed Basic Switch, Single Pole Normally Open Circuitry, 7 A at 115 Vac, Pin Plunger Actuator, Leadwire Termination

1XE301
XE Series Environmentally Sealed Basic Switch, Single Pole Double Throw Circuitry, 1 A at 28 Vdc, Pin Plunger Actuator, Leadwire Termination, Military Part Number MS27994-5

1XE401-T
XE Series Environmentally Sealed Basic Switch, Single Pole Double Throw Circuitry, 1 A at 28 Vdc, Pin Plunger Actuator, Solder Termination

5XE1
SEALED SWITCH

5XE1-T
XE Series Environmentally Sealed Basic Switch, Single Pole Double Throw Circuitry, 7 A at 28 Vdc, Pin Plunger Actuator, Solder Termination

1XE1
SEALED SWITCH

1XE1-T
XE Series Environmentally Sealed Basic Switch, Single Pole Double Throw Circuitry, 7 A at 115 Vac, Pin Plunger Actuator, Solder Termination, Military Part Number MS27994-3

1XE201
XE Series Environmentally Sealed Basic Switch, Single Pole Double Throw Circuitry, 7 A at 115 Vac, Pin Plunger Actuator, Leadwire Termination, Military Part Number MS27994-4

1XE202
XE Series Environmentally Sealed Basic Switch, Single Pole Normally Open Circuitry, 7 A at 115 Vac, Pin Plunger Actuator, Leadwire Termination, Pin Plunger Actuator

1XE203
XE Series Environmentally Sealed Basic Switch, Single Pole Normally Open Circuitry, 7 A at 115 Vac, Pin Plunger Actuator, Leadwire Termination

1XE301
XE Series Environmentally Sealed Basic Switch, Single Pole Double Throw Circuitry, 1 A at 28 Vdc, Pin Plunger Actuator, Leadwire Termination, Military Part Number MS27994-5

1XE401-T
XE Series Environmentally Sealed Basic Switch, Single Pole Double Throw Circuitry, 1 A at 28 Vdc, Pin Plunger Actuator, Solder Termination

5XE1
SEALED SWITCH

5XE1-T
XE Series Environmentally Sealed Basic Switch, Single Pole Double Throw Circuitry, 7 A at 28 Vdc, Pin Plunger Actuator, Solder Termination