Speed and Direction, Speed Sensor ICs
VM Series
Anisotropic Magnetoresistive (AMR) sensor ICs. Detects speed, direction, position ring magnet encoder target
Overview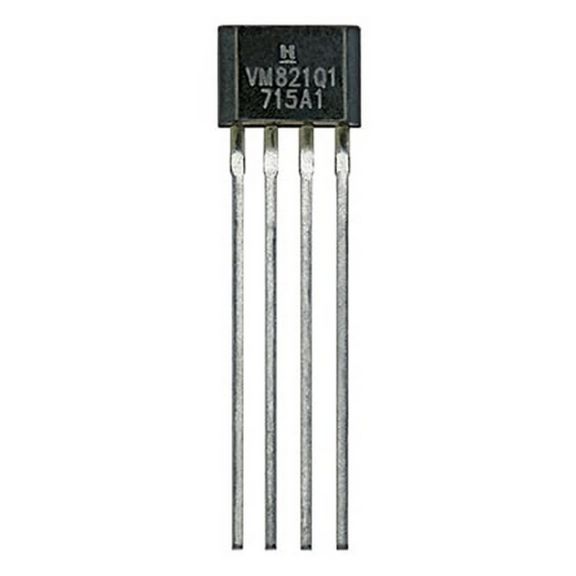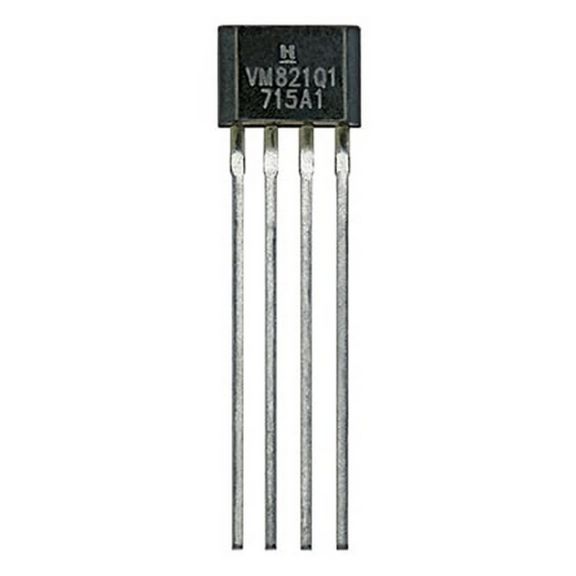 Honeywell's VM Series Anisotropic Magnetoresistive (AMR) Integrated Circuit (IC) product line is designed to detect the speed and direction of a ring magnet encoder target using a unique (patent pending) bridge design and configuration. The three offerings include 2- and 4-pin AMR sensors to be used in speed, speed and position sensing in transmissions, engine cranks, wheel speed measurement, integrated bearings and seals and for shaft speed measurement in pumps, motors and compressors.
These products are designed to provide increased flexibility and may be used in most types of mounting configurations.
Honeywell's unique solution utilizes the AMR bridge in saturation, which provides a more stable output response when the system has vibration, sudden air gap changes, or target runout without requiring complex magnitude compensation algorithms.
The AMR signal has greater sensitivity than Hall-effect sensor ICs, and does not require automatic gain control or chopper stabilization that can lead to increased jitter over the operating range.
Features
Integrated speed and direction or speed only sensor IC
Quadrature output version
Pole size independent operation
-40°C to 150°C operating temperature range
Zero speed output
No calibration required
Insensitive to mechanical vibration
Protection against reverse polarity
Electrostatic Discharge (ESD) protected
Co-packaged capacitor (2-pin versions)
ISO26262 ASIL-B(D) conforming*
AEC-Q100H Grade 0 qualified*
*VM721V1, VM721D1 only
Data Sheet
Manuals and Guides
Installation Instructions
CAD Model
Brochure
Technical Note
Application Note
Name
Description
File Size
Date
Size
Name
Description
File Size
Date
Size
VM821Q1 AMR 4-Pin Quadrature Sensor Integrated Circuit
420.96 KB
10/22/2021
Transportation Range Guide
18.57 MB
10/21/2021
Position Sensors Product Range Guide
4.85 MB
10/21/2021
VM821Q1 AMR 4-Pin Quadrature Sensor Integrated Circuit
809.58 KB
10/21/2021
VM Series CAD Models - grouped
18.18 KB
6/15/2022
VM821Q1 CAD Model
18.14 KB
10/21/2021
Making Sense of Sensing
3.37 MB
10/21/2021
Magnetic Sensor IC Product Line Card
480.99 KB
10/21/2021
Magnetic Sensor IC Selection Chart
372.87 KB
10/24/2022
Defence Ground Vehicles -
872.87 KB
6/14/2023
Construction Vehicles -
984.29 KB
10/25/2022
Agricultural Vehicles -
1.11 MB
10/25/2022
Solutions For Healthier Air & HVAC Systems
3.88 MB
5/31/2022
Speed and Direction Sensing in Wheel Speed Applications Using Multipole Ring Magnet/Encoder Targets Application Note
217.11 KB
10/21/2021
Quadrature Speed and Position Sensing in Industrial Speed Applications Using Multipole Ring Magnet/Encoder Targets
1.51 MB
10/22/2021

VM721D1
VM721D1 Anisotropic magnetoresistive (AMR) speed and direction sensor IC, 2-pin SIP, 500 units/bag

VM721V1
VM721V1 Anisotropic magnetoresistive (AMR) speed sensor IC, 2-pin SIP, 500 units/bag

VM821Q1
VM821Q1 Anisotropic magnetoresistive (AMR) quadrature sensor IC, 4-pin SIP, 500 units/bag

VM721D1
VM721D1 Anisotropic magnetoresistive (AMR) speed and direction sensor IC, 2-pin SIP, 500 units/bag

VM721V1
VM721V1 Anisotropic magnetoresistive (AMR) speed sensor IC, 2-pin SIP, 500 units/bag

VM821Q1
VM821Q1 Anisotropic magnetoresistive (AMR) quadrature sensor IC, 4-pin SIP, 500 units/bag