Powered Air Purifying Respirators (PAPR)
Honeywell North® Primair® 700 Series Powered Air Purifying Respirator
The Honeywell North Primair 700 (PA700) Powered Air Purifying Respirator (PAPR) is engineered to be ergonomic, efficient and effortless to get workers on the job faster and keep them comfortable and productive.
Overview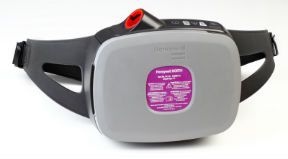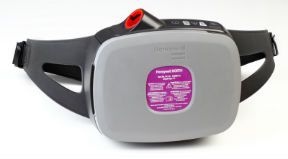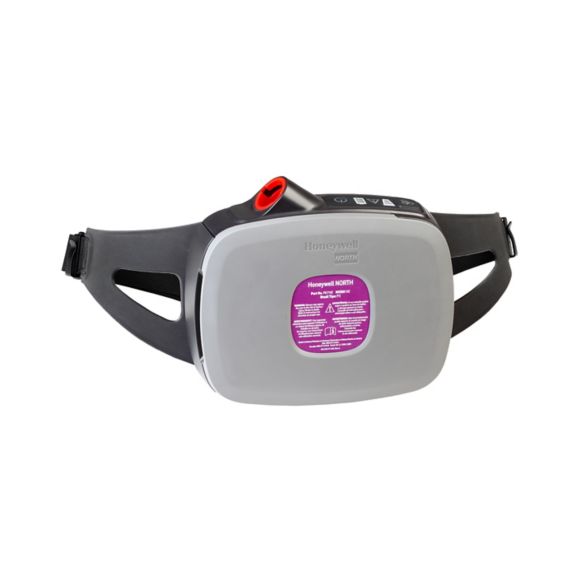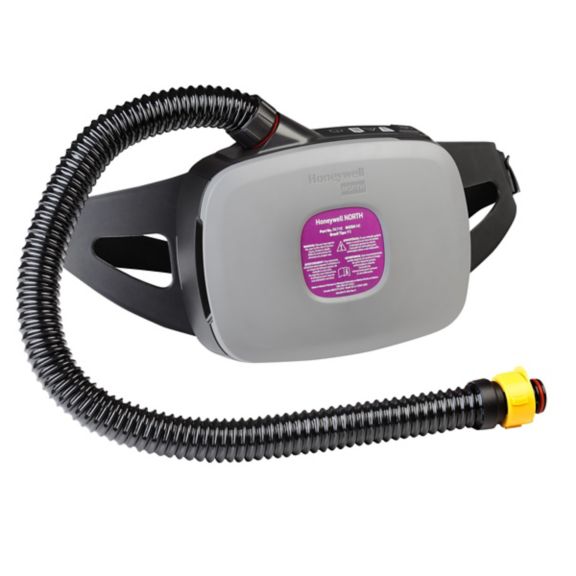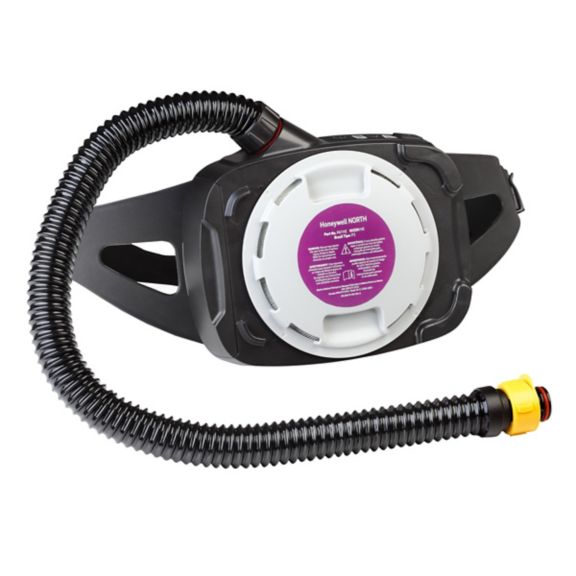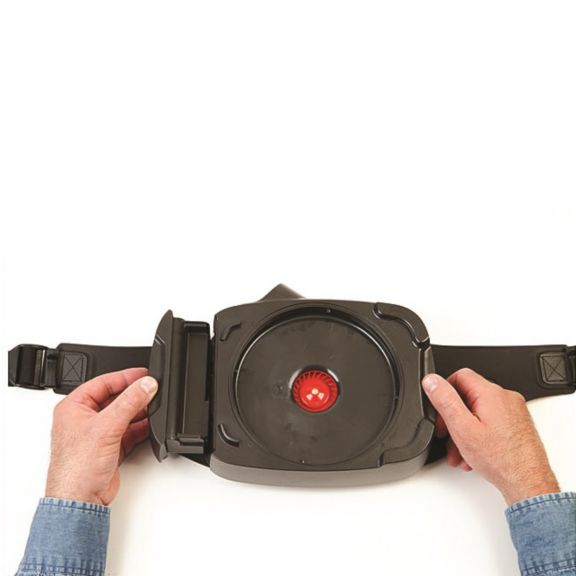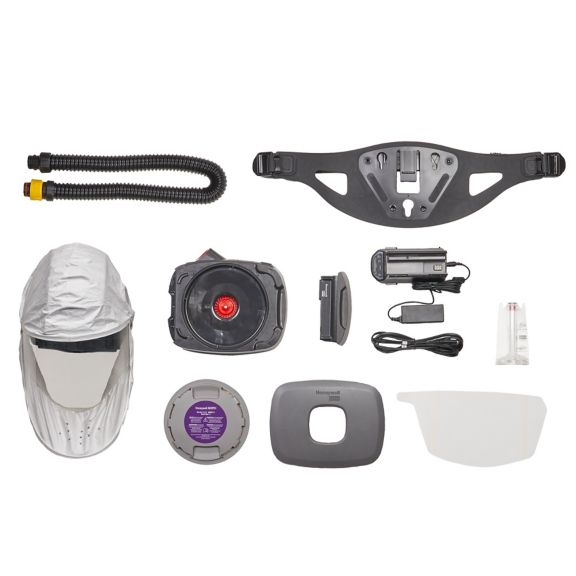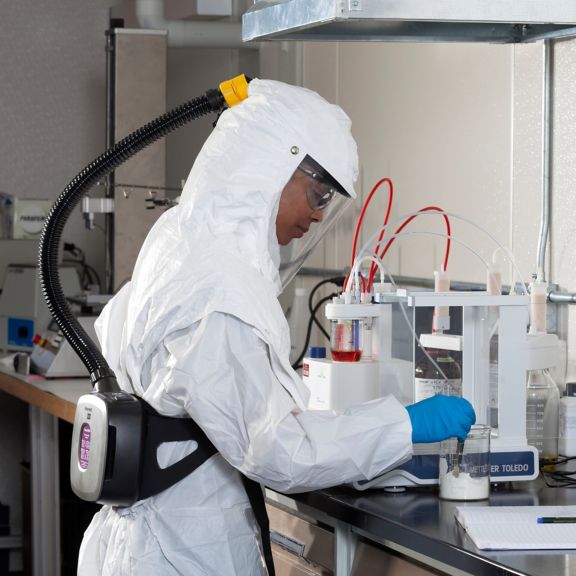 Key Features
All-in-one, integrated unit – battery and blower motor contained in compact casing; delivers better safety
Side-mounted battery – contained in housing on five (5) sides and locks into place to reduce accidental disconnections
Ergonomic belt – distributes weight evenly and prevents slipping; adjustable nylon straps for additional support; optional comfort pad
Smart breathing tube connection – twist and lock connector angles tube away from back
Efficient keypad – illuminated, easy-to-read display; large buttons for easy operation – even for workers wearing gloves; offers access to adjustable airflow with three speeds; buttons are spaced apart to prevent accidental shut down of the unit when changing airflow speed
Filter connection – P100 filter locks into place with a quarter turn, assuring workers they are secure
Optional filter cover – smooth design is easy to wipe clean; protects filter from impact and during decontamination showers

Recommended Industries/Use
Construction
Food Services
Manufacturing
Medical
Pharmaceutical
Welding
Nuclear

Hazards
Airborne Particulates
Biohazard
Contamination

Regulations

Historical Brand
North

Warranty Information
Honeywell Industrial Safety warrants the PA700 Series PAPR to the original owner to be free from defects in materials and workmanship for a period of one (1) year from the date of original shipment from Honeywell's factory. Honeywell's obligation under this limited warranty will be, at Honeywell's option, to repair or replace without charge the PA700 Series PAPR or any of its components found by Honeywell to have been defective during the limited warranty period, under the following terms:

1. The warranty claim is made (i) by the owner who purchased the PA700 Series PAPR new from Honeywell or an authorized Honeywell Distributor, and (ii) not more than three (3) months after the end of the limited warranty period.

2. The PA700 Series PAPR or component is found by Honeywell to have been defective in normal use and service during the limited warranty period of one (1) year from the date of purchase by the original owner.

3. The PA700 Series PAPR or component is returned freight prepaid to Honeywell, either to its factory or to a Honeywell authorized service center, and is thereafter returned to the owner freight collect.

4. This limited warranty does not apply to (i) any PA700 Series PAPR or component found by Honeywell to have become defective as a result of any accident, alteration, misuse, abuse, or servicing with parts not approved by Honeywell; (ii) deterioration or aging of any component made of rubber or other elastomer since such components can be adversely affected by undue exposure to heat, sun, water, chemicals, ozone or other deteriorating elements; or (iii) facepiece lens, compressed-air cylinders and parts that become defective through normal use. The decision as to what constitutes normal use shall be made solely by HONEYWELL SAFETY PRODUCTS.

5. To maintain this limited warranty, the purchaser must perform maintenance and inspections as set forth in the Operating and Maintenance Instruction Manual for this product which shall include prompt replacement or repair of defective parts, and replacement of parts per the maintenance schedule as set forth in such instructions.
Data Sheet
Name
Description
File Size
Date
Size
Primair 700 Series PAPR Technical Data Sheet
application/pdf 176.53 KB
10/21/2021
176.53 KB
Brochure
Name
Description
File Size
Date
Size
Primair 700 Series PAPR - Brochure
application/pdf 4.03 MB
10/21/2021
4.03 MB
Others
Name
Description
File Size
Date
Size
Primair 700 Series PAPR FAQs
application/pdf 379.3 KB
10/21/2021
379.3 KB
Name
Description
File Size
Date
Size
Primair 700 Series PAPR FAQs
379.3 KB
10/21/2021
379.3 KB
Primair 700 Series PAPR - Brochure
4.03 MB
10/21/2021
4.03 MB
Primair 700 Series PAPR Technical Data Sheet
176.53 KB
10/21/2021
176.53 KB
Name
Description
File Size
Date
Size
Primair 700 Series PAPR Technical Data Sheet
176.53 KB
10/21/2021
Primair 700 Series PAPR - Brochure
4.03 MB
10/21/2021
Primair 700 Series PAPR FAQs
379.3 KB
10/21/2021
SKUs

PA701HE

PA701HED

PA701HED-101

PA701HED-111

PA701HEW

PA701HE

PA701HED

PA701HED-101

PA701HED-111

PA701HEW