Arc Flash PPE
PrismShield™ Plus Arc Flash Head & Face Protection
PrismShield™ Plus Arc Flash Head & Face Protection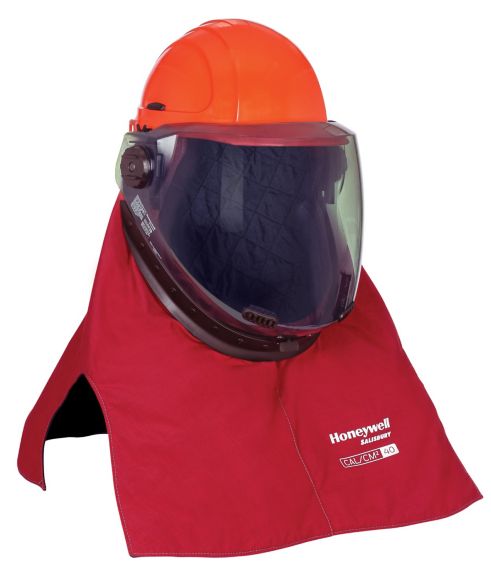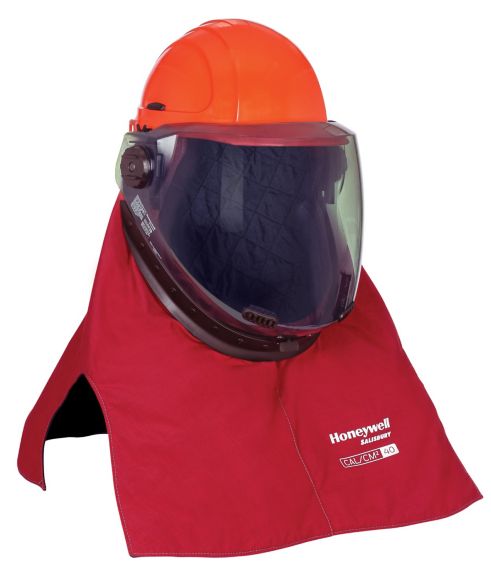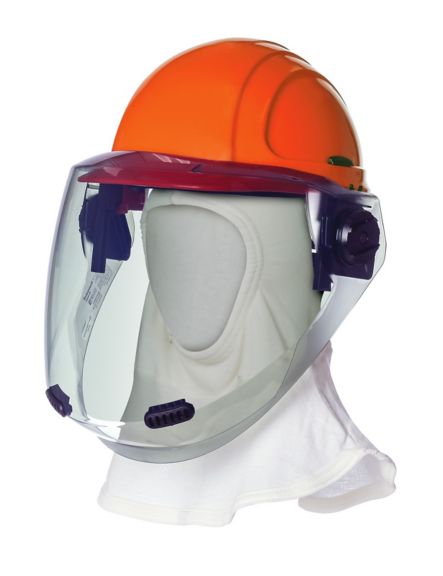 The innovative design of the NEW PrismShield™ Plus face shield provides even clearer vision for workers. A new nanoparticle-coating allows for enhanced color differentiation and improves light transmittance, while the double curved lens provides superior optical performance and greatly reduces eyestrain while wearing the face shield. User comfort is heightened by a venting system allowing fresh air in from the bottom and moisture to escape from the top.
The PrismShield™ Plus Lift Front Hood is available with a 20 cal/cm2 Pro-wear™ Plus shroud, 40 cal/cm2 Pro-wear™ Plus shroud, and 40 cal/cm2 Pro-wear™ Plus premium light weight shroud.
The Weight Balancing Face Shield with PrismShield™ Plus is available in 12 cal/cm2 and 20 cal/cm2 as well as for hard hats with full brim and those without.
Features & Benefits:
Double curved lens limits visual distortion and greatly reduces eye strain
Nanotechnology allows improved shield transparency which provides better visibility and color recognition in poorly lit rooms
Honeywell Salisbury's exclusive weight balancing frame increases comfort by reducing neck strain for users
Frameless design increases viewing area by over 20%
Venting allows usage for longer periods of time
3 times more scratch resistant than the original PrismShield™ lens for an extended product life
Compliant with ASTM F2178, ANSI Z87+S, and NFPA 70E
Brochure
Name
Description
File Size
Date
Size
PrismShield Plus - Brochure
5.14 MB
5/20/2022
5.14 MB
ProWear Plus - Brochure
724.21 KB
5/20/2022
724.21 KB
ProWear Plus - Brochure update
4.43 MB
8/8/2022
4.43 MB
Name
Description
File Size
Date
Size
PrismShield Plus - Brochure
5.14 MB
5/20/2022
ProWear Plus - Brochure
724.21 KB
5/20/2022
ProWear Plus - Brochure update
4.43 MB
8/8/2022

AS1200-MSA-PP
WBS ASSEMBLY 12 CAL-MSA

AS1200-PP
WBS ASSEMBLY 12 CAL

AS1200FB-PP
WBS ASSEMBLY FULL BRIM 12 CAL

AS1200HAT-FB-PP
WBS ASSEMBLY FULL BRIM 12 CAL

AS1200HAT-PP
WBS ASSEMBLY 12 CAL

AS1200U-PP
WBS ASSEMBLY UNIVERSAL 12 CAL

AS2000-MSA-PP
WBS ASSEMBLY 20 CAL-MSA

AS2000-PP
WBS ASSEMBLY 20 CAL

AS2000FB-PP
WBS ASSEMBLY FULL BRIM 20 CAL

AS2000HAT-FB-PP
WBS ASSEMBLY 20 CAL

AS1200-MSA-PP
WBS ASSEMBLY 12 CAL-MSA

AS1200-PP
WBS ASSEMBLY 12 CAL

AS1200FB-PP
WBS ASSEMBLY FULL BRIM 12 CAL

AS1200HAT-FB-PP
WBS ASSEMBLY FULL BRIM 12 CAL

AS1200HAT-PP
WBS ASSEMBLY 12 CAL

AS1200U-PP
WBS ASSEMBLY UNIVERSAL 12 CAL

AS2000-MSA-PP
WBS ASSEMBLY 20 CAL-MSA

AS2000-PP
WBS ASSEMBLY 20 CAL

AS2000FB-PP
WBS ASSEMBLY FULL BRIM 20 CAL

AS2000HAT-FB-PP
WBS ASSEMBLY 20 CAL