Structural Turnout Gear
Morning Pride® VIPER - Structural Turnout Gear
Ergonomically Engineered for Maximum Mobility
Overview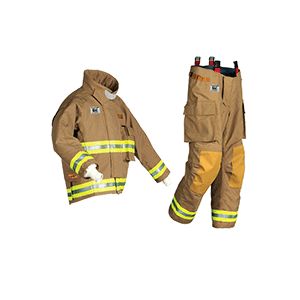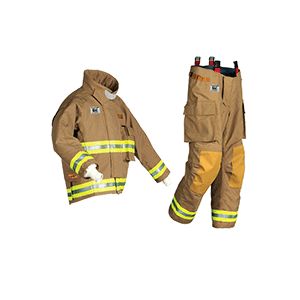 When we set out to create the new generation of turnout gear, our designers searched the global garment industry for ideas that could solve a key design problem: how to make gear that delivers comfort and mobility without adding weight or bulk.
We found the answer in skiing, snowboarding, and other high-performance sports where the limits of mobility are pushed to the extreme.
Using Advanced pattern engineering to improve ergonomics, we were able to significantly reduce fabric bulk while maximizing mobility and thermal insulation.
PART OF THE MORNING PRIDE SERIES
Click here to view the Morning Pride™ Viper Overview Video
Features and Benefits:
Available Coat and Pant Closure Systems
All paired with hook and loop
Zipper under flap
Hooks and dees outside flap
Hooks and dees inside flap closure (optional)
Certification:
New Options now available on Viper:
Dead Air Panels
Articulating DRD
Hybrid Wristlet
Dyna-Fit "Rig Friendly" Removable Suspenders
Angled Cuffs
Heat-channel Knee
BiFlex Heat-channel Knee
3D BiFlex Heat-channel Knee
Popular Coat Options:
Wristlets with Thumbholes
Leather or Hypalon Cuffs and Elbows
Shoulder and Elbow Pads
Kevlar® Reinforced Pockets
Glove Holder Webbing
Lettering on Back Patch
Choice of Required Trim Packages
Popular Pant Options:
Full-bellows Pockets – 10˝ x 10˝
Oversize Knee Reinforcements
Kevlar® Reinforced Pockets
Choice of Knee and Cuff Reinforcements
Leather or Hypalon Cuffs and Knee Patches
Knee Pads
Semi-bellows Pockets– 9˝ x 9˝
S14 Buckle Suspender System Waterwells
Choice of Required Trim Packages
Certified Escape Systems:
Spider™ Harness – Integrated Class II safety and rescue harness with A-frame
Patriot™ Harness – Integrated Class II safety and rescue harness
Life Grip™ Ladder / Escape Belt – Functional and fully adjustable escape belt
Manuals and Guides
Name
Description
File Size
Date
Size
Garments NFPA 1971 User Guide French
application/pdf 419.78 KB
7/15/2021
419.78 KB
Garments NFPA 1971 User Guide
application/pdf 2.14 MB
7/15/2021
2.14 MB
Garments NFPA 1971 User Guide Spanish
application/pdf 629.97 KB
7/15/2021
629.97 KB
HFRP Fabric Selector Guide-
application/pdf 5.06 MB
9/20/2023
5.06 MB
Others
Name
Description
File Size
Date
Size
Honeywell Morning Pride® VIPER
application/pdf 8.61 MB
7/15/2021
8.61 MB
Name
Description
File Size
Date
Size
Name
Description
File Size
Date
Size