Portables
AreaRAE Pro
The first choice of first responders
Overview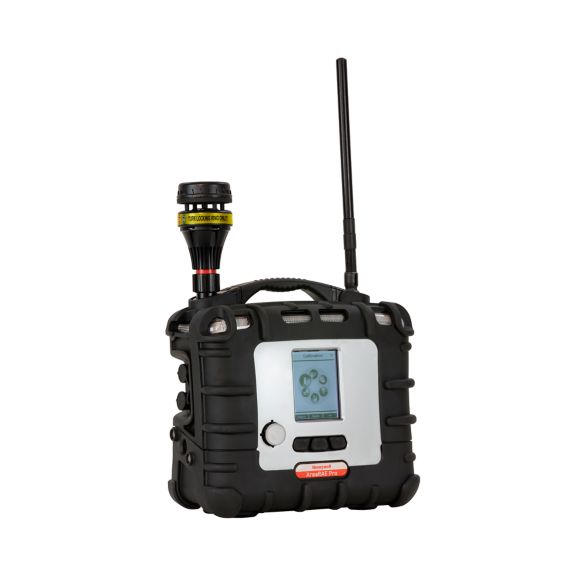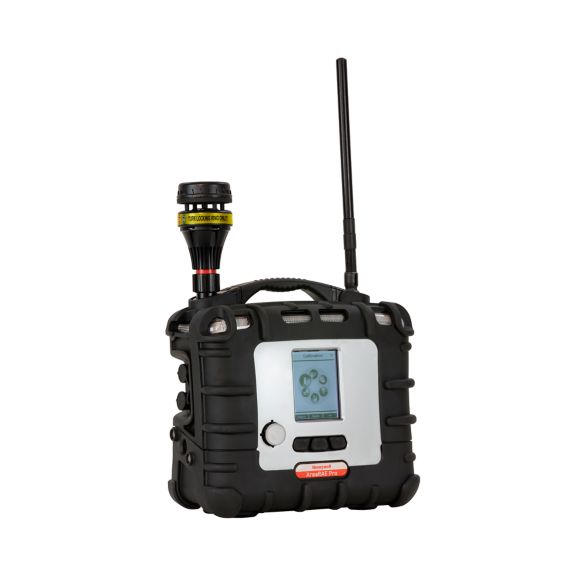 For years, you've relied on AreaRAE as a first line of defense. As the threats have evolved, our technology has, too. Today's AreaRAE Pro wireless multi-gas, multi-threat detector is equipped with more sensors, more versatility, and more insight into threats happening in real-time—arming you with the information you need when seconds count.
Features and Benefits:
Monitors up to seven threats, including Gamma radiation , VOCs, combustibles, Toxics and Oxygen
Ppb performance level on VOCs measurement
Dedicated gamma sensor slot
Local weather station
Part of ConneXt Safety Solutions with ISM and Wi-Fi wireless configurations
Wireless technology sends real-time data to command station up to two miles (3km) away
Secondary radio module (Mesh) act as an communication Hub for other wireless devices
Ruggedized, portable, and weather-resistant design for harsh environments
Application:
CBRNE
Clandestine Labs
Decontamination
Emergency Response
Fire Overhaul
Hazmat Response
Urban Search & Rescue
Venue Protection
Even the best products deserve expert maintenance!
Elevate your gas detectors' potential with Honeywell's expert maintenance services! Maximize uptime, eliminate costs, and ensure on-time, on-budget project completion.
Explore our fixed, portable, and high-tech support services now!
Dimensions
Weight

14.33 US Pound

6.5 kilogram
Range
Humidity Range
Sensor Range

VOC (0-2000ppm), LEL (0-100%LEL), CO2 (0-50000ppm), NH3 (0-100ppm), CO (0-2000ppm), Cl2 (0-50ppm), ETO (0-500ppm), H2 (0-2000ppm), HCL (0-15ppm), HCN (0-50ppm), HF (0.5-10ppm), H2S (0-1000ppm), O2 (0-30%), SO2 (0-20ppm), NO (0-250ppm), NO2 (0-20ppm), PH3 (0-20ppm), Gamma (0.01 μSv/h to 0.2 mSv/h)
Alarm
Alarm Type

Audible, Visual, Vibrating
Certifications
Standards

US and Canada: Class 1, Division 2, Groups A, B, C, D
Datalogging
Datalogging

Continuous data logging (90 days for 7 gas sensors, 1 Gamma
Features & Benefits
Benefits

Delivers real-time readings to Honeywell's remote monitoring software, so you can instantly determine the location and severity of a threat
Options
User Options

3 operation and programming keys
Warranty
Warranty

Four years for O2 Liquid Oxygen sensors
Additional Specifications
Ingress Protection
Gas Type

VOC, LEL, CO2, NH3, CO, Cl2, ETO, H2, HCL, HCN, HF, H2S, O2, SO2, NO, NO2, PH3, Gamma
Others
Minimum Temperature

-20 degree Celsius

-4 degree Fahrenheit

Maximum Temperature

140 degree Fahrenheit

60 degree Celsius
Dimensions
Weight

14.33 US Pound

6.5 kilogram
Range
Sensor Range

VOC (0-2000ppm), LEL (0-100%LEL), CO2 (0-50000ppm), NH3 (0-100ppm), CO (0-2000ppm), Cl2 (0-50ppm), ETO (0-500ppm), H2 (0-2000ppm), HCL (0-15ppm), HCN (0-50ppm), HF (0.5-10ppm), H2S (0-1000ppm), O2 (0-30%), SO2 (0-20ppm), NO (0-250ppm), NO2 (0-20ppm), PH3 (0-20ppm), Gamma (0.01 μSv/h to 0.2 mSv/h)
Alarm
Alarm Type

Audible, Visual, Vibrating
Certifications
Standards

US and Canada: Class 1, Division 2, Groups A, B, C, D
Datalogging
Datalogging

Continuous data logging (90 days for 7 gas sensors, 1 Gamma
Features & Benefits
Benefits

Delivers real-time readings to Honeywell's remote monitoring software, so you can instantly determine the location and severity of a threat
Options
User Options

3 operation and programming keys
Warranty
Warranty

Four years for O2 Liquid Oxygen sensors
Additional Specifications
Gas Type

VOC, LEL, CO2, NH3, CO, Cl2, ETO, H2, HCL, HCN, HF, H2S, O2, SO2, NO, NO2, PH3, Gamma
Others
Minimum Temperature

-20 degree Celsius

-4 degree Fahrenheit

Maximum Temperature

140 degree Fahrenheit

60 degree Celsius
Sampling Pump Range : 100ft (30m)
Minimum Temperature : -20 degree Celsius|-4 degree Fahrenheit
Maximum Temperature : 140 degree Fahrenheit|60 degree Celsius
Weight : 14.33 US Pound|6.5 kilogram
Sub-Category : Transportable
Instrument Size : 12.36" x 12.04" x 6.53"
Humidity Range : 0%-95% percent
Sensor Range : VOC (0-2000ppm), LEL (0-100%LEL), CO2 (0-50000ppm), NH3 (0-100ppm), CO (0-2000ppm), Cl2 (0-50ppm), ETO (0-500ppm), H2 (0-2000ppm), HCL (0-15ppm), HCN (0-50ppm), HF (0.5-10ppm), H2S (0-1000ppm), O2 (0-30%), SO2 (0-20ppm), NO (0-250ppm), NO2 (0-20ppm), PH3 (0-20ppm), Gamma (0.01 μSv/h to 0.2 mSv/h)
Alarm Type : Audible, Visual, Vibrating
Battery Run Time : 12-20 hours
Standards : US and Canada: Class 1, Division 2, Groups A, B, C, D
Datalogging : Continuous data logging (90 days for 7 gas sensors, 1 Gamma
Benefits : Delivers real-time readings to Honeywell's remote monitoring software, so you can instantly determine the location and severity of a threat
User Options : 3 operation and programming keys
Warranty : Four years for O2 Liquid Oxygen sensors
Wireless Technology : BLE, MESH, WiFi
Ingress Protection : IP65
Gas Type : VOC, LEL, CO2, NH3, CO, Cl2, ETO, H2, HCL, HCN, HF, H2S, O2, SO2, NO, NO2, PH3, Gamma
Data Sheet
Manuals and Guides
Firmware
Brochure
Technical Note
White Paper
Certificate
Application Note
Name
Description
File Size
Date
Size
Name
Description
File Size
Date
Size

008-1126-000
CO Carbon Monoxide high range (0-2000, 10 ppm res)

008-2009-000
DUMMY SENSOR,PGM-50 WARAE

008-3012-151
15′ (5 m) Teflon® tubing w/ male Luer fitting

008-3014-005
External filter with adapter (for barbed fittings)

029-0914-000
AreaRAE/PGM-5020 accessories and Calibration Kit

029-2006-005
AreaRAE gas outlet adapter (pack of 5)

029-2009-005
AreaRAE inlet tube adapter (pack of 5)

029-2124-000
Wall mounting bracket

029-2124-200
Tripod mounting bracket

029-2124-300
Tripod Kit (includes tripod and mounting bracket)

008-1126-000
CO Carbon Monoxide high range (0-2000, 10 ppm res)

008-2009-000
DUMMY SENSOR,PGM-50 WARAE

008-3012-151
15′ (5 m) Teflon® tubing w/ male Luer fitting

008-3014-005
External filter with adapter (for barbed fittings)

029-0914-000
AreaRAE/PGM-5020 accessories and Calibration Kit

029-2006-005
AreaRAE gas outlet adapter (pack of 5)

029-2009-005
AreaRAE inlet tube adapter (pack of 5)

029-2124-000
Wall mounting bracket

029-2124-200
Tripod mounting bracket

029-2124-300
Tripod Kit (includes tripod and mounting bracket)