Portables
ToxiRAE Pro Family
A full range of wireless personal single-gas monitors
Overview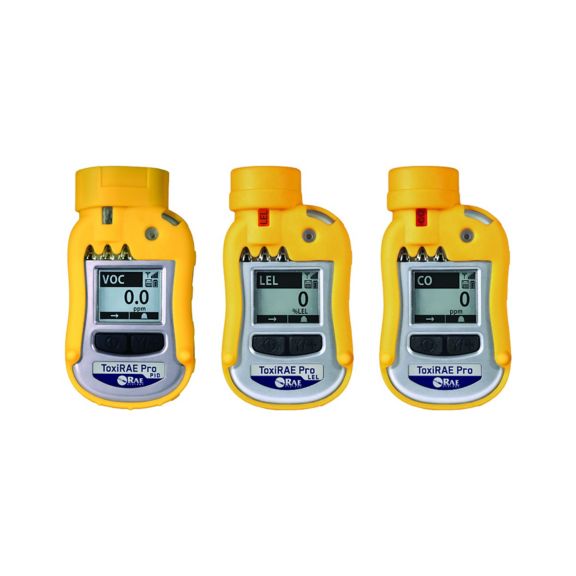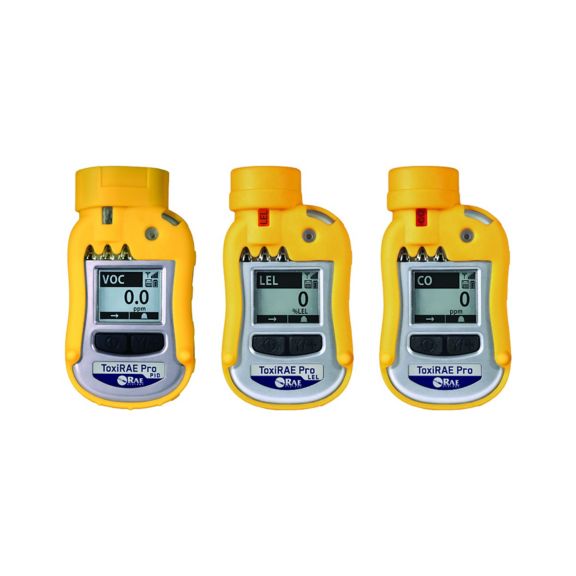 Streamline your plant-wide deployment with a family of instruments that offer similar user interface, calibration and maintenance routines, and accessories for easy interoperability for users, and cost savings on training. The ToxiRAE Pro family is the industry's first and largest family of wireless, personal single-gas monitors that can reliably and accurately monitor a full range of common toxic industrial chemicals (TICs), volatile organic compounds (VOCs), combustible gases, carbon dioxide (CO2), and Oxygen (O2). When combined with ProRAE Guardian software, safety managers can easily view data in real time on all ToxiRAE Pro instruments, anytime, anywhere.
Features and Benefits:
Easy to maintain and calibrate
Anytime, anywhere access to real-time instrument reading and alarm status with ProRAE Guardian Software or EchoView Portable Controller
Five-way alarm notification — man down, and 4 instrument alarms
Rugged, IP-54 (PID) and IP-65 (EC, LEL, and CO2) protection rating
Compact and lightweight
3 months of continuous data logging
Field-replaceable battery, filter, sensor, and PID fan
Fully automated calibration with AutoRAE2
Readily enables to communicate with Motorola MOTOTRBO
Application:
CBRNE
Clandestine Labs
Emergency Response
Environmental Cleanups/ Remediation
Exploration
Fire Overhaul
Fracking
Hazmat Response
Leak Detection
Plant Shutdown & Turn-Around
Residential Calls
Urban Search & Rescue
Worker Exposure
Even the best products deserve expert maintenance!
Elevate your gas detectors' potential with Honeywell's expert maintenance services! Maximize uptime, eliminate costs, and ensure on-time, on-budget project completion.
Explore our fixed, portable, and high-tech support services now!
Dimension & Weight
Instrument Size

4.6" H x 2.4" W x 1.2" D (118 x 60 x 30 mm)
Range
Humidity Range
Sensor Range

NH3 (0-100ppm), CO (0-500ppm), Cl2 (0-50ppm), ClO2 (0-1ppm), ETO (0-500ppm), HCHO (0-10ppm), H2 (0-1000ppm), HCN (0-50ppm), H2S (0-100ppm), CH3-SH (0-10ppm), NO (0-250ppm), NO2 (0-20ppm), O2 (0-30%vol), PH3 (0-20ppm), SO2 (0-20ppm), HCl (0-15ppm), HF (0-10ppm)
Alarm
Alarm Type

Audible, Visual, Vibrating
Certifications
Standards

Class I, Division 1, Groups A, B, C, D, T4
Features & Benefits
Benefits

Wireless elevates safety to the next level
Options
User Options

Wireless remote alarm notification; audible (95 dB @ 30 cm)
Warranty
Warranty

One year on all other sensors, battery, and other consumable parts

Three years on H2S and CO sensors

Two years on O2 sensor

Two years on non-consumable components
Additional Specifications
Ingress Protection
Gas Type

NH3, CO, Cl2, ClO2, ETO, HCHO, H2, HCN, H2S, CH3-SH, NO, NO2, O2, PH3, SO2, HCl, HF
Others
Minimum Temperature

-20 degree Celsius

-4 degree Fahrenheit

Maximum Temperature

131 degree Fahrenheit

55 degree Celsius
Dimension & Weight
Instrument Size

4.6" H x 2.4" W x 1.2" D (118 x 60 x 30 mm)
Range
Sensor Range

NH3 (0-100ppm), CO (0-500ppm), Cl2 (0-50ppm), ClO2 (0-1ppm), ETO (0-500ppm), HCHO (0-10ppm), H2 (0-1000ppm), HCN (0-50ppm), H2S (0-100ppm), CH3-SH (0-10ppm), NO (0-250ppm), NO2 (0-20ppm), O2 (0-30%vol), PH3 (0-20ppm), SO2 (0-20ppm), HCl (0-15ppm), HF (0-10ppm)
Alarm
Alarm Type

Audible, Visual, Vibrating
Certifications
Standards

Class I, Division 1, Groups A, B, C, D, T4
Features & Benefits
Benefits

Wireless elevates safety to the next level
Options
User Options

Wireless remote alarm notification; audible (95 dB @ 30 cm)
Warranty
Warranty

One year on all other sensors, battery, and other consumable parts

Three years on H2S and CO sensors

Two years on O2 sensor

Two years on non-consumable components
Additional Specifications
Gas Type

NH3, CO, Cl2, ClO2, ETO, HCHO, H2, HCN, H2S, CH3-SH, NO, NO2, O2, PH3, SO2, HCl, HF
Others
Minimum Temperature

-20 degree Celsius

-4 degree Fahrenheit

Maximum Temperature

131 degree Fahrenheit

55 degree Celsius
Minimum Temperature : -20 degree Celsius|-4 degree Fahrenheit
Maximum Temperature : 131 degree Fahrenheit|55 degree Celsius
Weight : 220 gram|7.76 ounce av
Sub-Category : Single-Gas
Instrument Size : 4.6" H x 2.4" W x 1.2" D (118 x 60 x 30 mm)
Sensor Range : NH3 (0-100ppm), CO (0-500ppm), Cl2 (0-50ppm), ClO2 (0-1ppm), ETO (0-500ppm), HCHO (0-10ppm), H2 (0-1000ppm), HCN (0-50ppm), H2S (0-100ppm), CH3-SH (0-10ppm), NO (0-250ppm), NO2 (0-20ppm), O2 (0-30%vol), PH3 (0-20ppm), SO2 (0-20ppm), HCl (0-15ppm), HF (0-10ppm)
Alarm Type : Audible, Visual, Vibrating
Battery Run Time : 30 hours
Standards : Class I, Division 1, Groups A, B, C, D, T4
Datalogging : Three-month capacity
Benefits : Wireless elevates safety to the next level
User Options : Wireless remote alarm notification; audible (95 dB @ 30 cm)
Warranty : One year on all other sensors, battery, and other consumable parts|Three years on H2S and CO sensors|Two years on O2 sensor|Two years on non-consumable components
Wireless Technology : MESH
Ingress Protection : IP65
Gas Type : NH3, CO, Cl2, ClO2, ETO, HCHO, H2, HCN, H2S, CH3-SH, NO, NO2, O2, PH3, SO2, HCl, HF
Data Sheet
Name
Description
File Size
Date
Size
ToxiRAE Pro Family - Data Sheet
application/pdf 105.92 KB
8/22/2023
105.92 KB
Manuals and Guides
Name
Description
File Size
Date
Size
ToxiRAE Pro CO2 User Manual
application/pdf 2.13 MB
11/28/2023
2.13 MB
Firmware
Name
Description
File Size
Date
Size
ToxiRAE Pro CO2/LEL/EC/PID V1.86
application/zip 413.87 KB
1/10/2023
413.87 KB
Brochure
Name
Description
File Size
Date
Size
MSI-Honeywell Connected Safety Solution
application/pdf 441.3 KB
7/15/2021
441.3 KB
Certificate
Name
Description
File Size
Date
Size
ToxiRAE & MultiRAE RMBLED CE Certificate of Component Conformity
application/pdf 116.75 KB
1/3/2022
116.75 KB
ToxiRAE Pro EU Declaration of Conformity
application/pdf 218.92 KB
1/11/2022
218.92 KB
Name
Description
File Size
Date
Size
Name
Description
File Size
Date
Size
ToxiRAE Pro Family - Data Sheet
105.92 KB
8/22/2023
ToxiRAE Pro CO2 User Manual
2.13 MB
11/28/2023
ToxiRAE Pro CO2/LEL/EC/PID V1.86
413.87 KB
1/10/2023
MSI-Honeywell Connected Safety Solution
441.3 KB
7/15/2021
ToxiRAE & MultiRAE RMBLED CE Certificate of Component Conformity
116.75 KB
1/3/2022
ToxiRAE Pro EU Declaration of Conformity
218.92 KB
1/11/2022