Earplugs
SmartFit®
A revolution in terms of fit. NRR 25
Overview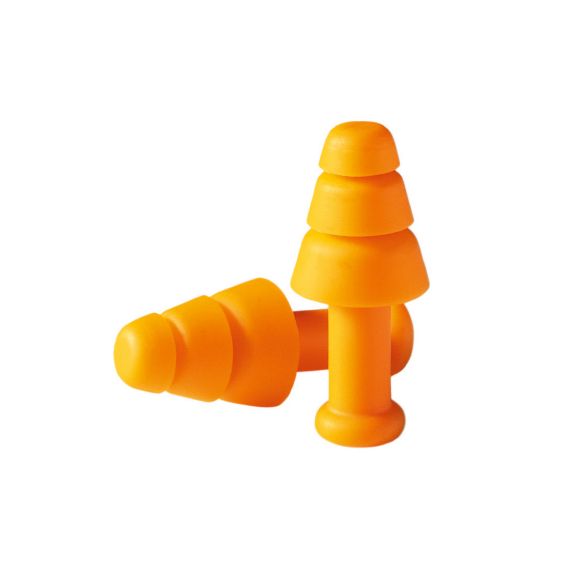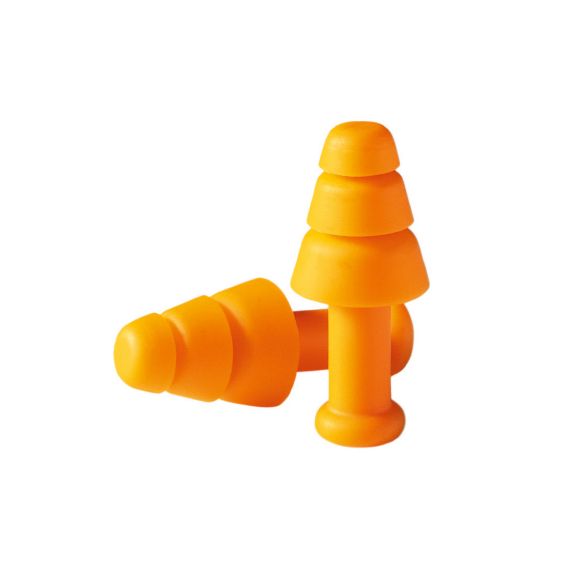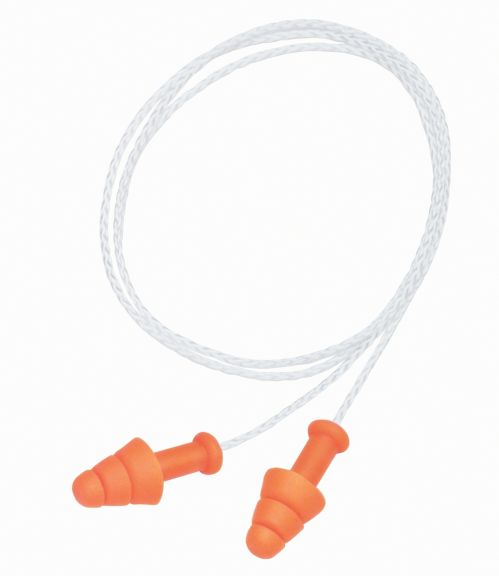 Patented conforming material technology uses body heat to adapt to the shape of the ear canal.
Superior comfort and an individual fit.
Simplified inventory control - a single product fits almost every user.
Unique detachable cord system.
HearPack storage case.
Inspect: Prior to fitting, examine your earplugs for dirt, damage, deformation, or extreme hardness.
Discard: Discard immediately if earplugs are compromised.
Hygiene: Wash reusable earplugs with mild soap and warm water only. Pat dry with a towel and store when not in use. Do not treat with any other substances, as the earplugs may degrade and compromise effectiveness. With proper maintenance, reusable earplugs can be used daily for 2-4 weeks.
Fitting a reusable earplug:
While holding the stem, reach a hand over your head and gently pull top of your ear up and back.
Insert the earplug so all flanges are well inside your ear canal.
If properly fitted, the tip of the earplug stem may be visible to someone looking at you from the front.
Improper fit of this device will reduce its effectiveness in attenuating noise. Refer to instructions on package for proper fit.
Recommended Industries/Use: Agriculture, Construction, Fire, Forestry, Government, Law Enforcement, Light Manufacturing, Transportation, Utilities, Welding.
Others
Material
Noise Reduction Rating
Single Number Rating
High Visibility
Earplug Shape
Earplug Size
Canada Class
Reusability
Detectable
Noise Reduction Rating : 25 decibel|25
Single Number Rating : 30
Earplug Size : One Size Fits All
Manuals and Guides
Name
Description
File Size
Date
Size
Hearing Protection Mini Guide
application/pdf 7.21 MB
11/16/2023
7.21 MB
HL_smartfit_multiple-use_earplug_hl miniguide_2018 final 2-9-18.pdf
application/pdf 1.07 MB
12/6/2023
1.07 MB
Poster
Name
Description
File Size
Date
Size
HL_smartfit_multiple-use_earplug_earplug fitting poste au_1.pdf
application/pdf 337.2 KB
12/6/2023
337.2 KB
HL_smartfit_multiple-use_earplug_hearing thermometer post au.pdf
application/pdf 3.28 MB
12/6/2023
3.28 MB
HL_smartfit_multiple-use_earplug_earplug fitting poste au.pdf
application/pdf 337.2 KB
12/6/2023
337.2 KB
HL_smartfit_multiple-use_earplug_post14 care and maintenance.pdf
application/pdf 1.02 MB
12/6/2023
1.02 MB
Others
Name
Description
File Size
Date
Size
HL_smartfit_multiple-use_earplug_his_hear_vs100_br_en_us_0219_wr.pdf
application/pdf 1.7 MB
12/6/2023
1.7 MB
HL_smartfit_multiple-use_earplug_doc2654 hear aff earplug fit 508x800 fra.pdf
application/pdf 633.28 KB
12/6/2023
633.28 KB
HL_smartfit_multiple-use_earplug_smartfit-multiple-use-earplug.pdf
application/pdf 102.65 KB
7/15/2021
102.65 KB
HL_smartfit_multiple-use_earplug_doc2653 hear aff earplug fit 508x800 spa.pdf
application/pdf 637.58 KB
12/6/2023
637.58 KB
HL_smartfit_multiple-use_earplug_smartfit_ce.pdf
application/pdf 1.3 MB
12/6/2023
1.3 MB
Name
Description
File Size
Date
Size
Name
Description
File Size
Date
Size

SMF-30
Honeywell Howard Leight SmartFit® Tapered TPE Corded Earplugs

SMF-30BU
Honeywell Howard Leight SmartFit® Tapered TPE Corded Earplugs

SMF-30W-P
Honeywell Howard Leight SmartFit® Tapered TPE Corded Earplugs

SMF-30
Honeywell Howard Leight SmartFit® Tapered TPE Corded Earplugs

SMF-30BU
Honeywell Howard Leight SmartFit® Tapered TPE Corded Earplugs

SMF-30W-P
Honeywell Howard Leight SmartFit® Tapered TPE Corded Earplugs