Open Loop Sensors
CSCA-A Series
ac, dc, impulse current. ±150 A, ±300 A, ±600 A, ±900 A sensing current ranges. 3 µs to 7 µs response time. Molex & Gallant connectors
Overview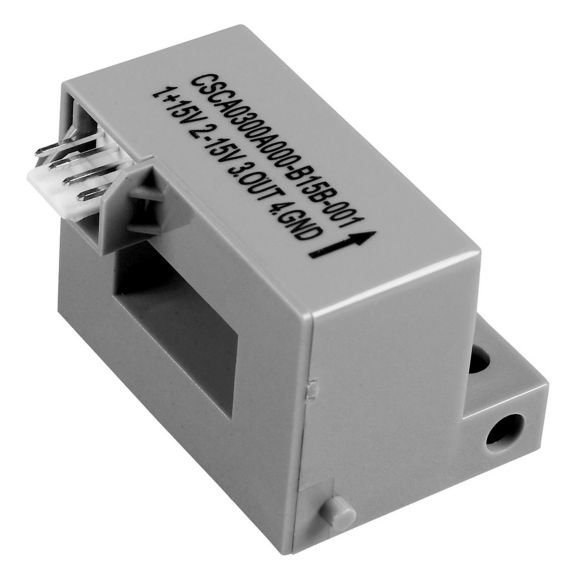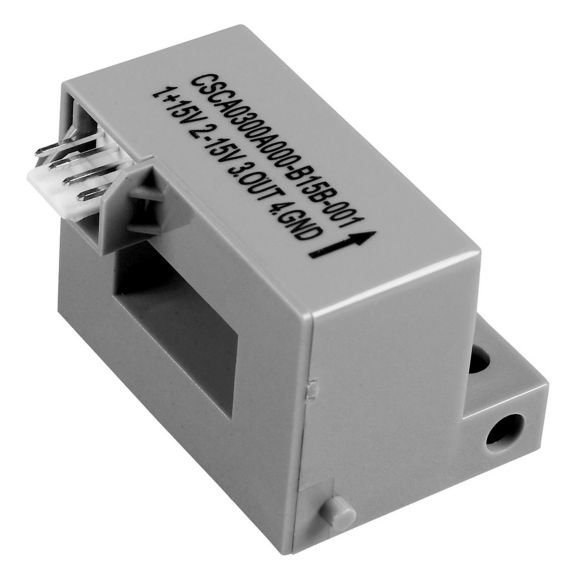 The CSCA-A Series of open-loop current sensors are based on the principles of the Hall-effect wherein a Hall-effect device (HED) produces an output voltage linearly related to the amplitude and phase of a magnetic field applied to it.
Current flowing through a primary conductor generates a rotating magnetic field around the conductor. This field is collector by a core of magnetically sensitive material and concentrated in the gap in this core. The HED is located in this core gap. Therefore, the HED output is directly proportional to the amplitude and phase of the primary current.
The HED output is trimmed for gain and offset calibration such that the CSCA-A Series sensor provides a predefined output sensitivity versus primary current.
Manuals and Guides
Name
Description
File Size
Date
Size
Current Sensors Range Guide
application/pdf 6.81 MB
11/1/2022
6.81 MB
Current Sensors - Line Guide
application/pdf 844.99 KB
10/7/2021
844.99 KB
Application Note
Name
Description
File Size
Date
Size
All-Terrain Vehicle Solutions
application/pdf 803.57 KB
12/21/2022
803.57 KB
Name
Description
File Size
Date
Size
Current Sensors Range Guide
6.81 MB
11/1/2022
6.81 MB
All-Terrain Vehicle Solutions
803.57 KB
12/21/2022
803.57 KB
Current Sensors - Line Guide
844.99 KB
10/7/2021
844.99 KB
Name
Description
File Size
Date
Size
Current Sensors Range Guide
6.81 MB
11/1/2022
Current Sensors - Line Guide
844.99 KB
10/7/2021
All-Terrain Vehicle Solutions
803.57 KB
12/21/2022

CSCA0050A000B15B01
CURRENT SENSORS

CSCA0100A000B15B01
CURRENT SENSOR

CSCA0200A000B15B01
CURRENT SENSOR-OPEN LOOP

CSCA0300A000B15B01
CURRENT SENSOR-OPEN LOOP

CSCA0400A000B15B01
CSCA-A Series Hall-effect based, open-loop current sensor, Molex-type connector, 400 A RMS nominal, ±900 A range

CSCA0500A000B15B01
CSCA-A Series Hall-effect based, open-loop current sensor, Molex-type connector, 500 A RMS nominal, ±900 A range

CSCA0600A000B15B01
CSCA-A Series Hall-effect based, open-loop current sensor, Molex-type connector, 600 A RMS nominal, ±900 A range

CSCA0050A000B15B01
CURRENT SENSORS

CSCA0100A000B15B01
CURRENT SENSOR

CSCA0200A000B15B01
CURRENT SENSOR-OPEN LOOP

CSCA0300A000B15B01
CURRENT SENSOR-OPEN LOOP

CSCA0400A000B15B01
CSCA-A Series Hall-effect based, open-loop current sensor, Molex-type connector, 400 A RMS nominal, ±900 A range

CSCA0500A000B15B01
CSCA-A Series Hall-effect based, open-loop current sensor, Molex-type connector, 500 A RMS nominal, ±900 A range

CSCA0600A000B15B01
CSCA-A Series Hall-effect based, open-loop current sensor, Molex-type connector, 600 A RMS nominal, ±900 A range