Magnetic Position Sensors
Arc
Arc sensing ranges of 0° to 100° & 0° to 180°. Analog Vdc output
Overview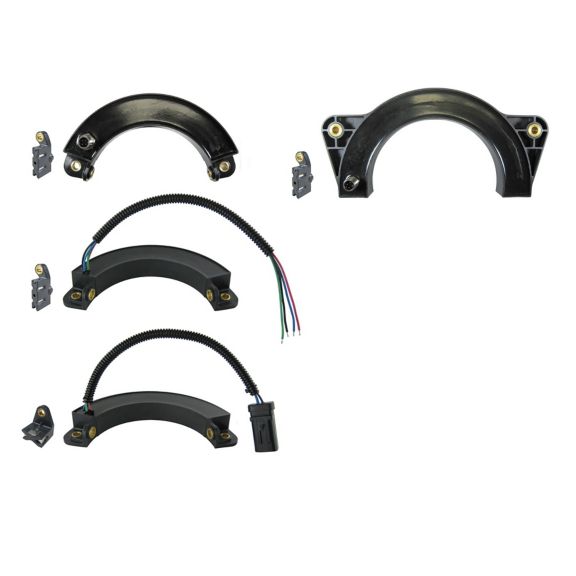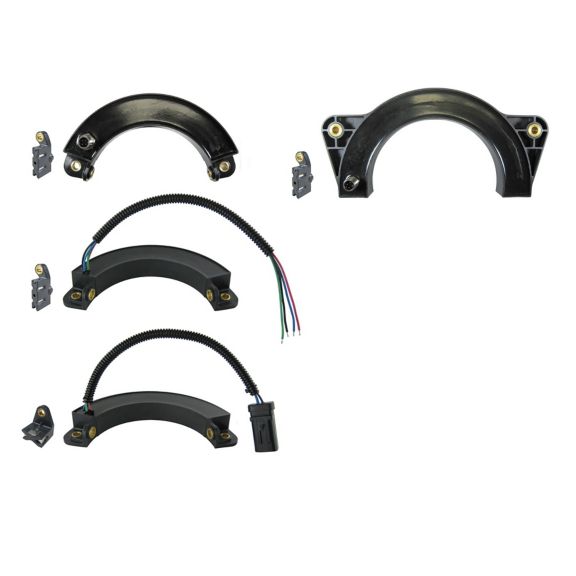 The Honeywell SMART Arc Position Sensor is one of the most durable, adaptable, lightweight, and non-contact position sensors available, enabling absolute position sensing with enhanced accuracy. This simple, robust, arc position sensor offers an IP69K sealed package, eliminating mechanical failure mechanisms, reducing wear and tear, improving reliability and durability, and minimizing downtime.
The SMART Arc Position Sensor is a non-contact sensing solution, providing highly accurate motion control and improving operation efficiency and safety. This Honeywell position sensor utilizes magnetoresistive technology to detect the position of a magnet relative to the sensor in one of two available sensing ranges:
Why is the SMART Position Sensor smart? SMART means that this is a sensor that can essentially think for itself. SMART Position Sensors provide a self-diagnostics feature and data gathering for enhanced reliability and closed-loop feedback control.
These devices use a patented combination of an ASIC (Application-Specific Integrated Circuit) and an array of MR (magnetoresistive) sensors to accurately and reliably determine the position of a magnet attached to a moving object so that the object's position can be determined or controlled.
The MR array measures the output of the MR sensors mounted along the magnet's direction of travel. The output and the MR sensor sequence determine the nearest pair of MR sensors to the center of the magnet location. The output of these two MR sensors is then used to determine the position of the magnet between them.
Data Sheet
Manuals and Guides
Installation Instructions
CAD Model
Brochure
Technical Note
Application Note
eBook
Product Photo
Name
Description
File Size
Date
Size
Name
Description
File Size
Date
Size

SPS-A100D-HAMS
SMART Position Sensor, SPS Series, 100° arc configuration, 0° to 100° sensing range, 6 Vdc to 24 Vdc supply voltage, 0.5 Vdc to 4.5 Vdc analog output, magnet actuator included

SPS-A100D-HAWS
SMART Position Sensor, SPS Series, 100° arc configuration, 0° to 100° sensing range, 6 Vdc to 24 Vdc supply voltage, 0.5 Vdc to 4.5 Vdc analog output, 18 AWG flying leads, magnet actuator included

SPS-A100D-VAMS
SMART Position Sensor, SPS Series, 100° arc configuration, 0° to 100° sensing range, 18 Vdc to 40 Vdc supply voltage, 0.5 Vdc to 4.5 Vdc, magnet actuator included

SPS-A100X-LAAS0401
SMART Position Sensor, SPS Series, 100° arc configuration, 0° to 100° outside sensing range, 5 Vdc supply voltage, 0.5 Vdc to 4.5 Vdc analog output, Ampseal 16 connector (p/n 776536), magnet actuator included

SPS-A180D-HAMS
SMART Position Sensor, SPS Series, 180° arc configuration, 0° to 180° sensing range, 6 Vdc to 24 Vdc supply voltage, 0.5 Vdc to 4.5 Vdc, magnet actuator included

SPS-A180D-VAMS
SMART Position Sensor, SPS Series, 180° arc configuration, 0° to 180° sensing range, 18 Vdc to 40 Vdc supply voltage, 0.5 Vdc to 4.5 Vdc, magnet actuator included

SPS-A100D-HAMS
SMART Position Sensor, SPS Series, 100° arc configuration, 0° to 100° sensing range, 6 Vdc to 24 Vdc supply voltage, 0.5 Vdc to 4.5 Vdc analog output, magnet actuator included

SPS-A100D-HAWS
SMART Position Sensor, SPS Series, 100° arc configuration, 0° to 100° sensing range, 6 Vdc to 24 Vdc supply voltage, 0.5 Vdc to 4.5 Vdc analog output, 18 AWG flying leads, magnet actuator included

SPS-A100D-VAMS
SMART Position Sensor, SPS Series, 100° arc configuration, 0° to 100° sensing range, 18 Vdc to 40 Vdc supply voltage, 0.5 Vdc to 4.5 Vdc, magnet actuator included

SPS-A100X-LAAS0401
SMART Position Sensor, SPS Series, 100° arc configuration, 0° to 100° outside sensing range, 5 Vdc supply voltage, 0.5 Vdc to 4.5 Vdc analog output, Ampseal 16 connector (p/n 776536), magnet actuator included

SPS-A180D-HAMS
SMART Position Sensor, SPS Series, 180° arc configuration, 0° to 180° sensing range, 6 Vdc to 24 Vdc supply voltage, 0.5 Vdc to 4.5 Vdc, magnet actuator included

SPS-A180D-VAMS
SMART Position Sensor, SPS Series, 180° arc configuration, 0° to 180° sensing range, 18 Vdc to 40 Vdc supply voltage, 0.5 Vdc to 4.5 Vdc, magnet actuator included