Magnetic Position Sensors
RTP Series
Non-contact magnetically biased, Hall-effect IC senses rotary movement of the actuator over a set operating range.
Overview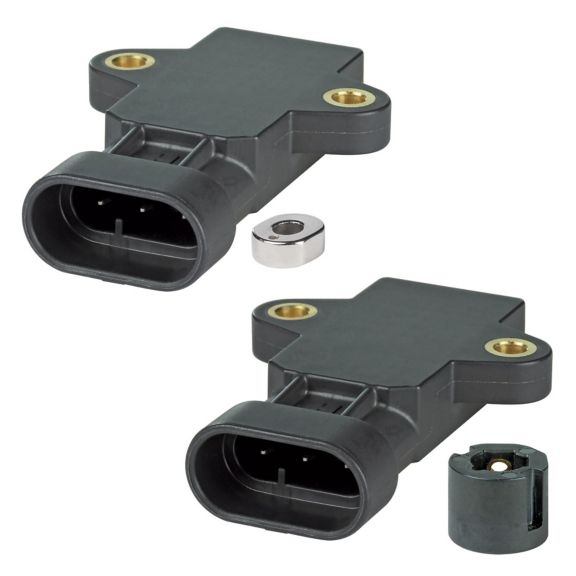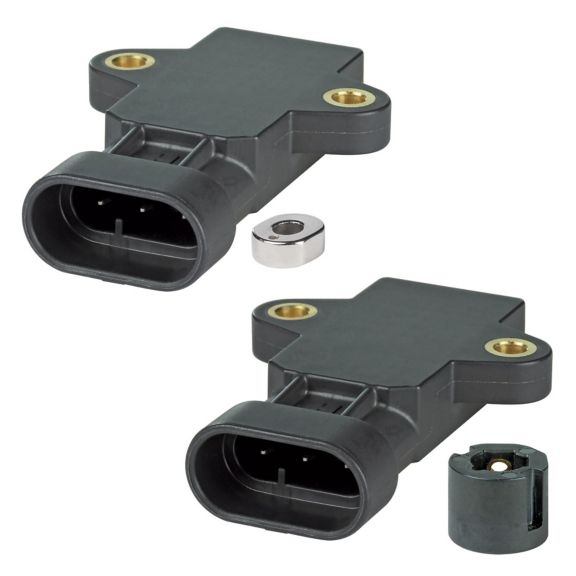 The RTP Series Hall-effect Rotary Position Sensors provide non-contact sensing in harsh transportation and industrial applications at a competitive cost.
These products take non-contact sensing to the next level by separating the magnet from the sensor body. The absence of the actuator shaft removes the wear and tear on the bearings caused by radial forces. A choice of a bare or a housed magnet is available.
These products use a magnetically biased, Hall-effect integrated circuit (IC) to sense rotary movement of the actuator over a set operating range. Rotation of the actuator changes the magnet's position relative to the IC. The resulting flux density change is converted to a linear output.
The IC, together with conditioning and protection circuitry, is sealed in an IP69K-qualified rugged package for durability in most harsh environments.
Nine operating ranges from 50° to 360° are tolerant to over-travel and allow use in most common applications. Low voltage and high voltage versions cover an input voltage range of 4.5 Vdc to 30 Vdc.
Honeywell's industry-leading capabilities in research and development provide the customer with known quality and support.
Data Sheet
Manuals and Guides
Installation Instructions
Brochure
Application Note
eBook
Product Photo
Others
Name
Description
File Size
Date
Size
Name
Description
File Size
Date
Size
RTY Series and RTP Series Hall-effect Rotary Position Sensors
2.01 MB
1/19/2022
32307666: RTP Series Hall-effect Rotary Position Sensors Installation Instructions
545.2 KB
1/19/2022
Partners Providing Technical Safety and Productivity Solutions
8.05 MB
10/7/2021
RTY Series and RTP Series Hall-effect Rotary Position Sensors
183.23 KB
10/7/2021
Platform Vehicles
628.05 KB
12/20/2022
Forestry Vehicles
1.05 MB
12/20/2022
All-Terrain Vehicle Solutions
803.57 KB
12/21/2022
Pedal Position Sensing in Heavy-Duty Vehicles
1.21 MB
10/7/2021
Agricultural Vehicles -
1.11 MB
10/25/2022
Defence Ground Vehicles -
872.87 KB
6/14/2023
Construction Vehicles -
984.29 KB
12/20/2022
Redefining Road Rail & Rugged Applications
28.35 MB
12/20/2022
RTP Series Product Photo
78.11 KB
10/7/2021
RTP Series Hall-effect Rotary Position Sensors Product Nomenclature
561.04 KB
10/7/2021

RTP050HVEAA
RTP Series with external actuator, 50° (±25°) operating range, 10 Vdc to 30 Vdc supply voltage, European pinout style; standard: 0.5 Vdc (left), 4.5 Vdc (right) non-ratiometric output voltage, housed magnet (carrier type "A")

RTP050HVNAA
RTP Series with external actuator, 50° (±25°) operating range, 10 Vdc to 30 Vdc supply voltage, North American pinout style; standard: 0.5 Vdc (left), 4.5 Vdc (right) non-ratiometric output voltage, housed magnet (carrier type "A")

RTP050LVEAA
RTP Series with external actuator, 50° (±25°) operating range, 5 Vdc supply voltage, European pinout style; standard: 0.5 Vdc (left), 4.5 Vdc (right) ratiometric output voltage, housed magnet (carrier type "A")

RTP050LVNAA
RTP Series with external actuator, 50° (±25°) operating range, 5 Vdc supply voltage, North America pinout style; standard: 0.5 Vdc (left), 4.5 Vdc (right) ratiometric output voltage, housed magnet (carrier type "A")

RTP060HVEAA
RTP Series with external actuator, 60° (±30°) operating range, 10 Vdc to 30 Vdc supply voltage, European pinout style; standard: 0.5 Vdc (left), 4.5 Vdc (right) non-ratiometric output voltage, housed magnet (carrier type "A")

RTP060HVNAA
RTP Series with external actuator, 60° (±30°) operating range, 10 Vdc to 30 Vdc supply voltage, North American pinout style; standard: 0.5 Vdc (left), 4.5 Vdc (right) non-ratiometric output voltage, housed magnet (carrier type "A")

RTP060LVEAA
RTP Series with external actuator, 60° (±30°) operating range, 5 Vdc supply voltage, European pinout style; standard: 0.5 Vdc (left), 4.5 Vdc (right) ratiometric output voltage, housed magnet (carrier type "A")

RTP070LVEAA
RTP Series with external actuator, 70° (±35°) operating range, 5 Vdc supply voltage, European pinout style; standard: 0.5 Vdc (left), 4.5 Vdc (right) ratiometric output voltage, housed magnet (carrier type "A")

RTP090HVEAA
RTP Series with external actuator, 90° (±45°) operating range, 10 Vdc to 30 Vdc supply voltage, European pinout style; standard: 0.5 Vdc (left), 4.5 Vdc (right) non-ratiometric output voltage, housed magnet (carrier type "A")

RTP090HVNAA
RTP Series with external actuator, 90° (±45°) operating range, 10 Vdc to 30 Vdc supply voltage, North American pinout style; standard: 0.5 Vdc (left), 4.5 Vdc (right) non-ratiometric output voltage, housed magnet (carrier type "A")

RTP050HVEAA
RTP Series with external actuator, 50° (±25°) operating range, 10 Vdc to 30 Vdc supply voltage, European pinout style; standard: 0.5 Vdc (left), 4.5 Vdc (right) non-ratiometric output voltage, housed magnet (carrier type "A")

RTP050HVNAA
RTP Series with external actuator, 50° (±25°) operating range, 10 Vdc to 30 Vdc supply voltage, North American pinout style; standard: 0.5 Vdc (left), 4.5 Vdc (right) non-ratiometric output voltage, housed magnet (carrier type "A")

RTP050LVEAA
RTP Series with external actuator, 50° (±25°) operating range, 5 Vdc supply voltage, European pinout style; standard: 0.5 Vdc (left), 4.5 Vdc (right) ratiometric output voltage, housed magnet (carrier type "A")

RTP050LVNAA
RTP Series with external actuator, 50° (±25°) operating range, 5 Vdc supply voltage, North America pinout style; standard: 0.5 Vdc (left), 4.5 Vdc (right) ratiometric output voltage, housed magnet (carrier type "A")

RTP060HVEAA
RTP Series with external actuator, 60° (±30°) operating range, 10 Vdc to 30 Vdc supply voltage, European pinout style; standard: 0.5 Vdc (left), 4.5 Vdc (right) non-ratiometric output voltage, housed magnet (carrier type "A")

RTP060HVNAA
RTP Series with external actuator, 60° (±30°) operating range, 10 Vdc to 30 Vdc supply voltage, North American pinout style; standard: 0.5 Vdc (left), 4.5 Vdc (right) non-ratiometric output voltage, housed magnet (carrier type "A")

RTP060LVEAA
RTP Series with external actuator, 60° (±30°) operating range, 5 Vdc supply voltage, European pinout style; standard: 0.5 Vdc (left), 4.5 Vdc (right) ratiometric output voltage, housed magnet (carrier type "A")

RTP070LVEAA
RTP Series with external actuator, 70° (±35°) operating range, 5 Vdc supply voltage, European pinout style; standard: 0.5 Vdc (left), 4.5 Vdc (right) ratiometric output voltage, housed magnet (carrier type "A")

RTP090HVEAA
RTP Series with external actuator, 90° (±45°) operating range, 10 Vdc to 30 Vdc supply voltage, European pinout style; standard: 0.5 Vdc (left), 4.5 Vdc (right) non-ratiometric output voltage, housed magnet (carrier type "A")

RTP090HVNAA
RTP Series with external actuator, 90° (±45°) operating range, 10 Vdc to 30 Vdc supply voltage, North American pinout style; standard: 0.5 Vdc (left), 4.5 Vdc (right) non-ratiometric output voltage, housed magnet (carrier type "A")