General Purpose Limit Switches
200LS Series
Metal housing. Plug in. IP67 sealing. 30 mm x 60 mm mounting centers. CE approvals
Overview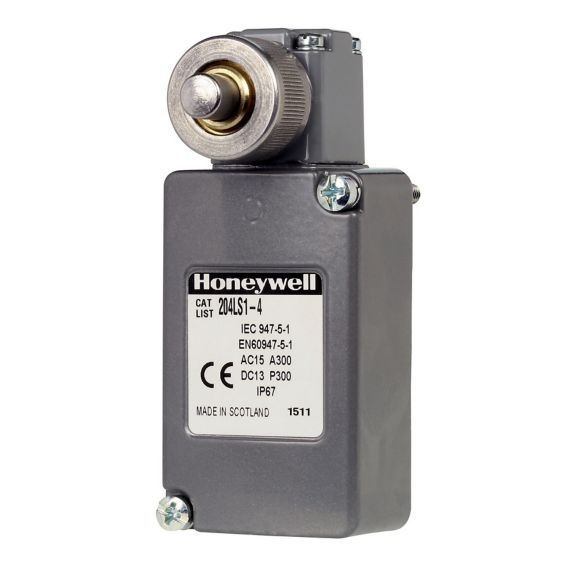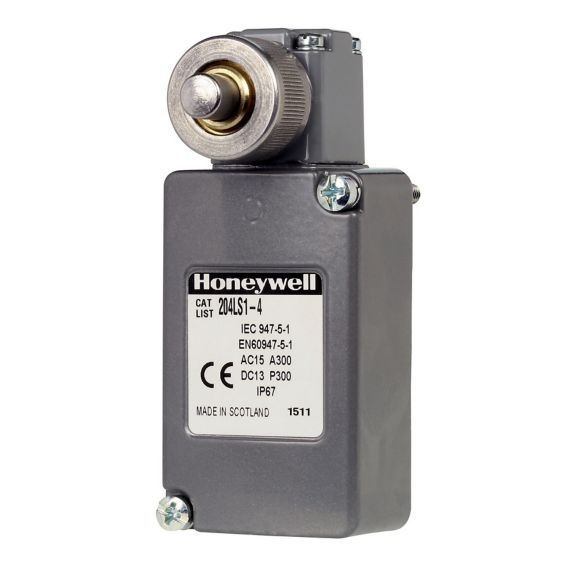 Honeywell's MICRO SWITCH Compact LS Limit Switch Series offers products that have a long record of successful performance in a diverse range of industrial applications. Under severe conditions, its durable and dependable design provides longevity, precision, and consistent repeatability over millions of operations.
The compact size and adjustable features propel the LS Series to flourish in a variety of settings under space constraint without sacrificing reliability. Its construction is oil-tight, water-tight and dust tight, and includes die-cast housing, heads and actuators. An assortment of heads and actuators provides a solution for a variety of applications.
The LS Series is designed with a non-plug-in body: whereas the 200LS Series features a plug-in housing.
Data Sheet
Manuals and Guides
Installation Instructions
Brochure
Technical Note
White Paper
Application Note
eBook
Product Photo
Name
Description
File Size
Date
Size
Name
Description
File Size
Date
Size

1LS22
MICRO SWITCH LS Series General Purpose Limit Switches, Side Rotary - Lever Not Included, Head mounts in any of four positions, 1NC 1NO SPDT Snap Action, Double Break, 0.5 in - 14NPT conduit, Compact/Non-Plug-in

201LS1
MICRO SWITCH LS Series General Purpose Limit Switches, Side Rotary with 1.5 in Fixed Length Lever, Steel Roller, 1NC 1NO DPDT Snap Action, Double Break, 0.5 in - 14NPT conduit, Plug-in

201LS1-4
MICRO SWITCH LS Series General Purpose Limit Switches, Side Rotary with 1.5 in Fixed Length Lever, Steel Roller, 1NC 1NO DPDT Snap Action, Double Break, 0.5 in - 14NPT conduit, Plug-in

201LS10
MICRO SWITCH LS Series General Purpose Limit Switches, Rod - Adjustable, 1NC 1NO DPDT Snap Action, Double Break, 0.5 in - 14NPT conduit, Plug-in

201LS19
MICRO SWITCH LS Series General Purpose Limit Switches, Side Rotary with 1.5 in Fixed Length Lever, Steel Roller, 1NC 1NO DPDT Snap Action, Double Break, 0.5 in - 14NPT conduit, Plug-in

201LS2
MICRO SWITCH LS Series General Purpose Limit Switches, Side Rotary - Lever Not Included, 1NC 1NO SPDT Snap Action, Double Break, 0.5 in - 14NPT conduit, Compact/Non-Plug-in

201LS23
MICRO SWITCH LS Series General Purpose Limit Switches, Side Rotary - Lever Not Included, 1NC 1NO SPDT Snap Action, Double Break, 0.5 in - 14NPT conduit, Compact/Non-Plug-in

201LS242
MICRO SWITCH LS Series General Purpose Limit Switches, Side Rotary with 1.5 in Fixed Length Lever, Steel Roller, 1NC 1NO DPDT Snap Action, Double Break, 0.5 in - 14NPT conduit, Plug-in

201LS3
MICRO SWITCH LS Series General Purpose Limit Switches, Side Rotary with 1.5 in to 3.5 in Adjustable Length Lever, Nylon Roller, 1NC 1NO DPDT Snap Action, Double Break, 0.5 in - 14NPT conduit, Plug-in

201LS47
MICRO SWITCH LS Series General Purpose Limit Switches, Rod - Adjustable, 1NC 1NO DPDT Snap Action, Double Break, 0.5 in - 14NPT conduit, Plug-in

1LS22
MICRO SWITCH LS Series General Purpose Limit Switches, Side Rotary - Lever Not Included, Head mounts in any of four positions, 1NC 1NO SPDT Snap Action, Double Break, 0.5 in - 14NPT conduit, Compact/Non-Plug-in

201LS1
MICRO SWITCH LS Series General Purpose Limit Switches, Side Rotary with 1.5 in Fixed Length Lever, Steel Roller, 1NC 1NO DPDT Snap Action, Double Break, 0.5 in - 14NPT conduit, Plug-in

201LS1-4
MICRO SWITCH LS Series General Purpose Limit Switches, Side Rotary with 1.5 in Fixed Length Lever, Steel Roller, 1NC 1NO DPDT Snap Action, Double Break, 0.5 in - 14NPT conduit, Plug-in

201LS10
MICRO SWITCH LS Series General Purpose Limit Switches, Rod - Adjustable, 1NC 1NO DPDT Snap Action, Double Break, 0.5 in - 14NPT conduit, Plug-in

201LS19
MICRO SWITCH LS Series General Purpose Limit Switches, Side Rotary with 1.5 in Fixed Length Lever, Steel Roller, 1NC 1NO DPDT Snap Action, Double Break, 0.5 in - 14NPT conduit, Plug-in

201LS2
MICRO SWITCH LS Series General Purpose Limit Switches, Side Rotary - Lever Not Included, 1NC 1NO SPDT Snap Action, Double Break, 0.5 in - 14NPT conduit, Compact/Non-Plug-in

201LS23
MICRO SWITCH LS Series General Purpose Limit Switches, Side Rotary - Lever Not Included, 1NC 1NO SPDT Snap Action, Double Break, 0.5 in - 14NPT conduit, Compact/Non-Plug-in

201LS242
MICRO SWITCH LS Series General Purpose Limit Switches, Side Rotary with 1.5 in Fixed Length Lever, Steel Roller, 1NC 1NO DPDT Snap Action, Double Break, 0.5 in - 14NPT conduit, Plug-in

201LS3
MICRO SWITCH LS Series General Purpose Limit Switches, Side Rotary with 1.5 in to 3.5 in Adjustable Length Lever, Nylon Roller, 1NC 1NO DPDT Snap Action, Double Break, 0.5 in - 14NPT conduit, Plug-in

201LS47
MICRO SWITCH LS Series General Purpose Limit Switches, Rod - Adjustable, 1NC 1NO DPDT Snap Action, Double Break, 0.5 in - 14NPT conduit, Plug-in