Anchorage Systems
Söll PivotLoc EMEA / UK & AUS
Söll PivotLoc | ® | is a foldable ladder system with incorporated Söll GlideLoc fall protection rail. | In the closed position, the rungs pivot together behind the central guide rail. | There are two principal applications:
Overview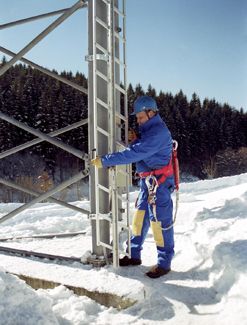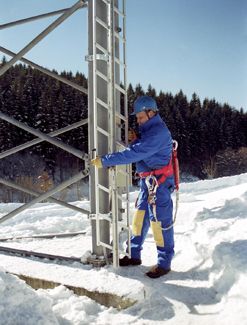 Key Features
1. Restricted Access
The Söll PivotLoc aluminium ladder system is a cost effective, innovative alternative to the cover plate. Through its unique design the PivotLoc can be closed when not in use thus preventing unauthorised access onto a worksite.
Can be used in conjunction with Söll Y-Spar and Twin ladder systems
An alternative to the use of a security cover plate
Standard height: 2.80m
Complete with entry point, locking device and connection parts
2. Height Access
The dimensions of the foldable Söll PivotLoc ladder are: length 2800 mm, width 500 mm, (195 mm when shut). The rung spacing is 280 mm. It can be locked open or closed with a padlock. The brackets should be fixed on the pivot points of the rungs.
PivotLoc can be combined with all other Söll ladders. The ladder is complete with locking device, end stop, recess (entry point), connection part and lateral handles. The System also includes a stainless steel clamp that is used to insert a padlock.
Söll PivotLoc provides several benefits
Safer
Söll PivotLoc offers a reliable fall protection solution for height access and working at heights.
When closed, the ladder can be locked shut in order to prevent unauthorised use of the system.
Söll PivotLoc can also be locked while working in the open state, so as to prevent an operator from being trapped accidentally.

Discreet
Once the side rails have been folded together, the ladder is very discreet (105 mm wide in the closed position) thus meeting architectural and planning requirements for an "invisible" height access system.
Versatile
Söll PivotLoc can be used in conjunction with all other Söll ladder systems or the entire ladder can be assembled using PivotLoc elements.
Robust
Manufactured from saline-resistant anodised aluminium.
The system attracts minimal wind and snow loads when closed.
Ease-of-use
Side members are light and easy to move since their weight is counterbalanced.
The side rails offer additional support to the user when climbing and descending.
Recommended Industries/Use
Construction
Government
Manufacturing
Mining
Municipal Services
Oil and Gas
Steel and Metals
Utilities
Regulations
Meets EN 353-1 standard (and all applicable OSHA, ANSI and CSA standards)
Warranty Information
We sincerely believe that our fall protection equipment is the best in the world. Our products endure rigorous test to ensure that the fall protection equipment you trust is manufactured to the highest standards. Miller fall protection products are tested to withstand normal wear and tear, but are not indestructible and can be damaged by misuse. Our Limited Lifetime Warranty does not apply to normal wear and tear or abusive treatment of the product.In the unlikely event that you should discover defects in either workmanship or materials, under our Limited Lifetime Warranty, we will repair or replace the product at our expense. If a replacement is necessary and your product is no longer available, a comparable product will be substituted. Should a product issue surface, contact us at +33 248 53 00 80 (Southern Europe) or +49 9281 8302 0 (Northern Europe). Manufacturing specifications are subject to change without notice.