Application Based Solutions Switches
AC Series
ac & dc electrical ratings. Door & panel interlock. Variety of styles. Mil spec products available
Geral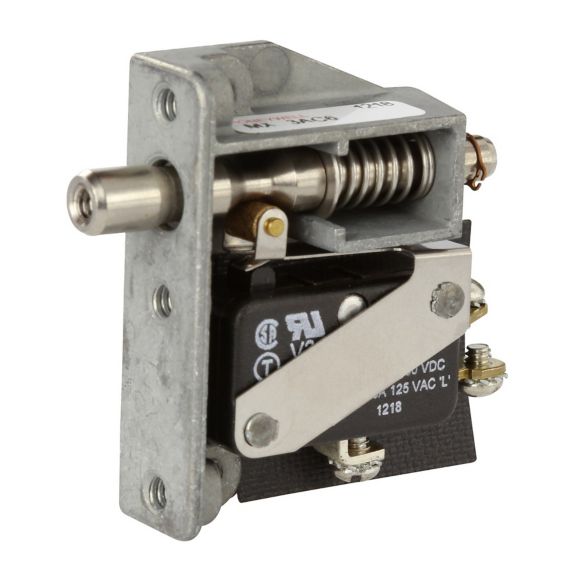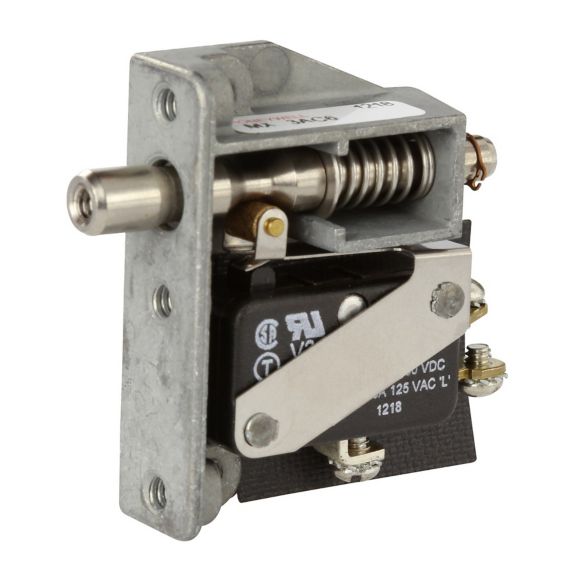 When the application is more complex than a "stand alone" switch can provide, consider the MICRO SWITCH AC Series Door Switch. The AC Series switch assembly monitors the position of a service door or panel whether closed" or "open".
The AC Series switches are a compact switch assembly designed for equipment applications ranging from vending machine service doors or panels, monitoring doors for truck trailers, and military-related doors and/or panels. When the equipment (door or panel, etc.) which is electrically interlocked through the AC Series switch is opened, the action of the AC Series switch disconnects the electrical power.
The AC Series switch can provide an electrical signal to an annunciator circuit such as a light or horn indicating the door or panel is open. Another feature that is common to most AC Series switch assemblies is a "pull-to-override" position which allows the service door to be open and yet apply electrical power through the switch assembly. The "pull-to-override" switch position could be useful for trouble shooting equipment as required.
AC Series switch assemblies are available with up to four switch elements which can provide discrete outputs as required for control and/or indicator circuits. Select catalog listings are available with UL and CSA agency certification. Where the application is military related, catalog listings are available with a military specification part number.
Ficha Técnica
Manuais e guias
Nota técnica
Nota de aplicação
eBook
Foto do produto
Nome
Descrição
Tamanho do arquivo
Data
Tamanho
Nome
Descrição
Tamanho do arquivo
Data
Tamanho

13AC1
MICRO SWITCH AC Series Door Switch, Single Pole Double Throw Circuitry, 15 A at 250 Vac, Rod Actuator, Silver Contacts, Screw Termination

17AC1-T
MICRO SWITCH AC Series Door Switch, Single Pole Double Throw (SPDT), 250 Vac, 5 A, Plunger lever Actuator, Solder Termination

17AC18-T
MICRO SWITCH AC Series Door Switch, Single Pole Double Throw (SPDT), 250 Vac, 5 A, Plunger lever Actuator, Solder Termination

17AC28-H58
MICRO SWITCH AC Series Door Switch, Single Pole Double Throw (SPDT), 30 Vdc, 5 A, Plunger lever Actuator, Quick Connect Termination

1AC2
MICRO SWITCH AC Series Door Switch, Single Pole Double Throw Circuitry, 15 A at 250 Vac, Rod Actuator, Silver Contacts, Screw Termination

1AC24
MICRO SWITCH AC Series Door Switch, Single Pole Double Throw Circuitry, 15 A at 250 Vac, Rod Actuator, Silver Contacts, Screw Termination

22AC1
MICRO SWITCH AC Series Door Switch, Single Pole Double Throw Circuitry, 15 A at 250 Vac, Rod Actuator, Silver Contacts, Screw Termination

22AC1-D8
MICRO SWITCH AC Series Door Switch, Single Pole Double Throw Circuitry, 15 A at 250 Vac, Rod Actuator, Silver Contacts, Quick Connect Termination

22AC2
MICRO SWITCH AC Series Door Switch, Single Pole Double Throw Circuitry, 15 A at 250 Vac, Rod Actuator, Silver Contacts, Screw Termination

22AC2-UL
MICRO SWITCH AC Series Door Switch, Single Pole Double Throw Circuitry, 15 A at 250 Vac, Rod Actuator, Silver Contacts, Screw Termination, UL/CSA

13AC1
MICRO SWITCH AC Series Door Switch, Single Pole Double Throw Circuitry, 15 A at 250 Vac, Rod Actuator, Silver Contacts, Screw Termination

17AC1-T
MICRO SWITCH AC Series Door Switch, Single Pole Double Throw (SPDT), 250 Vac, 5 A, Plunger lever Actuator, Solder Termination

17AC18-T
MICRO SWITCH AC Series Door Switch, Single Pole Double Throw (SPDT), 250 Vac, 5 A, Plunger lever Actuator, Solder Termination

17AC28-H58
MICRO SWITCH AC Series Door Switch, Single Pole Double Throw (SPDT), 30 Vdc, 5 A, Plunger lever Actuator, Quick Connect Termination

1AC2
MICRO SWITCH AC Series Door Switch, Single Pole Double Throw Circuitry, 15 A at 250 Vac, Rod Actuator, Silver Contacts, Screw Termination

1AC24
MICRO SWITCH AC Series Door Switch, Single Pole Double Throw Circuitry, 15 A at 250 Vac, Rod Actuator, Silver Contacts, Screw Termination

22AC1
MICRO SWITCH AC Series Door Switch, Single Pole Double Throw Circuitry, 15 A at 250 Vac, Rod Actuator, Silver Contacts, Screw Termination

22AC1-D8
MICRO SWITCH AC Series Door Switch, Single Pole Double Throw Circuitry, 15 A at 250 Vac, Rod Actuator, Silver Contacts, Quick Connect Termination

22AC2
MICRO SWITCH AC Series Door Switch, Single Pole Double Throw Circuitry, 15 A at 250 Vac, Rod Actuator, Silver Contacts, Screw Termination

22AC2-UL
MICRO SWITCH AC Series Door Switch, Single Pole Double Throw Circuitry, 15 A at 250 Vac, Rod Actuator, Silver Contacts, Screw Termination, UL/CSA