Mobile Phone Sleds
Captuvo SL22 Healthcare Sled
Captuvo SL22 Healthcare Sled
Overview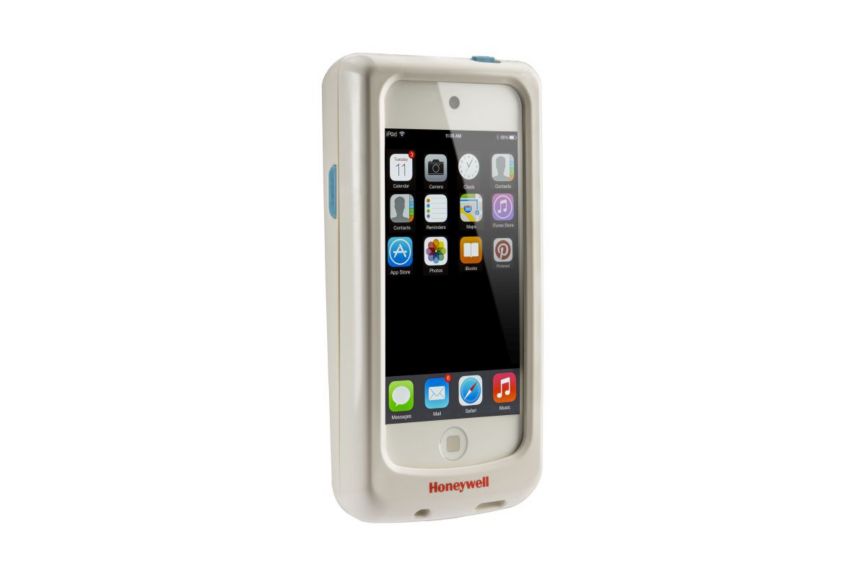 For healthcare professionals, streamlining data collection and communications among staff and patients is one key to patient care. That's why adding a Captuvo SL22h enterprise sled to Apple iPod touch® 5th generation devices makes sense. Your clinicians will gain a more robust productivity tool that's protected by a disinfectant-ready housing.
Protective, Disinfectant-Ready Housing. Can withstand sanitizers and disinfectants, and protects the iPod touch from abuse common to healthcare environments
Streamlines Communication & Scan Devices. Reduces the number of devices healthcare professionals have to manage and use to effectively care for patients.
Second-to-None Scanning. Increases productivity and throughput with an integrated, easy-to-use imager that aggressively scans linear and 2D barcodes.
Battery Power That Lasts. Provides additional power to the iPod touch, ensuring maximum uptime with an easy access, hot swappable battery.
Remote Mastermind™ Software. Helps enterprises remotely manage deployed iPod touch devices and other iOS devices, lowering total cost of ownership.
The Captuvo SL22h enterprise sled transforms the Apple iPod touch® 5th generation device into a healthcare-ready productivity tool. As a healthcare professional, you'll appreciate how this easy-to-use solution helps you streamline data collection and communications among staff and patients. Plus, the sled is moisture sealed with disinfectant-ready plastic and a sealed screen protector, so it's ready to withstand sanitizers and disinfectants.Featuring Honeywell Adaptus™ Imaging Technology 6.0 for barcode scanning, the agile SL22h sled enables fast and accurate reading of linear and 2D barcodes, including the most challenging healthcare barcodes. That will save you time and improve patient safety.Concerned about battery life? The SL22h enterprise sled greatly improves the iPod device's traditional battery life. The sled's user-replaceable, hot swappable external battery pack powers the SL22h scanner and the iPod for around the clock use. And the extra capacity SL22h battery pack even recharges the iPod, so caregivers can stay productive. No spare iPods needed. No time wasted waiting for the device to recharge.To protect your Captuvo SL22h sled investment, ask us about our best-in-class support solution, Service Made Simple. It delivers the highest-levels of productivity, resource optimization, device reliability and uptime.
Features
Audio Capability

Access to speaker and microphone

Buttons

Access to iPod/iPhone5/5s/5c Home button

Left and right side scan buttons

Sleep/wake button

Camera

Access to iPod 5c front and back cameras Adaptus
Dimensions
Overall Dimensions

145.6 mm x 73.3 mm x 33 mm

5.7 in x 2.9 in x 1.3 in
Software & Firmware
Development Environment

Captuvo SDK for Apple® iOS 6 and 7
Hardware
Connection Interface

UART between SL22/42 Apple® iOS device

USB/UART between SL22/42 & PC
Environmental
Storage Temperature Range

-20°C to 45°C

4°F to 113°F

Operating Humidity

5% to 85% relative humidity, non-condensing
Standards & Approvals
Drop Specifications

Designed to withstand multiple 1.2 m (4 ft) drops to concrete, all axis under room temperature

Protection Ratings
Others
Application
Operating Temperature
Warranty Duration
Brand
Data Capture
Features
Audio Capability

Access to speaker and microphone

Buttons

Access to iPod/iPhone5/5s/5c Home button

Left and right side scan buttons

Sleep/wake button

Camera

Access to iPod 5c front and back cameras Adaptus
Dimensions
Overall Dimensions

145.6 mm x 73.3 mm x 33 mm

5.7 in x 2.9 in x 1.3 in
Software & Firmware
Development Environment

Captuvo SDK for Apple® iOS 6 and 7
Hardware
Connection Interface

UART between SL22/42 Apple® iOS device

USB/UART between SL22/42 & PC
Environmental
Storage Temperature Range

-20°C to 45°C

4°F to 113°F

Operating Humidity

5% to 85% relative humidity, non-condensing
Standards & Approvals
Drop Specifications

Designed to withstand multiple 1.2 m (4 ft) drops to concrete, all axis under room temperature
Audio Capability : Access to speaker and microphone
Buttons : Access to iPod/iPhone5/5s/5c Home button|Left and right side scan buttons|Sleep/wake button
Camera : Access to iPod 5c front and back cameras Adaptus
Overall Dimensions : 145.6 mm x 73.3 mm x 33 mm|5.7 in x 2.9 in x 1.3 in
Decode Capability : 1D|2D|OCR|PDF|Postal
Development Environment : Captuvo SDK for Apple® iOS 6 and 7
Connection Interface : UART between SL22/42 Apple® iOS device|USB/UART between SL22/42 & PC
Storage Temperature Range : -20°C to 45°C|4°F to 113°F
Operating Temperature : 0°C to 35°C|32°F to 95°F
Operating Humidity : 5% to 85% relative humidity, non-condensing
Drop Specifications : Designed to withstand multiple 1.2 m (4 ft) drops to concrete, all axis under room temperature
Protection Ratings : IP54
Warranty Duration : 1 year factory warranty
Data Sheet
Name
Description
File Size
Date
Size
Captuvo SL22h Enterprise Sled - 5th Generation Data Sheet
application/pdf 608.99 KB
10/21/2021
608.99 KB
Manuals and Guides
Name
Description
File Size
Date
Size
Captuvo Enterprise Sled User Guide (P/N CAPTUVOSLED-UG Rev C)
application/pdf 1.02 MB
10/21/2021
1.02 MB
Cleaning Guide: Healthcare Disinfectant-Ready Housing (Rev E 10/22)
application/pdf 797.31 KB
7/25/2023
797.31 KB
Captuvo SL22-42 Home Base Quick Start Guide (CAPTUVO22-42-HB-QS Rev C)
application/pdf 799.33 KB
10/21/2021
799.33 KB
Captuvo SL 22-42 Quick Start Guide - English
application/pdf 1.05 MB
10/21/2021
1.05 MB
Regulatory Information
Name
Description
File Size
Date
Size
Captuvo SL22-42 Regulatory Sheet (RegSht-CaptuvoSL Rev G)
application/pdf 1007.51 KB
10/21/2021
1007.51 KB
Name
Description
File Size
Date
Size
Name
Description
File Size
Date
Size
Captuvo SL22h Enterprise Sled - 5th Generation Data Sheet
608.99 KB
10/21/2021
Captuvo Enterprise Sled User Guide (P/N CAPTUVOSLED-UG Rev C)
1.02 MB
10/21/2021
Cleaning Guide: Healthcare Disinfectant-Ready Housing (Rev E 10/22)
797.31 KB
7/25/2023
Captuvo SL22-42 Home Base Quick Start Guide (CAPTUVO22-42-HB-QS Rev C)
799.33 KB
10/21/2021
Captuvo SL 22-42 Quick Start Guide - English
1.05 MB
10/21/2021
Captuvo SL22-42 Regulatory Sheet (RegSht-CaptuvoSL Rev G)
1007.51 KB
10/21/2021

SL22-023302-H-K
SL22 Device Sled Kit, HD Scanner, Extended Battery, White, Healthcare

SL22-023302-H-K
SL22 Device Sled Kit, HD Scanner, Extended Battery, White, Healthcare