Tablets
RT10 Rugged Tablet - Windows
RT10 Rugged Tablet - Windows
Overview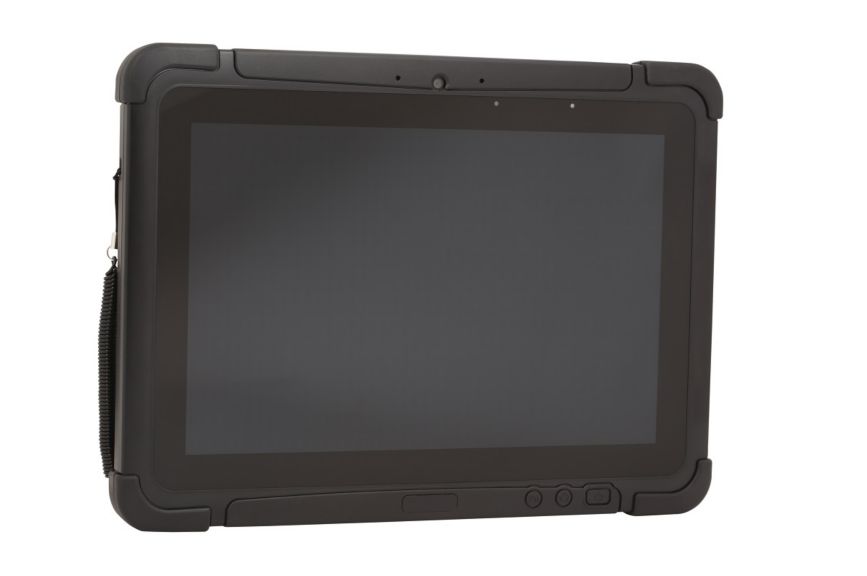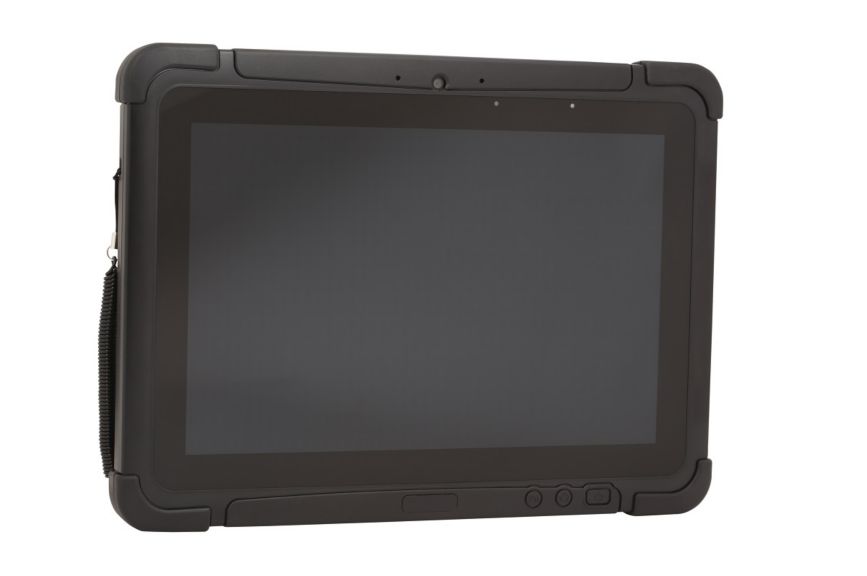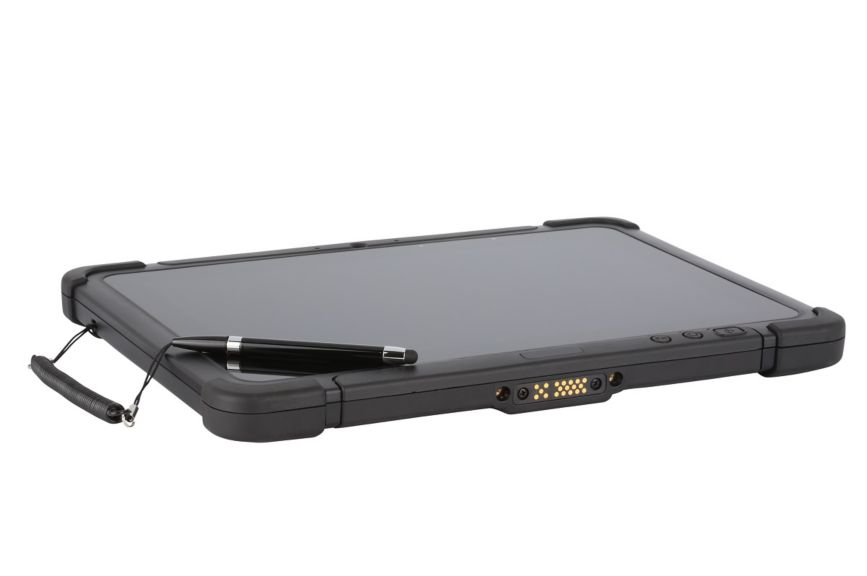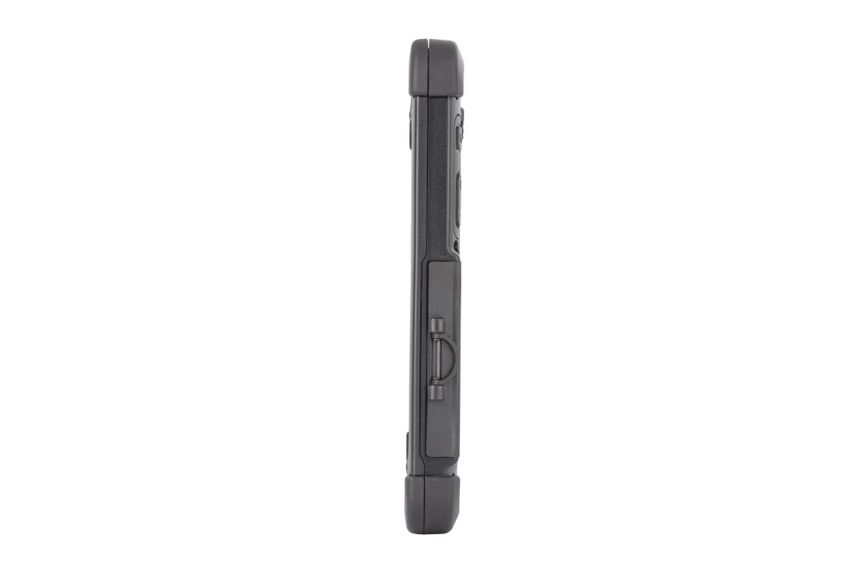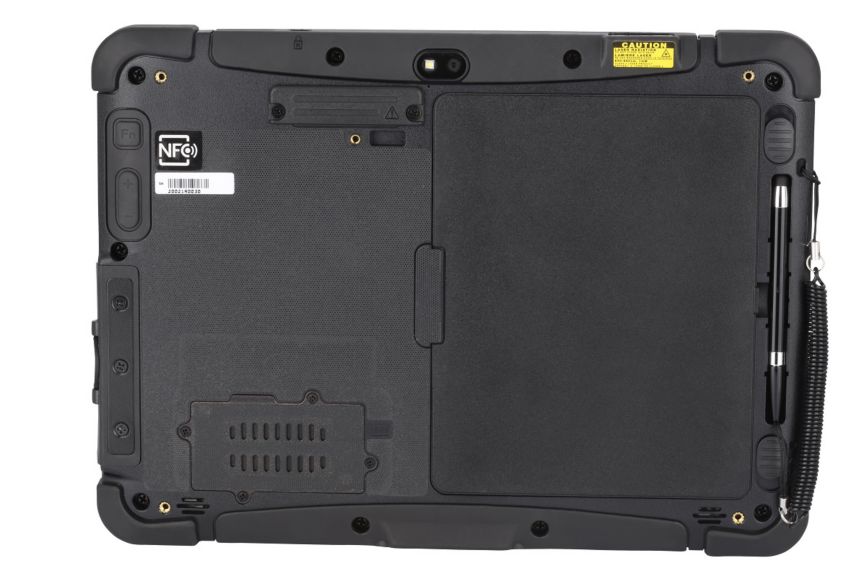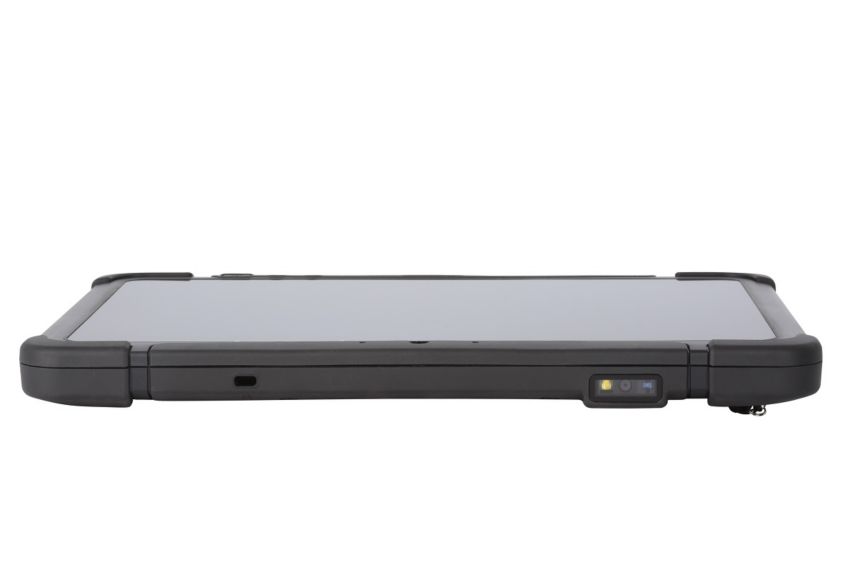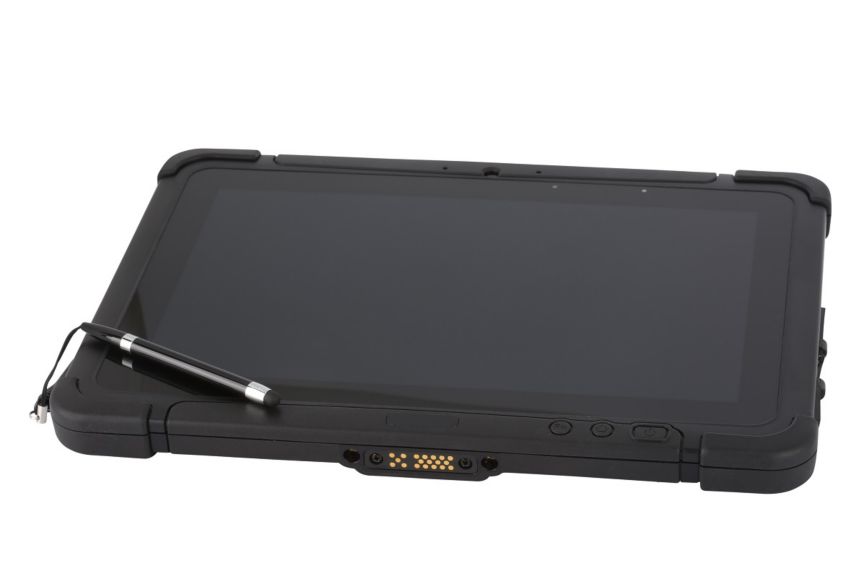 The Honeywell RT10W rugged tablet is designed for rapid user adoption, minimized TCO and optimized device management. Whether you':re a supervisor or a shop floor employee, a manager or a maintenance worker, the RT10W is ready to fit into your daily workflow.
Vehicle docks for forklift mounting, desk docks for of ce use, hand or shoulder straps for keeping your tablet at your side –: the RT10W has a full suite of accessories for many different work flows.
Stay connected with eld employees with the RT10W and Smart Talk. Connect eld workers with subject matter experts using secure PTT, text, voice and video communications.
Powerful barcode scan capabilities including near, mid and far range scans with instantaneous autofocus.
Rugged construction withstands 1.2 m (4 ft) drops to concrete using MIL-STD 810G standards, and has an IP65 rating against dust and water.
Keeping workers and managers connected and providing them with the data and functionality they need, when they need it, is crucial to every business. To enable this, you need mobile devices that not only fit your workflow, but also your workforce. If workers don':t use a device, the benefits of connectivity, data capture and productivity are never achieved. With its 10.1-inch bright, high-resolution, optically bonded display and a light yet durable form factor, the Honeywell RT10W rugged tablet is easy to use all day long, making it perfect for rapid user adoption. For data capture, the FlexRange dual-lens imager is capable of scans less than 0.1 m (5 in) all the way out to 10.7 m (35 ft), so users can easily capture barcodes from across the room without having to waste time getting close enough for a scan. In addition to flexibility and ease of use, mobile devices must also deliver minimized TCO by being durable and optimized for productivity. With its rugged drop specification and IP65 rating, the RT10W is built to last, and its hotswappable battery packs can save you the hours of downtime that can occur when a device loses its charge.
Features
Camera
Features

Powerful Barcode Scan Capabilities

Rugged Construction
Dimensions
Overall Dimensions

10.7 x 7.76 x 0.77 in

27.19 x 19.83 x 1.95 cm
Environmental
Storage Temperature Range

- 22 - 158 °F

- 30 - 70 °C

Operating Humidity
Others
Display Resolution
Display Size
Processor

Intel® Pentium® N4200 Apollo Lake Processor 1.10 GHz

Operating Temperature
Warranty Duration
Operating System Type
Camera Position
Scan Range

FlexRange FR

Standard Range

Durability
Platform
Keyboard
Network
Features
Features

Powerful Barcode Scan Capabilities

Rugged Construction
Dimensions
Overall Dimensions

10.7 x 7.76 x 0.77 in

27.19 x 19.83 x 1.95 cm
Environmental
Storage Temperature Range

- 22 - 158 °F

- 30 - 70 °C
Others
Processor

Intel® Pentium® N4200 Apollo Lake Processor 1.10 GHz

Scan Range

FlexRange FR

Standard Range
Features : Powerful Barcode Scan Capabilities|Rugged Construction
Overall Dimensions : 10.7 x 7.76 x 0.77 in|27.19 x 19.83 x 1.95 cm
Decode Capability : 1D|2D
Bluetooth Specifications : V5.0
Connection Interface : Audio|Micro HDMI|USB
Display Resolution : 1920 x 1200
Processor : Intel® Pentium® N4200 Apollo Lake Processor 1.10 GHz
Storage Temperature Range : - 22 - 158 °F|- 30 - 70 °C
Operating Temperature : - 10 - 50 °C|14 - 122 °F
Operating Humidity : 10 - 90 %
Drop Specifications : 1.2 m (4 ft) to concrete
Operating System Type : Windows
Camera Position : Front and Rear
Scan Range : FlexRange FR|Standard Range
Durability : Durable 1.2 m (4 ft) rm
Keyboard : Touchscreen only
Data Sheet
Manuals and Guides
Regulatory Information
White Paper
Catalog
Name
Description
File Size
Date
Size
Name
Description
File Size
Date
Size

RT10W-L00-17C12E0F
RT10W Windows 10in Tablet / 8GB/128GB / WLAN / Standard/Indoor Screen / 6703SR Std Range Imager / Front & Rear Cameras / Extended Battery / Win 10 2019 / 802.11abgn,ac / Bluetooth / FCC / No power cord included

RT10W-L00-17C12S0F
RT10W Windows 10in Tablet / 8GB/128GB / WLAN / Standard/Indoor Screen / 6703SR Std Range Imager / Front & Rear Cameras / Standard Battery / Power Supply (order power cord separately) / Win 10 2019 / 802.11abgn,ac / Bluetooth / FCC

RT10W-L00-18C12E0F
RT10W Windows 10in Tablet / 8GB/128GB / WLAN / Standard/Indoor Screen / 6803FR Flex Range Imager / Front & Rear Cameras / Extended Battery / Power Supply (order power cord separately) / Win 10 2019 / 802.11abgn,ac / Bluetooth / FCC

RT10W-L00-18C12S0F
RT10W Windows 10in Tablet / 8GB/128GB / WLAN / Standard/Indoor Screen / 6803FR Flex Range Imager / Front & Rear Cameras / Standard Battery / Power Supply (order power cord separately) / Win 10 2019 / 802.11abgn,ac / Bluetooth / FCC

RT10W-L10-17C12E0F
RT10W Windows 10in Tablet / 8GB/128GB / WWAN / Standard/Indoor Screen / 6703SR Std Range Imager / Front & Rear Cameras / Extended Battery / Win 10 2019 / 802.11abgn,ac / Bluetooth / FCC / No power cord included

RT10W-L10-17C12S0E
RT10W Windows 10in Tablet / 8GB/128GB / WWAN / Standard/Indoor Screen / 6703SR Std Range Imager / Front & Rear Cameras / Standard Battery / Power Supply (order power cord separately) / Win 10 2019 / 802.11abgn,ac / Bluetooth / Worldwide Mode

RT10W-L10-17C12S0F
RT10W Windows 10in Tablet / 8GB/128GB / WWAN / Standard/Indoor Screen / 6703SR Std Range Imager / Front & Rear Cameras / Standard Battery / Power Supply (order power cord separately) / Win 10 2019 / 802.11abgn,ac / Bluetooth / FCC

RT10W-L10-17C12S1F
RT10W Windows 10in Tablet / 8GB/128GB / WWAN / Outdoor Screen / 6703SR Std Range Imager / Front & Rear Cameras / Standard Battery / Power Supply (order power cord separately) / Win 10 2019 / 802.11abgn,ac / Bluetooth / FCC

RT10W-L10-18C12E0F
RT10W Windows 10in Tablet / 8GB/128GB / WWAN / Standard/Indoor Screen / 6803FR Flex Range Imager / Front & Rear Cameras / Extended Battery / Power Supply (order power cord separately) / Win 10 2019 / 802.11abgn,ac / Bluetooth / FCC

RT10W-L10-18C12S0F
RT10W Windows 10in Tablet / 8GB/128GB / WWAN / Standard/Indoor Screen / 6803FR Flex Range Imager / Front & Rear Cameras / Standard Battery / Power Supply (order power cord separately) / Win 10 2019 / 802.11abgn,ac / Bluetooth / FCC

RT10W-L00-17C12E0F
RT10W Windows 10in Tablet / 8GB/128GB / WLAN / Standard/Indoor Screen / 6703SR Std Range Imager / Front & Rear Cameras / Extended Battery / Win 10 2019 / 802.11abgn,ac / Bluetooth / FCC / No power cord included

RT10W-L00-17C12S0F
RT10W Windows 10in Tablet / 8GB/128GB / WLAN / Standard/Indoor Screen / 6703SR Std Range Imager / Front & Rear Cameras / Standard Battery / Power Supply (order power cord separately) / Win 10 2019 / 802.11abgn,ac / Bluetooth / FCC

RT10W-L00-18C12E0F
RT10W Windows 10in Tablet / 8GB/128GB / WLAN / Standard/Indoor Screen / 6803FR Flex Range Imager / Front & Rear Cameras / Extended Battery / Power Supply (order power cord separately) / Win 10 2019 / 802.11abgn,ac / Bluetooth / FCC

RT10W-L00-18C12S0F
RT10W Windows 10in Tablet / 8GB/128GB / WLAN / Standard/Indoor Screen / 6803FR Flex Range Imager / Front & Rear Cameras / Standard Battery / Power Supply (order power cord separately) / Win 10 2019 / 802.11abgn,ac / Bluetooth / FCC

RT10W-L10-17C12E0F
RT10W Windows 10in Tablet / 8GB/128GB / WWAN / Standard/Indoor Screen / 6703SR Std Range Imager / Front & Rear Cameras / Extended Battery / Win 10 2019 / 802.11abgn,ac / Bluetooth / FCC / No power cord included

RT10W-L10-17C12S0E
RT10W Windows 10in Tablet / 8GB/128GB / WWAN / Standard/Indoor Screen / 6703SR Std Range Imager / Front & Rear Cameras / Standard Battery / Power Supply (order power cord separately) / Win 10 2019 / 802.11abgn,ac / Bluetooth / Worldwide Mode

RT10W-L10-17C12S0F
RT10W Windows 10in Tablet / 8GB/128GB / WWAN / Standard/Indoor Screen / 6703SR Std Range Imager / Front & Rear Cameras / Standard Battery / Power Supply (order power cord separately) / Win 10 2019 / 802.11abgn,ac / Bluetooth / FCC

RT10W-L10-17C12S1F
RT10W Windows 10in Tablet / 8GB/128GB / WWAN / Outdoor Screen / 6703SR Std Range Imager / Front & Rear Cameras / Standard Battery / Power Supply (order power cord separately) / Win 10 2019 / 802.11abgn,ac / Bluetooth / FCC

RT10W-L10-18C12E0F
RT10W Windows 10in Tablet / 8GB/128GB / WWAN / Standard/Indoor Screen / 6803FR Flex Range Imager / Front & Rear Cameras / Extended Battery / Power Supply (order power cord separately) / Win 10 2019 / 802.11abgn,ac / Bluetooth / FCC

RT10W-L10-18C12S0F
RT10W Windows 10in Tablet / 8GB/128GB / WWAN / Standard/Indoor Screen / 6803FR Flex Range Imager / Front & Rear Cameras / Standard Battery / Power Supply (order power cord separately) / Win 10 2019 / 802.11abgn,ac / Bluetooth / FCC