Anchorage Systems
Miller SkyGrip™ Wire Rope Lifeline Kits
Miller SkyGrip™ Wire Rope Lifeline Kits
Overview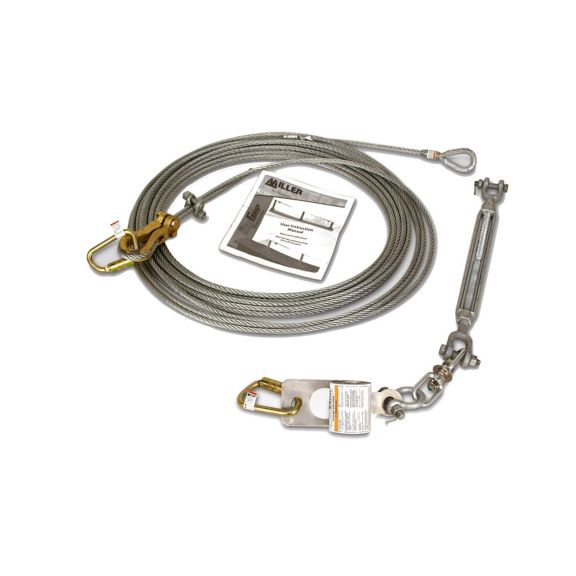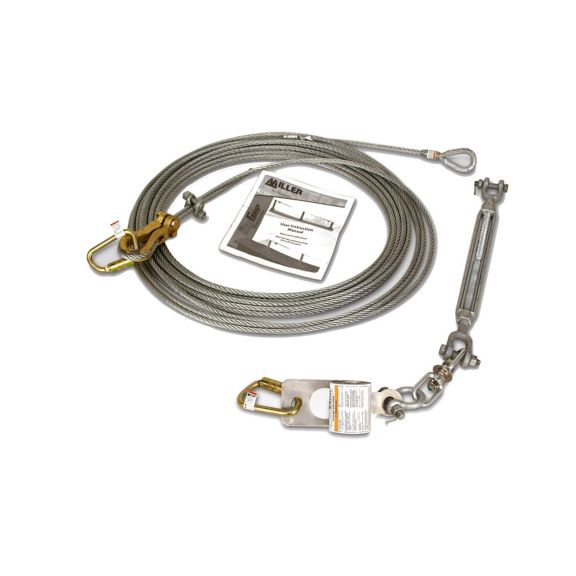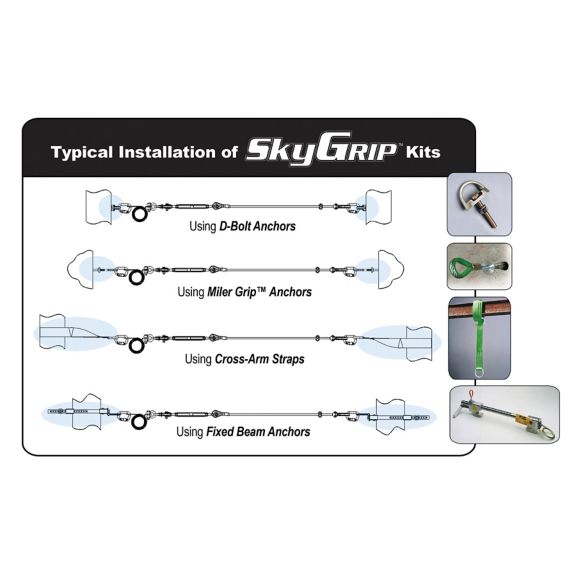 Miller SkyGrip™ Wire Rope Lifeline may be used in conjunction with approved Miller brand anchorage connectors to provide a temporary horizontal lifeline system that is quick and easy to install.
Temporary or Permanent Anchorage
Miller D-Bolt Anchors may be installed to approve structures to provide a temporary or permanent anchorage.
Secure Points of Attachment
It may be used in concrete substrate or mining friction bolts to provide secure points of attachment.
Features & Benefits:
Miller Cross-Arm Straps conveniently wrap around I-beams and other structures to form secure points of attachment
Miller Fixed Beam Anchors connect both horizontally and vertically to beams or columns. A durable: spring-loaded: positive-lock engagement pin ensures proper installation
Typical Installations of SkyGrip™ Lifeline Kits
Using D-Bolt Anchors
Using Miller Grip™ Anchors
Using Cross-Arm Straps
Using Fixed Beam Anchors
SkyGrip™ Permanent HLL System Kits in Stainless Steel
Designed for quick: easy installation in corrosive environments
100% stainless steel construction - corrosion resistant stainless steel components for a longer service life
Ideal for corrosive environments - designed for petrochemical: pharmaceutical: food processing: outdoor and off-shore applications
Engineered and safety tested by experts in the industry that understand fall forces and system design
Compact and lightweight - provides for easier handling and installation.
Single-span systems - spans adjust up to 60-ft(18.3 m)and accommodate up to two workers.
Stainless steel tension indicator - proper tensioning of system ensures accurate fall clearance requirements
Compact: stainless steel Miller SkyGrip™ energy absorber - engineered to keep system forces consistently low during a fall and minimizes fall clearance
Manuals and Guides
Name
Description
File Size
Date
Size
SkyGrip User Manual
application/pdf 1.5 MB
10/21/2021
1.5 MB
Others
Name
Description
File Size
Date
Size
SkyGrip Permanent Lifeline SKU Sheet
application/pdf 418.45 KB
10/21/2021
418.45 KB
SkyGrip Permanent Lifeline Product Sheet
application/pdf 2.85 MB
10/21/2021
2.85 MB
Name
Description
File Size
Date
Size
SkyGrip User Manual
1.5 MB
10/21/2021
1.5 MB
SkyGrip Permanent Lifeline SKU Sheet
418.45 KB
10/21/2021
418.45 KB
SkyGrip Permanent Lifeline Product Sheet
2.85 MB
10/21/2021
2.85 MB
Name
Description
File Size
Date
Size
SkyGrip User Manual
1.5 MB
10/21/2021
SkyGrip Permanent Lifeline SKU Sheet
418.45 KB
10/21/2021
SkyGrip Permanent Lifeline Product Sheet
2.85 MB
10/21/2021

SGS36/130FT
SKYGRIP 130FT HLL, I-BEAM

SGS36/130FT
SKYGRIP 130FT HLL, I-BEAM