Anchorage Systems
Miller Xenon® Permanent Horizontal Lifeline System
Miller Xenon® Permanent Horizontal Lifeline System
Overview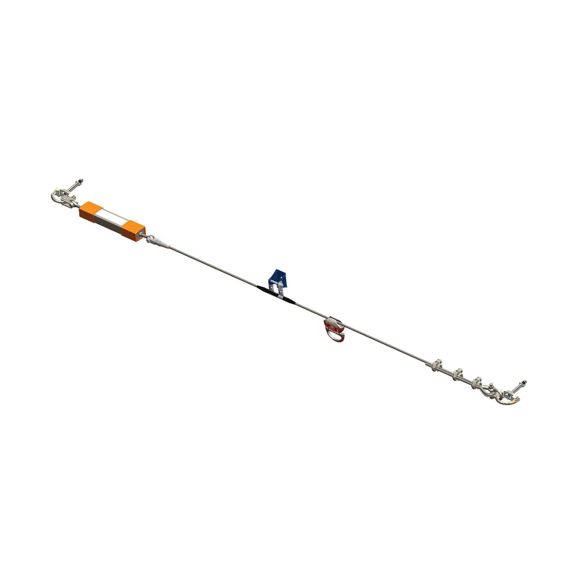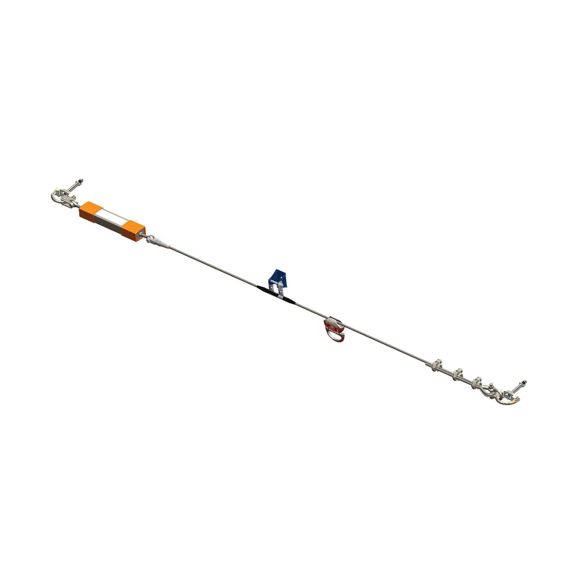 CUSTOM ENGINEERED SYSTEM
Xenon Permanent Overhead Horizontal Lifeline Systems are custom engineered systems designed to be used if the application requires the lifeline to be positioned overhead beyond the user's reach.
Hands-free fall protection
Whether it's along a rooftop: inside an arena or high atop a suspension bridge: this system provides "hands-free" fall protection for a variety of configurations: straight or curved: multiple bends: floors: ridgelines or frontal posts. A uniquely-designed shuttle connector automatically bypasses intermediate supports without disconnecting from the lifeline: increasing mobility and promoting worker safety.
Simple and Versatile
Because of its versatility: simplicity and minimal maintenance: a Xenon System is the perfect solution for engineers: architects and contractors to provide secure safety access on new buildings: industrial sites: railcars: pipe racks: arenas: bridges: etc.
Features & Benefits:
Easy installation — either in-house maintenance personnel under the supervision of an installation technician: or by a certified Xenon installer
Stainless steel components withstand harsh environments
Söll System Design Software calculates specifications for any application: easy to navigate and available in multiple languages
Worker attaches using a shock-absorbing lanyard and full-body harness
Xenon Overhead Shuttle: 25223/
Double-locking mechanism simple enough to operate with one hand. Stainless steel construction with no moveable parts: ideal for harsh: highly-corrosive environments.
4-in-1 Shock Absorber
Serves as shock absorber: turnbuckle: tension indicator and fall indicator: provides easy and safe access/exit.
Intermediate Brackets
May be replaced without disassembling or replacing the stainless steel cable.

1005709
Xenon Automatic Pass-through Shuttle - provides smooth passage through intermediate brackets

1010609HW
HRDWR XENON INTERMEDIATE BRKT

1014934
Xenon Multifunction Shock Absorber - Provides four functions in one unit. It absorbs energy, has a turnbuckle mechanism for tensioning, tension indicator to show when properly tensioned and fall indicator to show someone has fallen into the system

22609-H5
8mm End Swage 501208d

22611-H5
8mm Cable Splice 1006704

23806
8mm Single Point 90 Corner

23820
XENON ID PLATE

24596
Overhead Shock Absorber

25098
Long Line Tensioner

26350
Multi Angle Overhead Bracket

1005709
Xenon Automatic Pass-through Shuttle - provides smooth passage through intermediate brackets

1010609HW
HRDWR XENON INTERMEDIATE BRKT

1014934
Xenon Multifunction Shock Absorber - Provides four functions in one unit. It absorbs energy, has a turnbuckle mechanism for tensioning, tension indicator to show when properly tensioned and fall indicator to show someone has fallen into the system

22609-H5
8mm End Swage 501208d

22611-H5
8mm Cable Splice 1006704

23806
8mm Single Point 90 Corner

23820
XENON ID PLATE

24596
Overhead Shock Absorber

25098
Long Line Tensioner

26350
Multi Angle Overhead Bracket