Harnesses, Belts & Accessories
Miller Arc-Rated Products
Miller Arc-Rated Products
Overview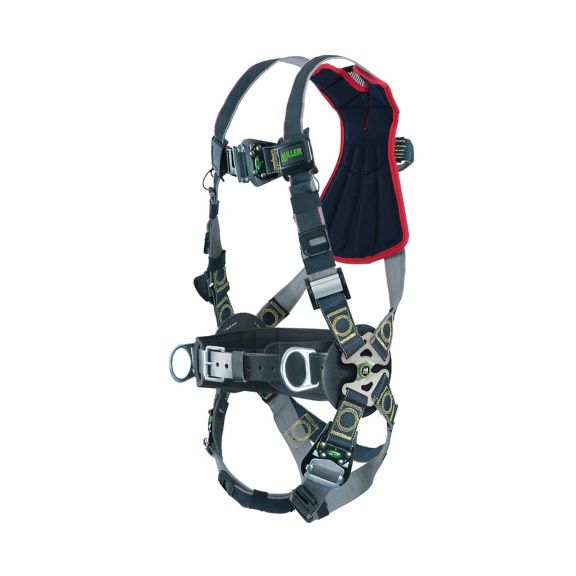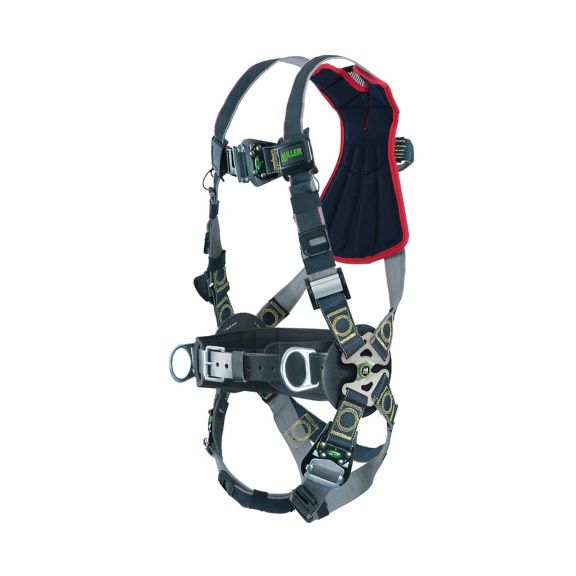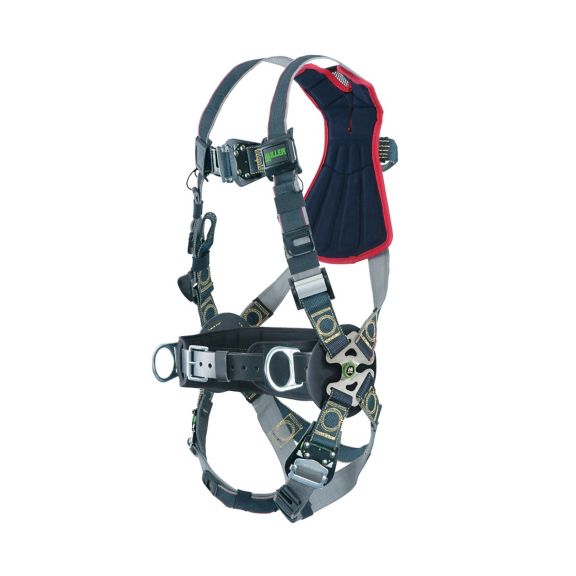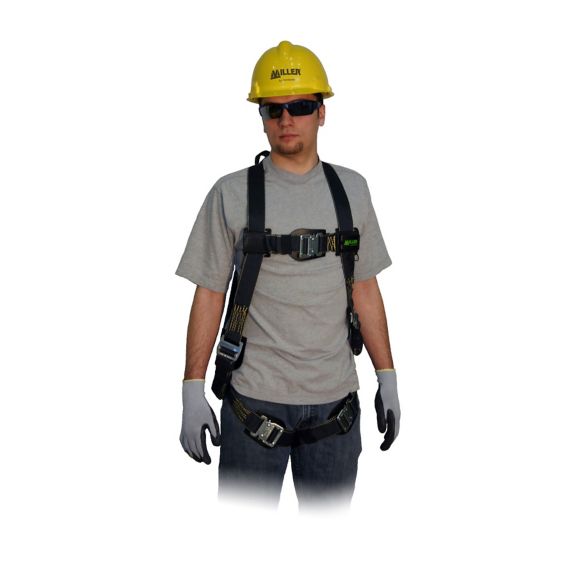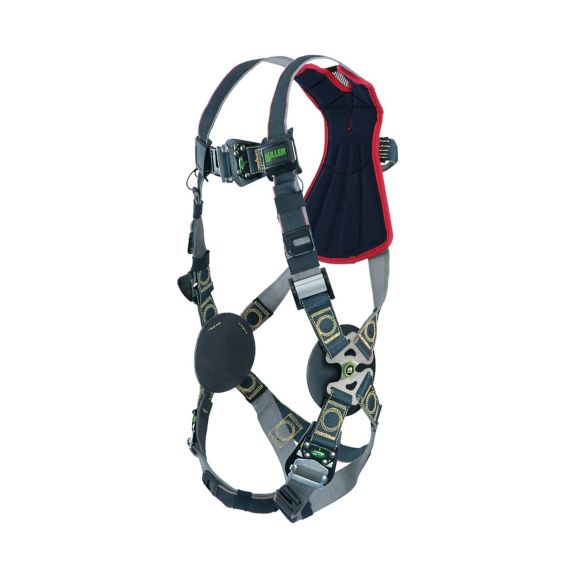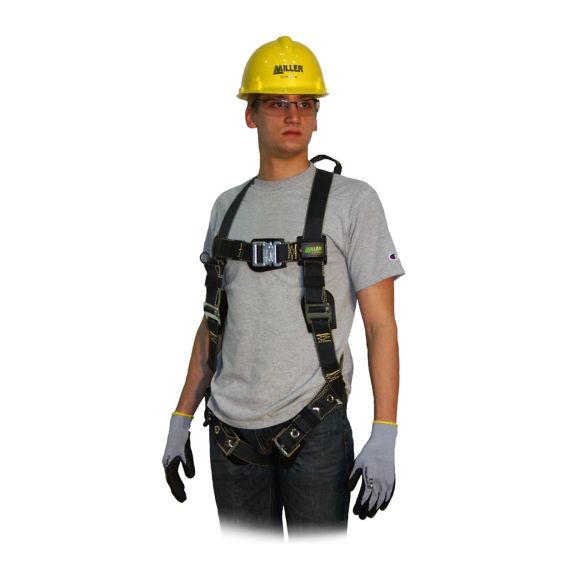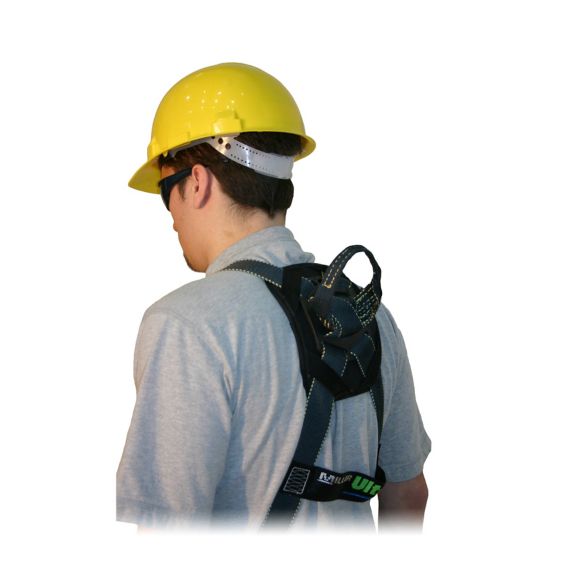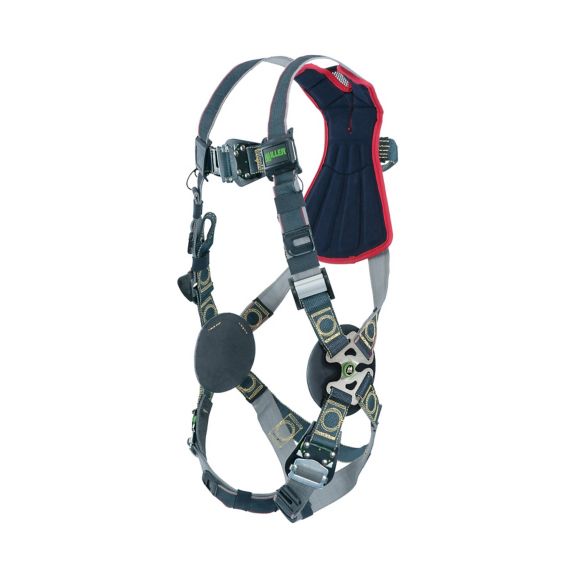 FOR EASY RESCUES
New Miller® Arc-Rated Products are designed to protect workers from falls caused by electric arc-flash and arc-blast exposure when working at heights or in confined space applications near energized electrical sources.
Versatility
Featuring the same key elements that have made the Miller Revolution Harness the most comfortable and versatile harness available.
Safety
Additional custom safety features have been incorporated for the security and protection of utility and maintenance workers.
Features & Benefits:
Kevlar®/Nomex® Miller DualTech™ webbing – patent-pending 10:000 lb. tensile strength webbing is engineered with permanent fire retardant (FR) properties. The webbing offers the durability and FR properties of Kevlar on the outer side: with softer FR Nomex on the inside of the webbing for greater comfort. The webbing assures arc protection and durability that eclipses any nylon webbing.
PivotLink™ design allows unmatched freedom of motion and comfort: while the unique Cam Buckles provide easy two-finger adjustment.
Leather insulators under all metal hardware offer additional protection for the worker.
The Kevlar web loop on the back pad allows for a "metal-less" connection when used with a Kevlar shock-absorbing lanyard with a choke-off loop.
Product Type : Harness Degrees Celsius
Data Sheet
Name
Description
File Size
Date
Size
Heavy Duty Welder Harness Data Sheet
application/pdf 62.28 KB
10/21/2021
62.28 KB
Manuals and Guides
Name
Description
File Size
Date
Size
Miller Arc-Rated Harness - Manual
application/pdf 266.06 KB
10/21/2021
266.06 KB
Brochure
Name
Description
File Size
Date
Size
Arc-Rated Products Brochure
application/pdf 1.64 MB
10/21/2021
1.64 MB
Name
Description
File Size
Date
Size
Miller Arc-Rated Harness - Manual
266.06 KB
10/21/2021
266.06 KB
Arc-Rated Products Brochure
1.64 MB
10/21/2021
1.64 MB
Heavy Duty Welder Harness Data Sheet
62.28 KB
10/21/2021
62.28 KB
Name
Description
File Size
Date
Size
Heavy Duty Welder Harness Data Sheet
62.28 KB
10/21/2021
Miller Arc-Rated Harness - Manual
266.06 KB
10/21/2021
Arc-Rated Products Brochure
1.64 MB
10/21/2021

650KQC-4/UBK
Quick-connect chest, tongue legs, friction shoulder - universal

650KQC-58/UBK
Quick-connect chest, tongue legs, friction shoulder, side D-ring - universal

850KQC-58/UBK
Quick-connect chest, tongue legs, friction shoulder, side D-ring - universal

850KQC/UBK
Quick-connect chest, Quick-connect legs, friction shoulder - universal

RKNAR-QC-BDP/UBK
Arc Rated - Removable Belt, Side D-Rings & Pad, Quick-Connect Buckle Legs - universal

RKNAR-QC/UBK
Arc Rated - Quick-Connect Buckle Legs - universal

RKNAR-TB-BDP/UBK
Arc Rated - Removable Belt, Side D-Rings & Pad, Tongue Buckle Legs - universal

RKNAR-TB/UBK
Arc Rated - Tongue Buckle Legs - universal

RKNARRL-QC-BDP/UBK
Arc Rated - Removable Belt, Side D-Rings & Pad, Quick-Connect Buckle Legs, rescue loop - universal

RKNARRL-TB-BDP/UBK
Arc Rated - Removable Belt, Side D-Rings & Pad, Tongue Buckle Legs, rescue loop - universal

650KQC-4/UBK
Quick-connect chest, tongue legs, friction shoulder - universal

650KQC-58/UBK
Quick-connect chest, tongue legs, friction shoulder, side D-ring - universal

850KQC-58/UBK
Quick-connect chest, tongue legs, friction shoulder, side D-ring - universal

850KQC/UBK
Quick-connect chest, Quick-connect legs, friction shoulder - universal

RKNAR-QC-BDP/UBK
Arc Rated - Removable Belt, Side D-Rings & Pad, Quick-Connect Buckle Legs - universal

RKNAR-QC/UBK
Arc Rated - Quick-Connect Buckle Legs - universal

RKNAR-TB-BDP/UBK
Arc Rated - Removable Belt, Side D-Rings & Pad, Tongue Buckle Legs - universal

RKNAR-TB/UBK
Arc Rated - Tongue Buckle Legs - universal

RKNARRL-QC-BDP/UBK
Arc Rated - Removable Belt, Side D-Rings & Pad, Quick-Connect Buckle Legs, rescue loop - universal

RKNARRL-TB-BDP/UBK
Arc Rated - Removable Belt, Side D-Rings & Pad, Tongue Buckle Legs, rescue loop - universal