Harnesses, Belts & Accessories
Miller StopFall Fall Restraint Device
The New Miller StopFall Fall Restraint Device has | replaced | the original StopFall Fall Restraint System and is designed to easily and naturally climb (hitchhike) wood poles in a position that's both comfortable and ergonomically accepted.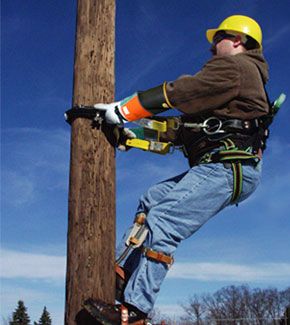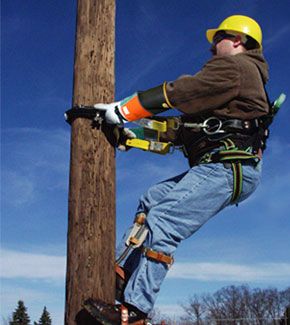 Key Features
Automatic spring-loaded cinching feature - Miller Exclusive!
Easy to use and adjust when hitchhiking wood poles
For use on transmission and distribution poles
100% inspection
Accommodates wood poles ranging from 20-in. to 60-in. circumference
Unique gaffs provide excellent stopping power on dry, wet or icy poles
The Miller StopFall™ Fall Restraint Device was created for linemen by linemen to make pole climbing as safe, comfortable and convenient as possible, eliminating room for error and increasing safety.
The only wood pole product of its type, it provides a straightforward solution allowing workers to climb naturally and instinctively.
The unique spring-loaded cinching feature of the Miller StopFall keeps the unit in constant contact around the pole.
Its minimal point of adjustment make worker training quick and easy.

Recommended Industries/Use

Hazards

Regulations
Meets the performance requirements for: OSHA 1910.269, OSHA 1926.959 and CSA Z259.14-01 Type A and Type AB

Warranty Information
We sincerely believe that our fall protection equipment is the best in the world. Our products endure rigorous test to ensure that the fall protection equipment you trust is manufactured to the highest standards. Miller fall protection products are tested to withstand normal wear and tear, but are not indestructible and can be damaged by misuse. Our Limited Lifetime Warranty does not apply to normal wear and tear or abusive treatment of the product.

In the unlikely event that you should discover defects in either workmanship or materials, under our Limited Lifetime Warranty, we will repair or replace the product at our expense. If a replacement is necessary and your product is no longer available, a comparable product will be substituted. Should a product issue surface, contact us at 800/873-5242.

Manufacturing specifications are subject to change without notice.