Rescue & Descent
Miller QuickPick Rescue Kits
Miller QuickPick™ Rescue Kits deliver peace of mind during unexpected, stressful peer-rescue situations. The rescuer can remotely attach the system to the suspended worker while remaining securely anchored on the walking/working surface.
Overview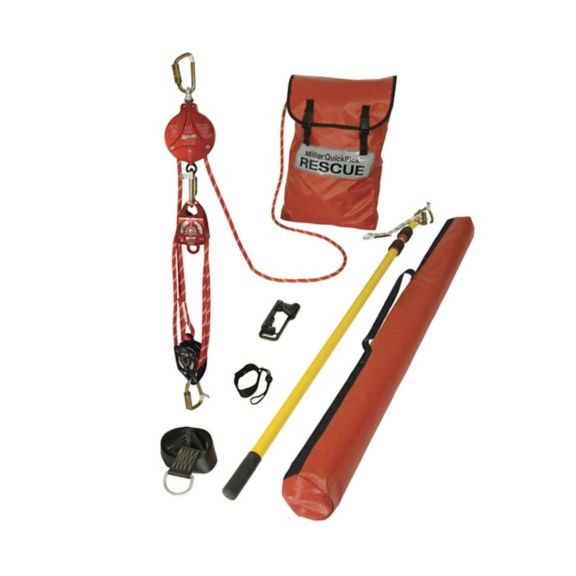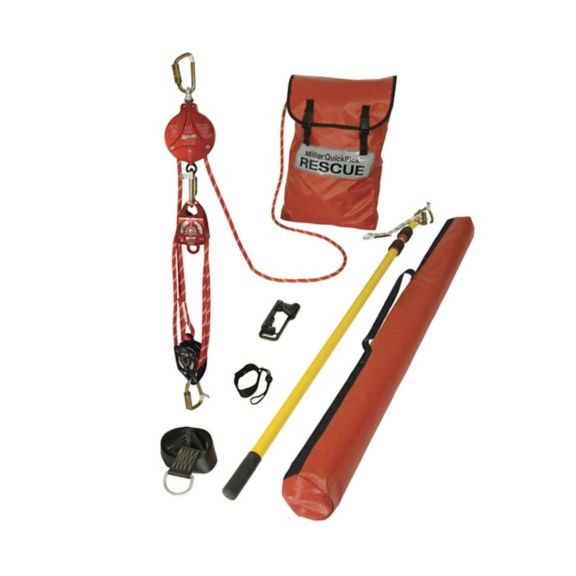 Key Features
Out-of-the-bag solution for prompt rescue - no assembly required

Quickly raise or lower a fallen worker to safety - avoid suspension trauma

Professional rescue solution - enhances worker safety and corporate rescue plan

 

Recommended Industries/Use
Construction
Manufacturing
Municipal Services
Oil and Gas
Transportation
Utilities
Wind Energy

Hazards

Regulations

Warranty Information
We sincerely believe that our fall protection equipment is the best in the world. Our products endure rigorous test to ensure that the fall protection equipment you trust is manufactured to the highest standards. Miller fall protection products are tested to withstand normal wear and tear, but are not indestructible and can be damaged by misuse. Our Limited Lifetime Warranty does not apply to normal wear and tear or abusive treatment of the product. In the unlikely event that you should discover defects in either workmanship or materials, under our Limited Lifetime Warranty, we will repair or replace the product at our expense. If a replacement is necessary and your product is no longer available, a comparable product will be substituted. Should a product issue surface, contact us at 800/873-5242. Manufacturing specifications are subject to change without notice.
Data Sheet
Name
Description
File Size
Date
Size
QuickPick Rescue Kits Data Sheet
application/pdf 99.36 KB
10/21/2021
99.36 KB
Manuals and Guides
Name
Description
File Size
Date
Size
QuickPick Rescue Kits User Manual
application/pdf 1.3 MB
10/21/2021
1.3 MB
Brochure
Name
Description
File Size
Date
Size
QuickPick Rescue Kits Brochure
application/pdf 655.5 KB
10/21/2021
655.5 KB
Name
Description
File Size
Date
Size
QuickPick Rescue Kits Brochure
655.5 KB
10/21/2021
655.5 KB
QuickPick Rescue Kits User Manual
1.3 MB
10/21/2021
1.3 MB
QuickPick Rescue Kits Data Sheet
99.36 KB
10/21/2021
99.36 KB
Name
Description
File Size
Date
Size
QuickPick Rescue Kits Data Sheet
99.36 KB
10/21/2021
QuickPick Rescue Kits User Manual
1.3 MB
10/21/2021
QuickPick Rescue Kits Brochure
655.5 KB
10/21/2021