Industrial Fixed
FSL100 Flame Detectors
FSL100 Flame Detectors
Overview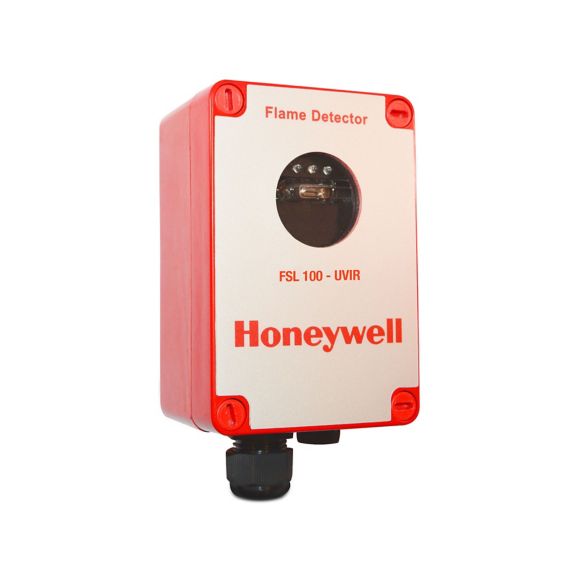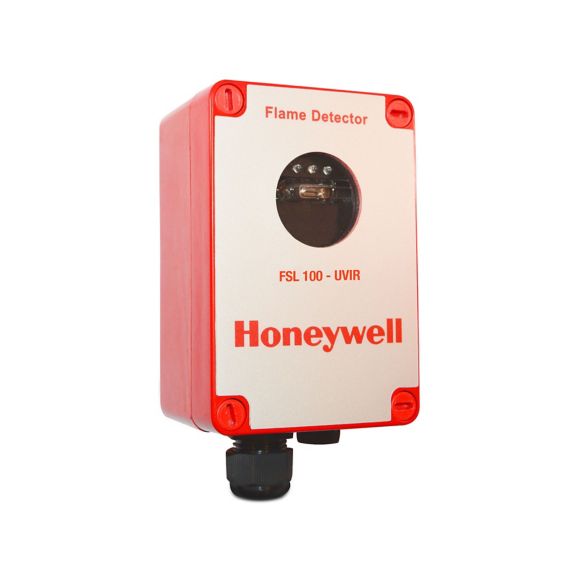 Honeywell's FSL100 range of Light Industrial/Commercial Flame Detectors enables simple coverage of fire hazard areas across many fire hazard applications. Installation, set-up and operation are simple. Wide solid area coverage and fast speed of response omtimize safety. With inbuilt automatic test and test lamps available to cover all models, reliability is ensured.
Product Overview:
The newest Optoelectronic flame detector for a wide range of Light Industrial fire detection from Honeywell Analytics.
A range of middle market Optical Flame Detectors joining the HA FSX High End products. Addresses a wide range of fire protection applications both indoors and outdoors. With 3 versions to cover a wide range of flaming fires: Ultraviolet (UV), Ultraviolet/Infrared (UV/IR) and Triple Infrared (IR3).
Detects wide range of Hydrocarbon & Non-Hydrocarbon firesDetecting a wide range of Hydrocarbon and Non-Hydrocarbon flaming fires means that many application areas can be addressed.
Wide viewing angleOptical detection of radiant energy in a solid angle Field of View enables coverage of a large risk area. Simple optional mounting bracket allows the FSL100 to be installed and aligned covering the hazard.
Fast responseFar faster than other technologies, by responding to flaming fires in seconds enabling a more rapid response to danger before the fire can escalate.
FM Class1, 2 & 3 Div2Can be installed indoors or outdoors and in Hazardous areas typically looking into a Div 1 area from a distance.
FM 3260 performance certCertified to FM 3260 for flame Detector performance.
Relay and current output (Fault and Alarm)Analog stepped output and Alarm/Fault relays for simple connectivity.
Inbuilt Automatic Test and Simple to use Test LampsFSL100 maintains continuous internal health monitoring. Test lamps enable simple operational and Field of View testing.
Features & Benefits:
UV, UV/IR and IR3 Flame Detectors to cover a wide range of applications
Robust, simple to install & set-up: Wide angle and fast speed of response
Automatic test and test lamps for simple check and maintenance.
Quick Specs:
FSL100 Flame Detectors - UV, UV/IR and IR3 for light industrial applications
GRP Housing, available in Red or White with optional swivel mount
12-14Vdc, 25mA nominal operation
4 to 20mA and Relay outputs.
Fire and Gas Consultancy Services
Even the best products deserve expert maintenance!
Elevate your gas detectors' potential with Honeywell's expert maintenance services! Maximize uptime, eliminate costs, and ensure on-time, on-budget project completion.
Explore our fixed, portable, and high-tech support services now!
Features & Benefits
Features

Automatic test and test lamps for simple check and maintenance.

Robust, simple to install & set-up; Wide angle and fast speed of response

UV, UV/IR and IR3 Flame Detectors to cover a wide range of applications
Features & Benefits
Features

Automatic test and test lamps for simple check and maintenance.

Robust, simple to install & set-up; Wide angle and fast speed of response

UV, UV/IR and IR3 Flame Detectors to cover a wide range of applications
Brand : Honeywell|Notifier
Features : Automatic test and test lamps for simple check and maintenance.|Robust, simple to install & set-up; Wide angle and fast speed of response|UV, UV/IR and IR3 Flame Detectors to cover a wide range of applications
Manuals and Guides
Name
Description
File Size
Date
Size
FSL100 Flame Detectors Quick Start Guide
application/pdf 1016.1 KB
10/21/2021
1016.1 KB
FSL100 Flame Detectors,FS10-R,FS24X Flame Detector,SS2 Flame Detector,FS20X Flame Detector,SS4 Flame Detector Product Guide
application/pdf 2.58 MB
10/21/2021
2.58 MB
Brochure
Name
Description
File Size
Date
Size
FSL100 Series Flame Detectors Brochure
application/pdf 1.16 MB
10/21/2021
1.16 MB
Technical Note
Name
Description
File Size
Date
Size
FSL100 Flame Detectors Technical Handbook
application/pdf 1.73 MB
10/21/2021
1.73 MB
Certificate
Name
Description
File Size
Date
Size
FSL100 Flame Detectors Atex Declaration of Conformity
application/pdf 225.41 KB
10/21/2021
225.41 KB
Name
Description
File Size
Date
Size
Name
Description
File Size
Date
Size

FSL100-IR3
IR3 flame detector RED, ATEX FM EN54

FSL100-IR3-W
Triple IR flame detector. Suitable for ATEX zone 2/22; FM 3611 Class 1,2&3 Div2

FSL100-SM21
FSL100 swivel mount

FSL100-TL
FSL100 test lamp, incl. universal charger and carrying case; non EX

FSL100-TLBT
12 Vdc battery for FSL-TL test lamp

FSL100-TLBU
H3 light bulb for FSL-TL test lamp

FSL100-TLX
FSL100 test lamp, case; I.S

FSL100-UV
UV flame detector. Suitable for ATEX zone 2/22; FM 3611 Class 1,2&3 Div2

FSL100-UV-W
UV flame detector. Suitable for ATEX zone 2/22; FM 3611 Class 1,2&3 Div2

FSL100-UVIR
UVIR flame detector RED, ATEX FM EN54

FSL100-IR3
IR3 flame detector RED, ATEX FM EN54

FSL100-IR3-W
Triple IR flame detector. Suitable for ATEX zone 2/22; FM 3611 Class 1,2&3 Div2

FSL100-SM21
FSL100 swivel mount

FSL100-TL
FSL100 test lamp, incl. universal charger and carrying case; non EX

FSL100-TLBT
12 Vdc battery for FSL-TL test lamp

FSL100-TLBU
H3 light bulb for FSL-TL test lamp

FSL100-TLX
FSL100 test lamp, case; I.S

FSL100-UV
UV flame detector. Suitable for ATEX zone 2/22; FM 3611 Class 1,2&3 Div2

FSL100-UV-W
UV flame detector. Suitable for ATEX zone 2/22; FM 3611 Class 1,2&3 Div2

FSL100-UVIR
UVIR flame detector RED, ATEX FM EN54