Boots
Oliver 45680CS
Oliver 45 Series safety footwear is constructed with liquid-resistant leather. The Oliver composite toe boots offer high-impact protection and is 40% lighter than traditional steel toe caps for less fatigue when worn all day.
Overview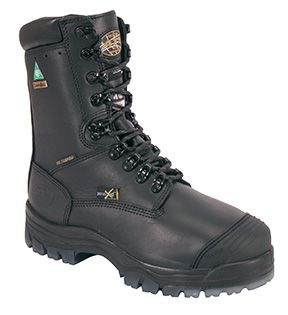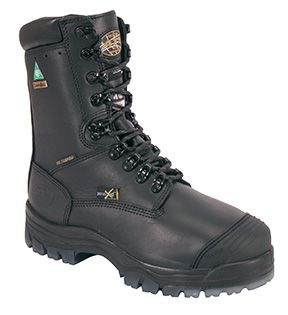 Key Features
Liquid-resistant leather
NATUREform composite toe impact protection
PORON® XRD™ metatarsal guard
SYMPATEX™ waterproof liner to help keep feet dry
600 gram Thinsulate™ ULTRA liner for sub-zero environments
ESR (Electrical Shock Resistance) rated
NANOlite and COMFORTcushion technology to help reduce leg fatigue and enhance comfort
All-terrain, TPU soling technology consists of a lightweight, shock absorbing low-density PU (polyurethane) midsole cushions the foot with each step for excellent comfort
Oliver outsole design is slip-resistant to help prevent worker slips and falls and is heat-resistant to temperatures up to 266° F (130° C)

Recommended Industries/Use
Agriculture
Construction
Forestry
Manufacturing
Municipal Services
Steel and Metals

Hazards

Warranty Information
30 DAY Comfort supports
Try a pair of correctly fitted Oliver boots for 30-Days, if you are not completely satisfied, return them to your Oliver dealer with a dated proof of purchase. Your boots will be exchanged or returned for a full refund. We are confident that once you try on Oliver boots and feel the comfort, you'll never want to return them!
LIMITED WARRANTY:
Honeywell Safety products are covered by and subject to the terms of the Honeywell Safety Products Limited Warranty that is printed in our published price list.  The Honeywell Safety Products Limited Warranty is the only written warranty of any force and effect, and all other written warranties are disclaimed in their entirety.  In no event shall Honeywell Safety Products or any of its authorized dealers be liable for any damages in excess of the purchase price of the relevant product.  This limitation applies to damages of any kind, including but not limited to direct or indirect damages or other special, incidental exemplary or consequential damages, whether arising out of the use or inability to use the product, even if we or any of our authorized dealers has been advised of the possibility of the damages or any claim by any other party. 
Construction : Direct Attach
Data Sheet
Name
Description
File Size
Date
Size
Oliver 45680cs Datasheet
application/pdf 129.62 KB
10/28/2021
129.62 KB
Brochure
Name
Description
File Size
Date
Size
Oliver 45680cs Literature
application/pdf 39.84 KB
10/28/2021
39.84 KB
Name
Description
File Size
Date
Size
Oliver 45680cs Datasheet
129.62 KB
10/28/2021
129.62 KB
Oliver 45680cs Literature
39.84 KB
10/28/2021
39.84 KB
Name
Description
File Size
Date
Size
Oliver 45680cs Datasheet
129.62 KB
10/28/2021
Oliver 45680cs Literature
39.84 KB
10/28/2021