Escape Respirators
Honeywell ER5000 Escape Breathing Apparatus
Every second counts. | That's why Honeywell designed an advanced emergency Escape Breathing Apparatus that's so easy to use, it can be donned and functioning in seconds. Available in 5-minute, 10-minute, and 5-minute high flow durations.
Overview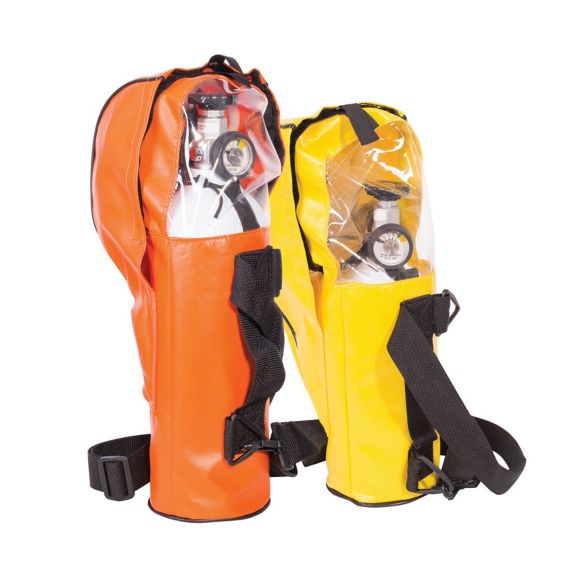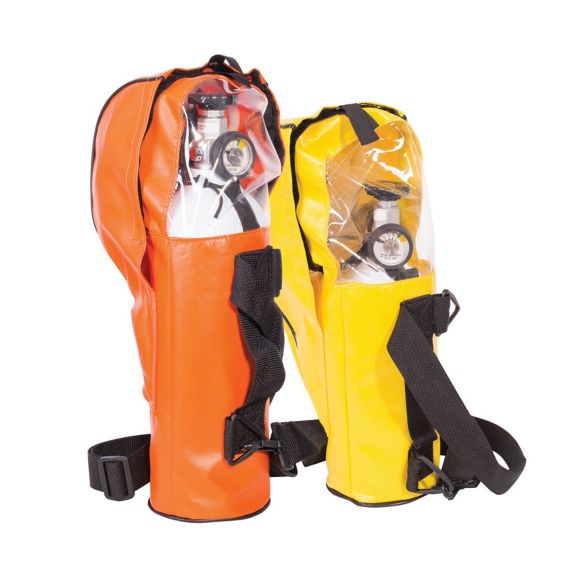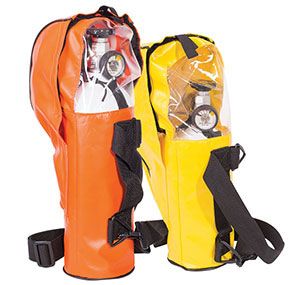 Key Features
The Honeywell ER5000 supplies five (EBA-5) or ten (EBA-10) minutes of emergency breathing air, giving your workers the time they need to safely escape from toxic or oxygen-deficient atmospheres.  The assembled device is fully contained in a carry pouch and is composed of a refillable cylinder, valve and pressure gauge assembly, breathing tube, protective air hood, and regulator. 
For escape situations that require greater exertion (walking up stairs, climbing, etc.) Honeywell offers an EBA (EBA-HF5) with higher air flow for more comfortable breathing.  It features a 5-minute, 15 cubic foot, lightweight aluminum cylinder and a regulator that delivers air to the hood at the higher flow rate of 72 liters per minute.
Features & Benefits include:
Available in 5- and 10-minute duration as well as 5-minute high flow
Comfortable loose fitting hood fits easily over eyeglasses, full beards, or hard hats.  Escape apparatus does not require fit testing.
Innovative "T" design allows the hood to sit off user's face while offering 360 degree field of vision
Durable and resistant to temperature extremes
Versatile and rugged carry pouch included
Regulator swivels 360 degrees, allowing for full range of motion and eliminating snag points
Spring reinforced breathing tube prevents kinking of tube so airflow won't be restricted
Optional wall mount bracket or storage case available
NIOSH approved

Recommended Industries/Use
Chemical
Forestry
Government
Manufacturing
Mining
Municipal Services
Oil and Gas
Pharmaceutical
Utilities
Nuclear

Hazards
Confined Space
Gas, Vapors, Smoke

Regulations

Warranty Information
1 year
Brochure
Name
Description
File Size
Date
Size
Er5000 Eba Escape Breathing Apparatus Literature
application/pdf 45.31 KB
45.31 KB
Others
Name
Description
File Size
Date
Size
ER5000 Escape Breathing Apparatus Flyer
application/pdf 137.19 KB
10/21/2021
137.19 KB
ER5000 Escape Breathing Apparatus FAQs
application/pdf 46.06 KB
10/21/2021
46.06 KB
Name
Description
File Size
Date
Size
ER5000 Escape Breathing Apparatus Flyer
137.19 KB
10/21/2021
137.19 KB
Er5000 Eba Escape Breathing Apparatus Literature
45.31 KB
45.31 KB
ER5000 Escape Breathing Apparatus FAQs
46.06 KB
10/21/2021
46.06 KB
Name
Description
File Size
Date
Size
Er5000 Eba Escape Breathing Apparatus Literature
45.31 KB
ER5000 Escape Breathing Apparatus Flyer
137.19 KB
10/21/2021
ER5000 Escape Breathing Apparatus FAQs
46.06 KB
10/21/2021

930220

930221

930222

964656

975163

975638

975647

975648

930220

930221

930222

964656

975163

975638

975647

975648