Inverseurs
NT Series
Commercial-grade toggle. UL, CSA, CE. Up to 20 A (resistive). Variety of actuators, actions, terminations, and circuitries
Aperçu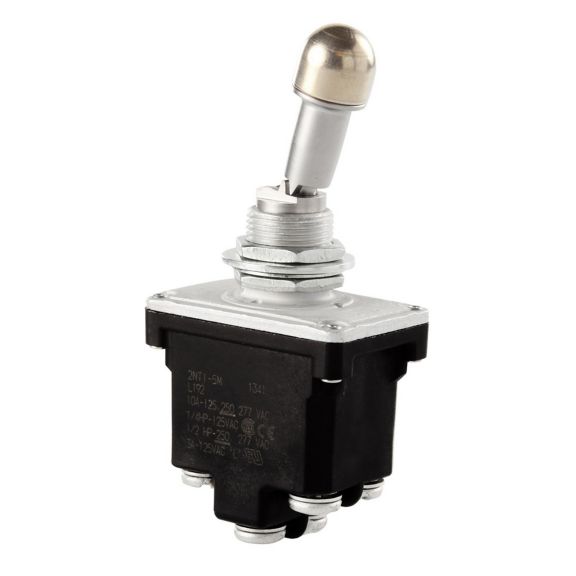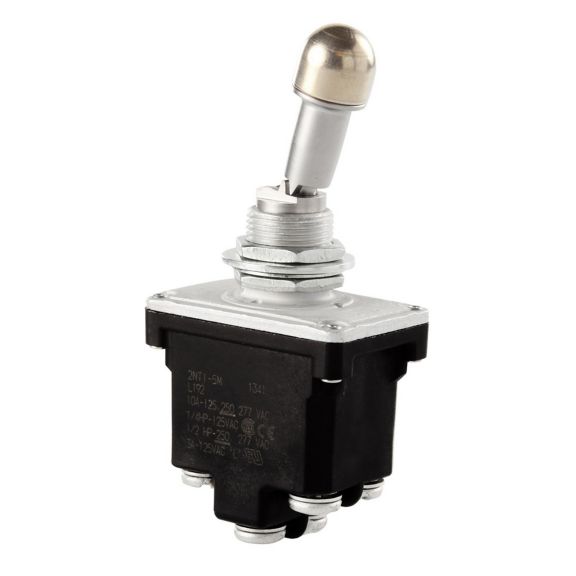 Honeywell MICRO SWITCH NT Series toggle switches meet the need for a rugged, cost-effective toggle switch. Quality construction features include a seal between the toggle lever and bushing, and between the cover and case. These switches are suitable for applications in many demanding outdoor environments, where the panels are subjected to vibration from equipment, temperature extremes, dust, splashing water, and/or hose directed water.
They are capable of withstanding exposure to heavy accumulations of early morning dew that may condense on the control panel in cabs of vehicles left outdoors overnight. The NT toggle switches with larger standard metal or plastic levers are well suited for gloved-hand operation.
Available in both step-base and flat-base styles, the NT Series offers three popular styles of termination: 6-32 screws, solder lugs with 3,0 mm [0.12 in] diameter hole, or 6,35 mm [0.25 in] quick connect terminals. The optional "Easy Start" threaded bushing enables quick alignment of the mounting nut to minimize any cross threading.
The panel stand-off with O-ring feature available on some listings eliminates the need for behind-the-panel hardware, provides a uniform panel height, and a panel-to-cover seal.
Fiche Technique
Guides et manuels
Brochure
Note Technique
Note D'application
Circuit/Action Opérationnelle
Livre électronique
Image de produit
Nom
La description
Taille du fichier
Date
Taille
Nom
La description
Taille du fichier
Date
Taille

11NT1-2

11NT1-3

11NT1-3D

11NT1-7

12NT1-3

1NT1-1
SEALED OI SWITCH

1NT1-1A
SEALED OI SWITCH

1NT1-2
SEALED OI SWITCH

1NT1-21

1NT1-2D
SEALED OI SWITCH

11NT1-2

11NT1-3

11NT1-3D

11NT1-7

12NT1-3

1NT1-1
SEALED OI SWITCH

1NT1-1A
SEALED OI SWITCH

1NT1-2
SEALED OI SWITCH

1NT1-21

1NT1-2D
SEALED OI SWITCH