Flexible Heaters
C3400 Series
Kapton® insulated or Kapton insulated high temp.. Used where thin profile and/or low material outgassing are required. Variety of geometries
Panoramica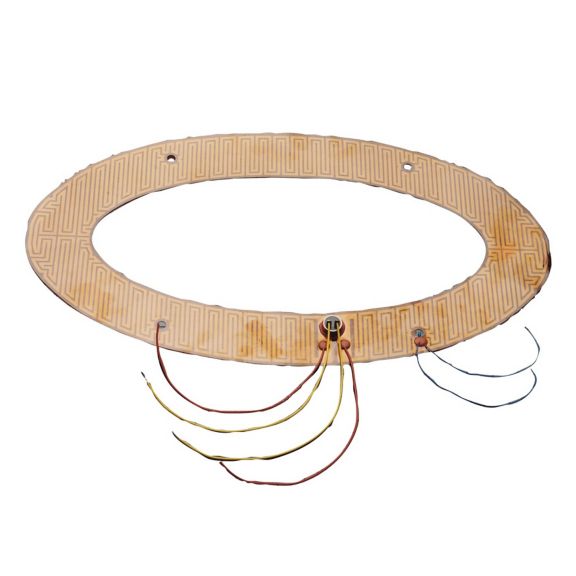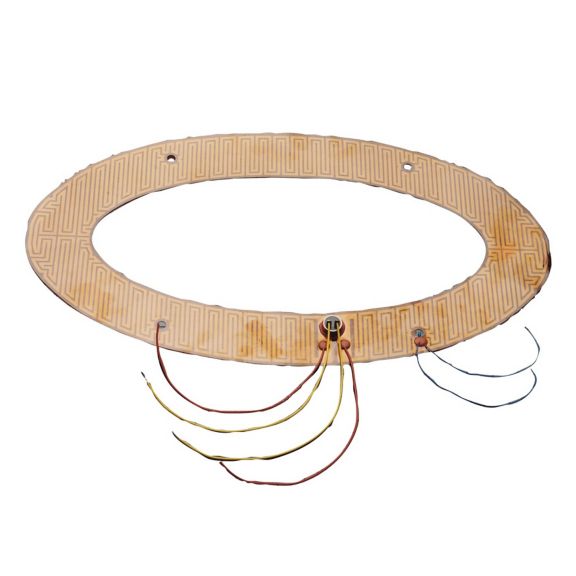 Kapton® insulated or Kapton insulated high temperature flexible heaters contain etched, resistive foil encased between two layers of Kapton. Kapton Insulated versions use acrylic, thermoset bonding adhesive: Kapton Insulated High Temperature versions uses Teflon® bonding adhesive. Kapton is designed to provide thermal stability over a wide temperature range High dielectric strength with minimum thickness.
PSA simplifies installation. These products are available in a variety of geometries such as flat, molded-to-shape and spiral wrap. Standard designs are UL, CSA, and TUV approved. They feature low out gassing.
Each solution is designed to be bonded to other system parts or combined with Honeywell thermostats, thermistors, thermocouples, and temperature sensors to form custom-engineered heating systems.
They are used where thin profile and/or low material outgassing are important considerations such as airborne valves, appliances, and medical electronics.
Manuali e Guide
Nome
Descrizione
Dimensione file
Data
Dimensione
Flexible Heaters
application/pdf 134.82 KB
9/20/2021
134.82 KB
Thermal Sensors Product Range Guide
application/pdf 977.58 KB
9/20/2021
977.58 KB
Nota Applicativa
Nome
Descrizione
Dimensione file
Data
Dimensione
Construction Vehicles -
application/pdf 984.29 KB
12/20/2022
984.29 KB
Sensors and Switches: Solutions for Medical Applications
application/pdf 1.34 MB
5/18/2023
1.34 MB
Flexible Heaters Meet Medical Industry Autoclave Requirements
application/pdf 1.07 MB
9/20/2021
1.07 MB
Solutions for Hemodialysis Machines
application/pdf 2.66 MB
11/23/2021
2.66 MB
Nome
Descrizione
Dimensione file
Data
Dimensione
Nome
Descrizione
Dimensione file
Data
Dimensione

C3400-6095
C3400 Series Kapton Insulated or High Temperature Insulated Flexible Heater, 28 V, 0,78 W/cm² [5 W/in²] Watt Density, 10 W Total Wattage, 78.4 Ohm Resistance, 50,8 mm L x 2,54 cm W [2 in L x 1 in W]

C3400-6144
C3400 Series Kapton Insulated or High Temperature Insulated Flexible Heater, 110 V, 1,55 W/cm² [10 W/in²] Watt Density, 60 W Total Wattage, 201.7 Ohm Resistance, 76,2 mm L x 50,8 mm W [3 in L x 2 in W]

C3400-6144A
C3400 Series Kapton Insulated or High Temperature Insulated Flexible Heater, 110 V, 1,55 W/cm² [10 W/in²] Watt Density, 60 W Total Wattage, 201.7 Ohm Resistance, 76,2 mm L x 50,8 mm W [3 in L x 2 in W], 3M 966 PSA Adhesive

C3400-6145
C3400 Series Kapton Insulated or High Temperature Insulated Flexible Heater, 12 V, 0,39 W/cm² [2.5 W/in²] Watt Density, 20 W Total Wattage, 7.2 Ohm Resistance, 101,6 mm L x 50,8 mm W [4 in L x 2 in W]

C3400-6145A
C3400 Series Kapton Insulated or High Temperature Insulated Flexible Heater, 12 V, 0,39 W/cm² [2.5 W/in²] Watt Density, 20 W Total Wattage, 7.2 Ohm Resistance, 101,6 mm L x 50,8 mm W [4 in L x 2 in W], 3M 966 PSA Adhesive

C3400-6153
C3400 Series Kapton Insulated or High Temperature Insulated Flexible Heater, 110 V, 1,55 W/cm² [10 W/in²] Watt Density, 80 W Total Wattage, 151.3 Ohm Resistance, 101,6 mm L x 50,8 mm W [4 in L x 2 in W]

C3400-6153A
C3400 Series Kapton Insulated or High Temperature Insulated Flexible Heater, 110 V, 1,55 W/cm² [10 W/in²] Watt Density, 80 W Total Wattage, 151.3 Ohm Resistance, 101,6 mm L x 50,8 mm W [4 in L x 2 in W], 3M 966 PSA Adhesive

C3400-6215
C3400 Series Kapton Insulated or High Temperature Insulated Flexible Heater, 110 V, 0,78 W/cm² [5 W/in²] Watt Density, 75 W Total Wattage, 161.3 Ohm Resistance, 127 mm L x 76,2 mm W [5 in x 3 in W]

C3400-6215A
C3400 Series Kapton Insulated or High Temperature Insulated Flexible Heater, 110 V, 0,78 W/cm² [5 W/in²] Watt Density, 75 W Total Wattage, 161.3 Ohm Resistance, 127 mm L x 76,2 mm W [5 in x 3 in W], 3M 966 PSA Adhesive

C3400-6216
C3400 Series Kapton Insulated or High Temperature Insulated Flexible Heater, 110 V, 1,55 W/cm² [10 W/in²] Watt Density, 150 W Total Wattage, 80.7 Ohm Resistance, 127 mm L x 76,2 mm W [5 in x 3 in W]

C3400-6095
C3400 Series Kapton Insulated or High Temperature Insulated Flexible Heater, 28 V, 0,78 W/cm² [5 W/in²] Watt Density, 10 W Total Wattage, 78.4 Ohm Resistance, 50,8 mm L x 2,54 cm W [2 in L x 1 in W]

C3400-6144
C3400 Series Kapton Insulated or High Temperature Insulated Flexible Heater, 110 V, 1,55 W/cm² [10 W/in²] Watt Density, 60 W Total Wattage, 201.7 Ohm Resistance, 76,2 mm L x 50,8 mm W [3 in L x 2 in W]

C3400-6144A
C3400 Series Kapton Insulated or High Temperature Insulated Flexible Heater, 110 V, 1,55 W/cm² [10 W/in²] Watt Density, 60 W Total Wattage, 201.7 Ohm Resistance, 76,2 mm L x 50,8 mm W [3 in L x 2 in W], 3M 966 PSA Adhesive

C3400-6145
C3400 Series Kapton Insulated or High Temperature Insulated Flexible Heater, 12 V, 0,39 W/cm² [2.5 W/in²] Watt Density, 20 W Total Wattage, 7.2 Ohm Resistance, 101,6 mm L x 50,8 mm W [4 in L x 2 in W]

C3400-6145A
C3400 Series Kapton Insulated or High Temperature Insulated Flexible Heater, 12 V, 0,39 W/cm² [2.5 W/in²] Watt Density, 20 W Total Wattage, 7.2 Ohm Resistance, 101,6 mm L x 50,8 mm W [4 in L x 2 in W], 3M 966 PSA Adhesive

C3400-6153
C3400 Series Kapton Insulated or High Temperature Insulated Flexible Heater, 110 V, 1,55 W/cm² [10 W/in²] Watt Density, 80 W Total Wattage, 151.3 Ohm Resistance, 101,6 mm L x 50,8 mm W [4 in L x 2 in W]

C3400-6153A
C3400 Series Kapton Insulated or High Temperature Insulated Flexible Heater, 110 V, 1,55 W/cm² [10 W/in²] Watt Density, 80 W Total Wattage, 151.3 Ohm Resistance, 101,6 mm L x 50,8 mm W [4 in L x 2 in W], 3M 966 PSA Adhesive

C3400-6215
C3400 Series Kapton Insulated or High Temperature Insulated Flexible Heater, 110 V, 0,78 W/cm² [5 W/in²] Watt Density, 75 W Total Wattage, 161.3 Ohm Resistance, 127 mm L x 76,2 mm W [5 in x 3 in W]

C3400-6215A
C3400 Series Kapton Insulated or High Temperature Insulated Flexible Heater, 110 V, 0,78 W/cm² [5 W/in²] Watt Density, 75 W Total Wattage, 161.3 Ohm Resistance, 127 mm L x 76,2 mm W [5 in x 3 in W], 3M 966 PSA Adhesive

C3400-6216
C3400 Series Kapton Insulated or High Temperature Insulated Flexible Heater, 110 V, 1,55 W/cm² [10 W/in²] Watt Density, 150 W Total Wattage, 80.7 Ohm Resistance, 127 mm L x 76,2 mm W [5 in x 3 in W]