Board Mount Pressure Sensors
24PC Series
Uncompensated. Low pressure. mV output. Absolute, differential, wet/wet diff., gage. DIP, SIP, SMT. Linearity & hysteresis: 0.5 % typ.
Panoramica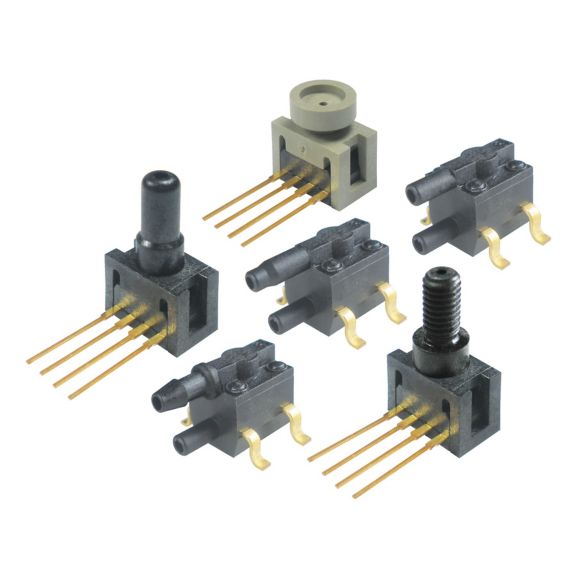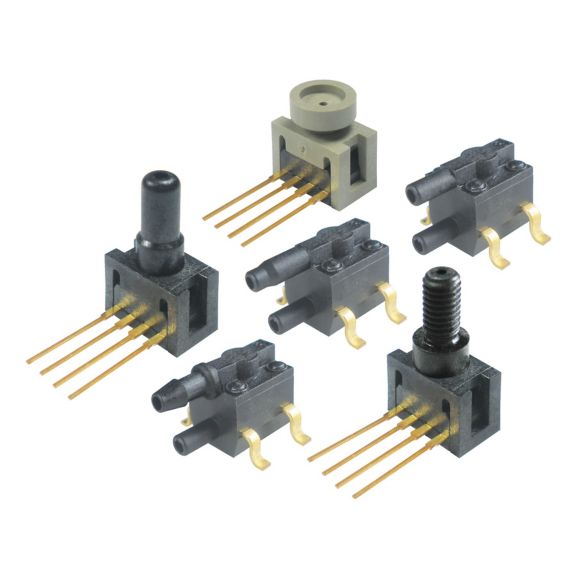 Pressure Ranges
0.5 psi to 250 psi (SIP, DIP)
1 psi to 15 psi (SMT)
The 24PC Series miniature pressure sensors provide reliable gage pressure sensing performance in a compact package. The sensor features a proven sensing technology that utilizes a specialized piezoresistive micro-machined sensing element. The low power, non-amplified, non-compensated Wheatstone bridge circuit design provides inherently stable mV outputs over 0.5 psi through 250 psi sensing ranges.
Scheda Tecnica
Manuali e Guide
Istruzioni d'installazione
Modello CAD
Nota Tecnica
White Paper
Nota Applicativa
Fotografia Prodotto
Nome
Descrizione
Dimensione file
Data
Dimensione
Nome
Descrizione
Dimensione file
Data
Dimensione

24PC01SMT
24PC Series, uncompensated/unamplified, wet/wet differential, ±1 psi, SMT, straight port

24PC05SMT
24PC Series, uncompensated/unamplified, wet/wet differential, ±5 psi, SMT, straight port

24PC15SMT
24PC Series, uncompensated/unamplified, wet/wet differential, ±15 psi, SMT, straight port

24PCAFA6D
PRESSURE SENSOR

24PCAFA6G
24PC Series, uncompensated/unamplified, gage, 0 psi to 1 psi, 1x4 SIP 15,2 mm [0.60 in] long, straight port

24PCAFB6G
24PC Series, uncompensated/unamplified, gage, 0 psi to 1 psi, 1x4 SIP 15,2 mm [0.60 in] long, barbed port

24PCBFA2G
24PC Series, uncompensated/unamplified, gage, 0 psi to 1 psi, 2x2 DIP, straight port

24PCBFA6D
24PC Series, uncompensated/unamplified, differential, ±5 psi 1x4 SIP 15,2 mm [0.60 in] long, straight port

24PCBFA6G
24PC Series, uncompensated/unamplified, gage, 0 psi to 5 psi, 1x4 SIP 15,2 mm [0.60 in] long, straight port

24PCBFD6G
24PC Series, uncompensated/unamplified, gage, 0 psi to 5 psi, 1x4 SIP 15,2 mm [0.60 in] long, modular port

24PC01SMT
24PC Series, uncompensated/unamplified, wet/wet differential, ±1 psi, SMT, straight port

24PC05SMT
24PC Series, uncompensated/unamplified, wet/wet differential, ±5 psi, SMT, straight port

24PC15SMT
24PC Series, uncompensated/unamplified, wet/wet differential, ±15 psi, SMT, straight port

24PCAFA6D
PRESSURE SENSOR

24PCAFA6G
24PC Series, uncompensated/unamplified, gage, 0 psi to 1 psi, 1x4 SIP 15,2 mm [0.60 in] long, straight port

24PCAFB6G
24PC Series, uncompensated/unamplified, gage, 0 psi to 1 psi, 1x4 SIP 15,2 mm [0.60 in] long, barbed port

24PCBFA2G
24PC Series, uncompensated/unamplified, gage, 0 psi to 1 psi, 2x2 DIP, straight port

24PCBFA6D
24PC Series, uncompensated/unamplified, differential, ±5 psi 1x4 SIP 15,2 mm [0.60 in] long, straight port

24PCBFA6G
24PC Series, uncompensated/unamplified, gage, 0 psi to 5 psi, 1x4 SIP 15,2 mm [0.60 in] long, straight port

24PCBFD6G
24PC Series, uncompensated/unamplified, gage, 0 psi to 5 psi, 1x4 SIP 15,2 mm [0.60 in] long, modular port