Board Mount Pressure Sensors
Basic ABP Series
Compensated. ±1.5 %FSS TEB. Low pressure. Differential or gage. Digital or analog output. DIP, leadless SMT, SMT. Cost effective
Panoramica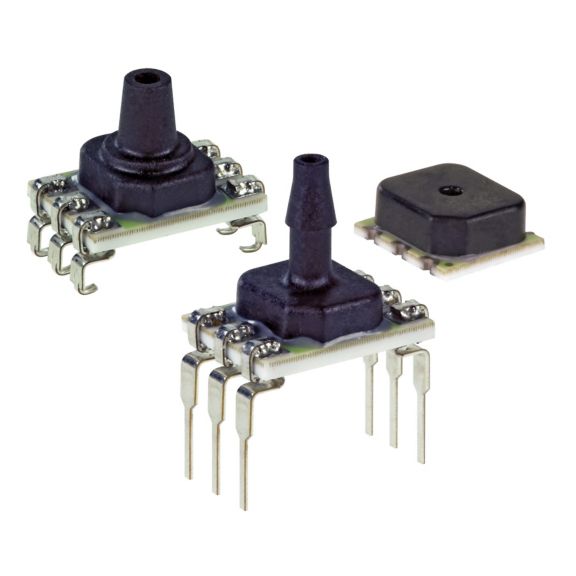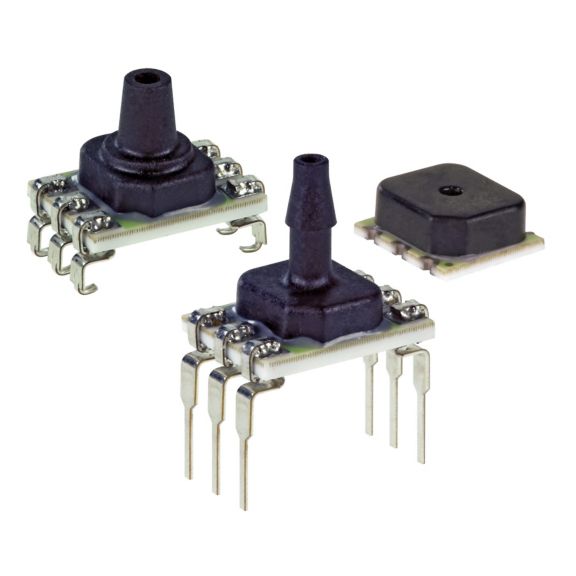 Pressure Ranges
>±60 mbar to ±10 bar - ±6 kPa to ±1 MPa - ±1 psi to ±150 psi
Description
The ABP Series are piezoresistive silicon pressure sensors offering a ratiometric analog or digital output for reading pressure over the specified full scale pressure span and temperature range. They are calibrated and temperature compensated for sensor offset, sensitivity, temperature effects and accuracy errors (which include non-linearity, repeatability and hysteresis) using an on-board Application Specific Integrated Circuit (ASIC). Calibrated output values for pressure are updated at approximately 1 kHz for analog and 2 kHz for digital. All products are designed and manufactured according to ISO 9001 standards.
Dry gases option: The input port is limited to non-corrosive, non-ionic media (e.g., dry air, gases) and should not be exposed to condensation. The gases are limited to media compatible with high temperature polyamide, silicone, alumina ceramic, silicon, gold, and glass.
Liquid media option: Includes an additional silicone-based gel coating to protect the electronics under port P1, which enables use with non-corrosive liquids (e.g. water and saline) and in applications where condensation can occur. Since port P2 is designed for use with non-corrosive liquids, this option is often suitable for wet-wet differential sensing.
Value to Customers
Simplifies design-in: Small size saves room on the PC board (PCB), or simplifies design in smaller and lower power devices. Meets Moisture Sensitivity Level 1 requirements, which allows for unlimited shelf life when stored at <30 ºC/85 %RH and, under most storage conditions, allows for PCB soldering without any material concern about solder joint quality due to aging of the sensor terminals, which minimizes the concern about aging of the terminals prior PCB assembly. Pressure choices allow engineers to select range required for their application. Leadless SMT, SMT, and DIP package options.
Cost-effective: Small size helps engineers reduce design and manufacturing costs while maintaining enhanced performance and reliability of the systems they design.
Accurate: Total Error Band (TEB) and wide pressure range enable engineers to optimize system performance by improving resolution and system accuracy. Optional internal diagnostics validate that the sensor readings are correct.
Flexible: Supply voltage range, variety of pressure units, types, and ranges, output options, and wide operating temperature range simplify use in the application.
Versatile: Wet-media compatibility, sleep mode, and temperature output options make the sensor a versatile choice for Internet of Things applications.
Honeywell Brand: Utilize proprietary Honeywell technology, and are protected by multiple global patents.
Differentiation:
Enhanced accuracy helps the design engineer fully understand the error in measurement.
Wide supply voltage range offers design flexibility.
Power consumption when utilizing sleep mode option allows for use in battery-powered applications.
Scheda Tecnica
Manuali e Guide
Istruzioni d'installazione
Modello CAD
Opuscolo
Nota Tecnica
White Paper
Nota Applicativa
Fotografia Prodotto
Nome
Descrizione
Dimensione file
Data
Dimensione
Nome
Descrizione
Dimensione file
Data
Dimensione

ABPDANN005PG2A3
Basic ABP Series, Compensated/Amplified, gage, DIP AN: single axial barbed port, dry gases only, no diagnostics, 0 psi to 5 psi, digital I²C address: 0x28, no temperature output, no sleep mode, 3.3 Vdc

ABPDANT005PGAA5
Basic ABP Series, Compensated/Amplified, gage, DIP AN: single axial barbed port, liquid media, no diagnostics, 0 psi to 5 psi, 10% to 90% of Vsupply, no temperature output, no sleep mode, 5.0 Vdc

ABPDANT015PGAA5
Basic ABP Series, Compensated/Amplified, gage, DIP AN: single axial barbed port, liquid media, no diagnostics, 0 psi to 15 psi, 10% to 90% of Vsupply, no temperature output, no sleep mode, 5.0 Vdc

ABPDJJT001PGAA5
Basic ABP Series, Compensated/Amplified, gage, DIP JJ: dual radial barbless ports, same side, liquid media, no diagnostics, 0 psi to 1 psi,10% to 90% of Vsupply, no temperature output, no sleep mode, 5.0 Vdc

ABPDLNN100MG2A3
Basic ABP Series, Compensated/Amplified, gage, DIP LN: single axial barbless port, dry gases only, no diagnostics, 0 mbar to 100 mbar, digital I²C address: 0x28, no temperature output, no sleep mode, 3.3 Vdc

ABPDRRT005PG2A5
Basic ABP Series, Compensated/Amplified, gage, DIP RR: dual radial barbed ports, same side, liquid media, no diagnostics, 0 psi to 5 psi, digital I²C address: 0x28, no temperature output, no sleep mode, 5.0 Vdc

ABPLANN001PG2A5
Basic ABP Series, Compensated/Amplified, gage, leadless SMT AN: single axial barbed port, dry gases only, no diagnostics, 0 psi to 1 psi, digital I²C address: 0x28, no temperature output, no sleep mode, 5.0 Vdc

ABPLANT015PD2A5
Basic ABP Series, Compensated/Amplified, differential, leadless SMT AN: single axial barbed port, liquid media, no diagnostics, 0 psi to 15 psi, digital I²C address: 0x28, 10% to 90% of Vsupply, no temperature output, no sleep mode, 5.0 Vdc

ABPLLND060MGAA3
Basic ABP Series, Compensated/Amplified, gage, leadless SMT LN: single axial barbless port, dry gases only, diagnostics on, 0 mbar to 60 mbar, analog, 10% to 90% of Vsupply, no temperature output, no sleep mode, 3.3 Vdc

ABPLLNN600MGAA3
Basic ABP Series, Compensated/Amplified, gage, leadless SMT LN: single axial barbless port, dry gases only, no diagnostics, 0 mbar to 600 mbar, analog, 10% to 90% of Vsupply, no temperature output, no sleep mode, 3.3 Vdc

ABPDANN005PG2A3
Basic ABP Series, Compensated/Amplified, gage, DIP AN: single axial barbed port, dry gases only, no diagnostics, 0 psi to 5 psi, digital I²C address: 0x28, no temperature output, no sleep mode, 3.3 Vdc

ABPDANT005PGAA5
Basic ABP Series, Compensated/Amplified, gage, DIP AN: single axial barbed port, liquid media, no diagnostics, 0 psi to 5 psi, 10% to 90% of Vsupply, no temperature output, no sleep mode, 5.0 Vdc

ABPDANT015PGAA5
Basic ABP Series, Compensated/Amplified, gage, DIP AN: single axial barbed port, liquid media, no diagnostics, 0 psi to 15 psi, 10% to 90% of Vsupply, no temperature output, no sleep mode, 5.0 Vdc

ABPDJJT001PGAA5
Basic ABP Series, Compensated/Amplified, gage, DIP JJ: dual radial barbless ports, same side, liquid media, no diagnostics, 0 psi to 1 psi,10% to 90% of Vsupply, no temperature output, no sleep mode, 5.0 Vdc

ABPDLNN100MG2A3
Basic ABP Series, Compensated/Amplified, gage, DIP LN: single axial barbless port, dry gases only, no diagnostics, 0 mbar to 100 mbar, digital I²C address: 0x28, no temperature output, no sleep mode, 3.3 Vdc

ABPDRRT005PG2A5
Basic ABP Series, Compensated/Amplified, gage, DIP RR: dual radial barbed ports, same side, liquid media, no diagnostics, 0 psi to 5 psi, digital I²C address: 0x28, no temperature output, no sleep mode, 5.0 Vdc

ABPLANN001PG2A5
Basic ABP Series, Compensated/Amplified, gage, leadless SMT AN: single axial barbed port, dry gases only, no diagnostics, 0 psi to 1 psi, digital I²C address: 0x28, no temperature output, no sleep mode, 5.0 Vdc

ABPLANT015PD2A5
Basic ABP Series, Compensated/Amplified, differential, leadless SMT AN: single axial barbed port, liquid media, no diagnostics, 0 psi to 15 psi, digital I²C address: 0x28, 10% to 90% of Vsupply, no temperature output, no sleep mode, 5.0 Vdc

ABPLLND060MGAA3
Basic ABP Series, Compensated/Amplified, gage, leadless SMT LN: single axial barbless port, dry gases only, diagnostics on, 0 mbar to 60 mbar, analog, 10% to 90% of Vsupply, no temperature output, no sleep mode, 3.3 Vdc

ABPLLNN600MGAA3
Basic ABP Series, Compensated/Amplified, gage, leadless SMT LN: single axial barbless port, dry gases only, no diagnostics, 0 mbar to 600 mbar, analog, 10% to 90% of Vsupply, no temperature output, no sleep mode, 3.3 Vdc