Latching Position Sensor ICs
SS360PT, SS460P, SS460P-T2
High sensitivity latching Hall-effect digital sensor ICs with built-in pull-up resistor. SOT-23, flat TO-92-style with straight or formed lead pkgs.
Panoramica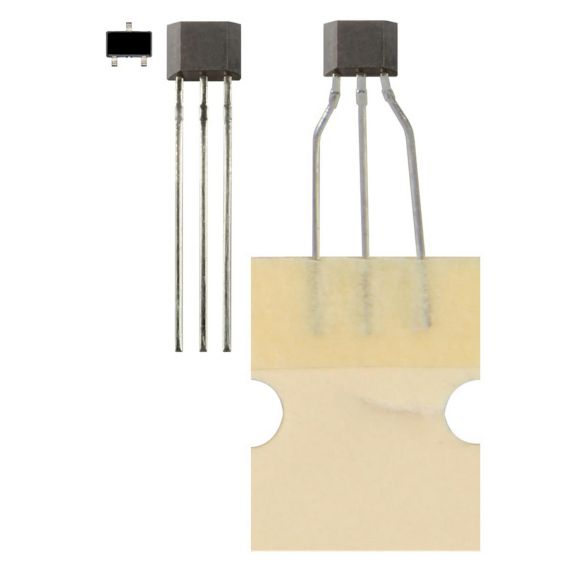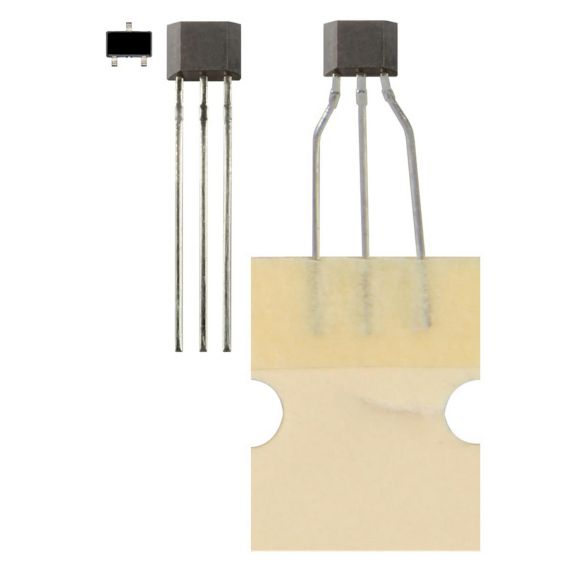 The SS360PT, SS460P and SS460P-T2 High Sensitivity Latching Hall-effect Sensor ICs with Built-in Pull-up Resistors are small, sensitive, and versatile devices that are operated by the magnetic field from a permanent magnet or an electromagnet. They are designed to respond to alternating North and South poles. The SS360PT is turned on by a North pole while the SS460P and SS460P-T2 are turned on by a South pole.
These products offer reliable switching points with a high magnetic sensitivity of 30 Gauss typ. (55 Gauss max.). They do not use chopper stabilization on the Hall element, providing a clean output signal and a faster latch response time when compared to competitive high sensitivity Hall-effect latching sensor ICs that do use chopper stabilization.
The internal pull-up resistor often eliminates the need for external components, helping to reduce the system cost. These high-performance, yet economical, sensor ICs are well suited for demanding, cost-sensitive high-volume applications. These products offer reverse polarity protection, deliver a stable output over a wide temperature range, and can operate from a dc supply voltage from 3 Vdc to 24 Vdc.
For brushless dc motor manufacturers who need latching sensors with reliable, consistent performance for more efficient and smaller designs, this product responds to low magnetic fields and offers consistent repeatability while delivering faster response times to a change in magnetic field for better motor efficiency.
These product are available in three package styles:
SS360PT: Miniature SOT-23 surface-mount package supplied on pocket tape and reel which allows for compact design with automated component placement.
SS460P: Flat TO-92-style package with straight leads in bulk packaging which allows for a compact PC board layout.
SS460P-T2: Flat TO-92-style package with formed leads in ammopack tape-in-box.
Scheda Tecnica
Manuali e Guide
Istruzioni d'installazione
Modello CAD
Opuscolo
Nota Tecnica
White Paper
Nota Applicativa
eBook
Fotografia Prodotto
Nome
Descrizione
Dimensione file
Data
Dimensione
Nome
Descrizione
Dimensione file
Data
Dimensione

SS360PT
SS360PT Hall-effect digital position sensor IC with built-in pull-up resistor, latching high sensitivity, North pole activated, SOT-23, pocket tape and reel, 3000 units/reel

SS460P
SS460PT Hall-effect digital position sensor IC with built-in pull-up resistor, latching high sensitivity, South pole activated, flat TO-92-style package, straight standard leads, 1000 units/bag

SS360PT
SS360PT Hall-effect digital position sensor IC with built-in pull-up resistor, latching high sensitivity, North pole activated, SOT-23, pocket tape and reel, 3000 units/reel

SS460P
SS460PT Hall-effect digital position sensor IC with built-in pull-up resistor, latching high sensitivity, South pole activated, flat TO-92-style package, straight standard leads, 1000 units/bag