General Purpose Limit Switches
GLE Series
Min-Din EN50047 compatible mounting. Metal housing. IP66 sealing. 20 to 22 mm/40 to 42 mm mounting holes. UL/CSA/CE/CCC approvals
Panoramica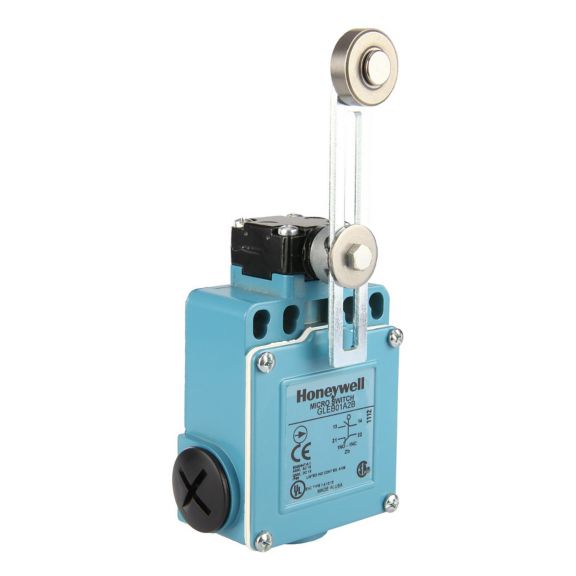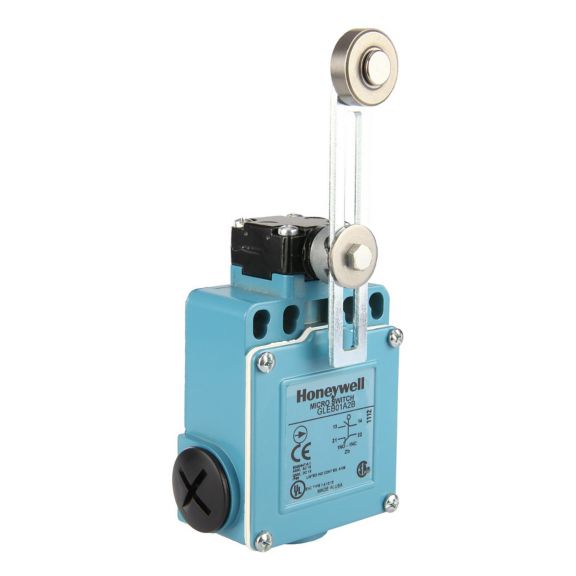 Honeywell's MICRO SWITCH GLS miniature limit switch family offers a wide range of products for global solutions. These durable and reliable limit switches are suitable for many industrial applications, agriculture equipment, transportation equipment, and other applications requiring an environmentally sealed (IP and NEMA) switch.
The compact housings are often ideal for equipment where space is at a premium. The extensive product range is available in three different housing types: metal housing (GLC), plastic housing (GLD), or a three-conduit metal housing (GLE) that is mounting compatible to EN50047.
A wide range of actuators, contact blocks, and conduit/connectivity options enhance the product offering. In today's demanding age of logic-level controls, electromechanical switches are frequently used to interface with PLCs and otherlogic level devices. GLS limit switches offer an option for gold-plated contacts for the standard switch. This option promotes the switch reliability for logic-level applications.
Scheda Tecnica
Manuali e Guide
Istruzioni d'installazione
Opuscolo
Nota Tecnica
White Paper
Nota Applicativa
eBook
Fotografia Prodotto
Nome
Descrizione
Dimensione file
Data
Dimensione
Nome
Descrizione
Dimensione file
Data
Dimensione

GLEA01A1A
MICRO SWITCH GLE Series Global Limit Switches, Side Rotary With Roller - Standard, 1NC 1NO SPDT Snap Action, 0.5 in - 14NPT conduit

GLEA01A1B
LIMIT SWITCH

GLEA01A4J
MICRO SWITCH GLE Series Global Limit Switches, Side Rotary With Rod - Adjustable, 1NC 1NO SPDT Snap Action, 0.5 in - 14NPT conduit

GLEA01A5A
MICRO SWITCH GLE Series Global Limit Switches, Side Rotary With Roller - With Offset, 1NC 1NO SPDT Snap Action, 0.5 in - 14NPT conduit

GLEA01B
MICRO SWITCH GLE Series Global Limit Switches, Top Plunger, 1NC 1NO SPDT Snap Action, 0.5 in - 14NPT conduit

GLEA01C
MICRO SWITCH GLE Series Global Limit Switches, Top Roller Plunger, 1NC 1NO SPDT Snap Action, 0.5 in - 14NPT conduit

GLEA01D
MICRO SWITCH GLE Series Global Limit Switches, Top Roller Arm, 1NC 1NO SPDT Snap Action, 0.5 in - 14NPT conduit

GLEA01E7B
MICRO SWITCH GLE Series Global Limit Switches, Wobble - Coil Spring, 1NC 1NO SPDT Snap Action, 0.5 in - 14NPT conduit

GLEA24A1B
LIMIT SWITCH

GLEA24A2A
MICRO SWITCH GLE Series Global Limit Switches, Side Rotary With Roller - Adjustable, 2NC 2NO DPDT Snap Action, 0.5 in - 14NPT conduit

GLEA01A1A
MICRO SWITCH GLE Series Global Limit Switches, Side Rotary With Roller - Standard, 1NC 1NO SPDT Snap Action, 0.5 in - 14NPT conduit

GLEA01A1B
LIMIT SWITCH

GLEA01A4J
MICRO SWITCH GLE Series Global Limit Switches, Side Rotary With Rod - Adjustable, 1NC 1NO SPDT Snap Action, 0.5 in - 14NPT conduit

GLEA01A5A
MICRO SWITCH GLE Series Global Limit Switches, Side Rotary With Roller - With Offset, 1NC 1NO SPDT Snap Action, 0.5 in - 14NPT conduit

GLEA01B
MICRO SWITCH GLE Series Global Limit Switches, Top Plunger, 1NC 1NO SPDT Snap Action, 0.5 in - 14NPT conduit

GLEA01C
MICRO SWITCH GLE Series Global Limit Switches, Top Roller Plunger, 1NC 1NO SPDT Snap Action, 0.5 in - 14NPT conduit

GLEA01D
MICRO SWITCH GLE Series Global Limit Switches, Top Roller Arm, 1NC 1NO SPDT Snap Action, 0.5 in - 14NPT conduit

GLEA01E7B
MICRO SWITCH GLE Series Global Limit Switches, Wobble - Coil Spring, 1NC 1NO SPDT Snap Action, 0.5 in - 14NPT conduit

GLEA24A1B
LIMIT SWITCH

GLEA24A2A
MICRO SWITCH GLE Series Global Limit Switches, Side Rotary With Roller - Adjustable, 2NC 2NO DPDT Snap Action, 0.5 in - 14NPT conduit