Linear and Angle Sensor ICs
SS39ET, SS49E, SS59ET Linear Sensor ICs
Hall-effect. SOT-23, flat TO-92-style, SOT-89B packages. Linear sourcing output.
Overview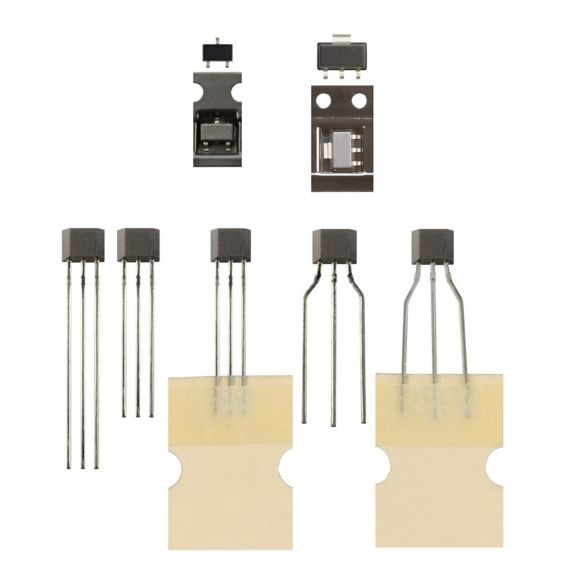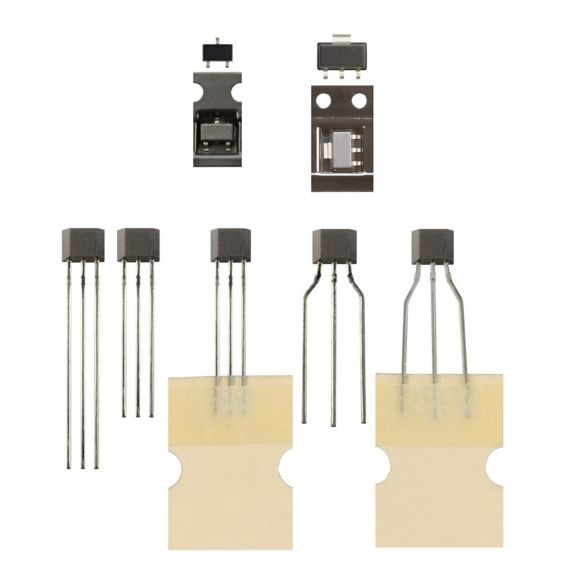 The SS39ET/SS49E/SS59ET Series Low-cost Linear Hall-effect Sensor ICs are small, versatile devices that are operated by the magnetic field from a permanent magnet or an electromagnet. The linear sourcing output voltage is set by the supply voltage and varies in proportion to the strength of the magnetic field. The low voltage capability (as low as 2.7 Vdc) and reduced current consumption of only 6 mA (typical at 5 Vdc) help make this product energy efficient.
The integrated circuitry features low noise output, which makes it unnecessary to use external filtering. It also includes thin film resistors to provide increased temperature stability and accuracy. These products interface with many electrical components without buffering and the thermally balanced integrated circuit provides stable operation over the full temperature range.
These products are designed and manufactured for cost competitiveness. All packages can be supplied on tape for automated, lower-cost assembly. The SS39ET's small footprint takes up less space on the PC board, typically allowing for more components.
Data Sheet
Manuals and Guides
CAD Model
Brochure
Technical Note
Application Note
eBook
Product Photo
Name
Description
File Size
Date
Size
Name
Description
File Size
Date
Size

SS39ET
SS39ET Hall-effect linear sensor IC, SOT-23, pocket tape and reel, 3000 units/reel

SS49E
SOLID STATE SENSOR

SS59ET
SS59ET Hall-effect linear sensor IC, SOT-89B, 1000 units/pocket tape and reel

SS39ET
SS39ET Hall-effect linear sensor IC, SOT-23, pocket tape and reel, 3000 units/reel

SS49E
SOLID STATE SENSOR

SS59ET
SS59ET Hall-effect linear sensor IC, SOT-89B, 1000 units/pocket tape and reel