Miniature Basic Switches
V15 Series
Up to 22 A ac (UL, cUL), 26 A ac (ENEC, CQC). dc ratings. Variety of actuators, forces, terminations, & contacts. 22,2 mm x 10,3 mm diag. mount.
Overview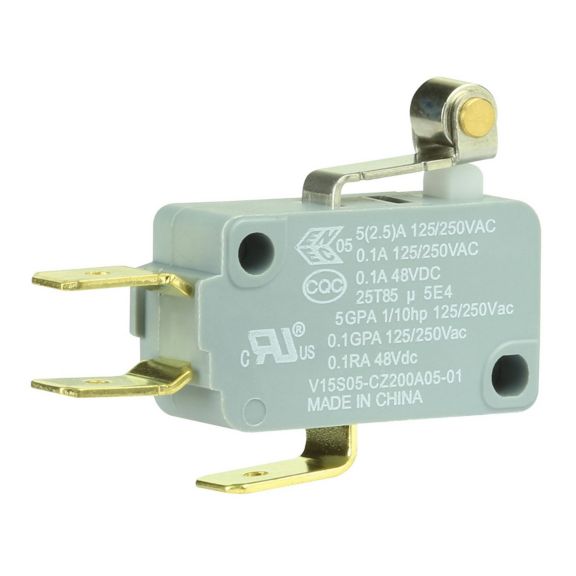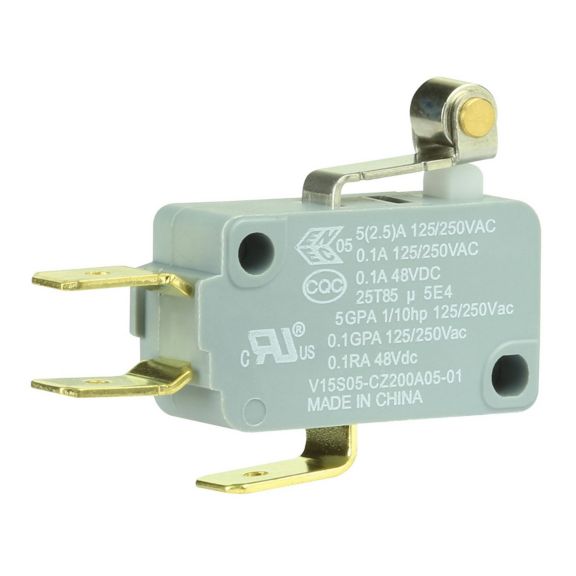 Honeywell's MICRO SWITCH V-Basic Standard Switch, V15 Series is an electromechanical switch designed to provide outstanding value in a reliable global package. This switch is often ideal for "low-cost-of-failure" applications, where the cost is minimal to replace or service any failure related to the switch.
With a wide variety of operating forces, and amperage ratings, the V15 is designed for numerous types of applications. Available in both pin plunger and levered styles, the V15 Series also offers a multitude of termination styles to fit almost any application.
Data Sheet
Name
Description
File Size
Date
Size
MICRO SWITCH V15 Series Standard Basic Switches
application/pdf 2.13 MB
7/28/2022
2.13 MB
Manuals and Guides
Name
Description
File Size
Date
Size
Basic, Toggle, and Rocker Switches Range Guide -
application/pdf 6.48 MB
10/25/2022
6.48 MB
Installation Instructions
Name
Description
File Size
Date
Size
50079204: V15 Series Miniature Switches Installation Instructions
application/pdf 108.04 KB
9/28/2021
108.04 KB
Brochure
Name
Description
File Size
Date
Size
MICRO SWITCH V Basic Switch Comparison
application/pdf 751.67 KB
11/14/2023
751.67 KB
Industrial Applications: Going Beyond Limits
application/pdf 16.69 MB
11/17/2022
16.69 MB
Controlling the Future with Technology
application/pdf 11.8 MB
3/7/2023
11.8 MB
Partners Providing Technical Safety and Productivity Solutions
application/pdf 1.04 MB
12/20/2022
1.04 MB
Technical Note
Name
Description
File Size
Date
Size
Technical Bulletin #14 - Applying Precision Switches
application/pdf 617.67 KB
5/31/2022
617.67 KB
Application Note
Name
Description
File Size
Date
Size
Sensors and Switches in Valves and Flowmeters
application/pdf 1.78 MB
9/23/2022
1.78 MB
Construction Vehicles -
application/pdf 984.29 KB
12/20/2022
984.29 KB
Switches and Sensors Solutions for Industrial Applications -
application/pdf 2.48 MB
5/24/2023
2.48 MB
Agricultural Vehicles -
application/pdf 1.11 MB
12/20/2022
1.11 MB
Defence Ground Vehicles -
application/pdf 872.87 KB
6/14/2023
872.87 KB
eBook
Name
Description
File Size
Date
Size
Redefining Road Rail & Rugged Applications
application/pdf 28.35 MB
12/20/2022
28.35 MB
Name
Description
File Size
Date
Size
Name
Description
File Size
Date
Size
MICRO SWITCH V15 Series Standard Basic Switches
2.13 MB
7/28/2022
Basic, Toggle, and Rocker Switches Range Guide -
6.48 MB
10/25/2022
50079204: V15 Series Miniature Switches Installation Instructions
108.04 KB
9/28/2021
MICRO SWITCH V Basic Switch Comparison
751.67 KB
11/14/2023
Industrial Applications: Going Beyond Limits
16.69 MB
11/17/2022
Controlling the Future with Technology
11.8 MB
3/7/2023
Partners Providing Technical Safety and Productivity Solutions
1.04 MB
12/20/2022
Technical Bulletin #14 - Applying Precision Switches
617.67 KB
5/31/2022
Sensors and Switches in Valves and Flowmeters
1.78 MB
9/23/2022
Construction Vehicles -
984.29 KB
12/20/2022
Switches and Sensors Solutions for Industrial Applications -
2.48 MB
5/24/2023
Agricultural Vehicles -
1.11 MB
12/20/2022
Defence Ground Vehicles -
872.87 KB
6/14/2023
Redefining Road Rail & Rugged Applications
28.35 MB
12/20/2022

V15H16-CZ200
MICRO SWITCH V15 Series Standard Basic Switch, 16 A, pin plunger, 6,35 mm x 0,80 mm quick connect terminals, SPDT, 200 gf [1,96 N]

V15H16-CZ300A02-K
MICRO SWITCH V15 Series Standard Basic Switch, 16 A, straight lever, 6,35 mm x 0,80 mm quick connect terminals, SPDT, 300 gf [2,94 N]

V15H16-CZ300A06-K
MICRO SWITCH V15 Series Standard Basic Switch, 16 A, long roller lever, 6,35 mm x 0,80 mm quick connect terminals, SPDT, 300 gf [2,94 N]

V15H16-EP100
MICRO SWITCH V15 Series Standard Basic Switch, 16 A, pin plunger, 4,80 mm x 0,50 mm quick connect terminals, SPST-NO, 100 gf [0,98 N]

V15H16-EZ100
MICRO SWITCH V15 Series Standard Basic Switch, 16 A, pin plunger, 4,80 mm x 0,50 mm quick connect terminals, SPDT, 100 gf [0,98 N]

V15H22-CZ100
MICRO SWITCH V15 Series Standard Basic Switch, 22 A, pin plunger, 6,35 mm x 0,80 mm quick connect terminals, SPDT, 100 gf [0,98 N]

V15H22-CZ100A02
MICRO SWITCH V15 Series Standard Basic Switch, 22 A, straight lever, 6,35 mm x 0,80 mm quick connect terminals, SPDT, 100 gf [0,98 N]

V15H22-CZ100A02-K
MICRO SWITCH V15 Series Standard Basic Switch, 22 A, straight lever, 6,35 mm x 0,80 mm quick connect terminals, SPDT, 100 gf [0,98 N]

V15H22-CZ100A03
MICRO SWITCH V15 Series Standard Basic Switch, 22 A, long straight lever, 6,35 mm x 0,80 mm quick connect terminals, SPDT, 100 gf [0,98 N]

V15H22-CZ100A05
MICRO SWITCH V15 Series Standard Basic Switch, 22 A, roller lever, 6,35 mm x 0,80 mm quick connect terminals, SPDT, 100 gf [0,98 N]

V15H16-CZ200
MICRO SWITCH V15 Series Standard Basic Switch, 16 A, pin plunger, 6,35 mm x 0,80 mm quick connect terminals, SPDT, 200 gf [1,96 N]

V15H16-CZ300A02-K
MICRO SWITCH V15 Series Standard Basic Switch, 16 A, straight lever, 6,35 mm x 0,80 mm quick connect terminals, SPDT, 300 gf [2,94 N]

V15H16-CZ300A06-K
MICRO SWITCH V15 Series Standard Basic Switch, 16 A, long roller lever, 6,35 mm x 0,80 mm quick connect terminals, SPDT, 300 gf [2,94 N]

V15H16-EP100
MICRO SWITCH V15 Series Standard Basic Switch, 16 A, pin plunger, 4,80 mm x 0,50 mm quick connect terminals, SPST-NO, 100 gf [0,98 N]

V15H16-EZ100
MICRO SWITCH V15 Series Standard Basic Switch, 16 A, pin plunger, 4,80 mm x 0,50 mm quick connect terminals, SPDT, 100 gf [0,98 N]

V15H22-CZ100
MICRO SWITCH V15 Series Standard Basic Switch, 22 A, pin plunger, 6,35 mm x 0,80 mm quick connect terminals, SPDT, 100 gf [0,98 N]

V15H22-CZ100A02
MICRO SWITCH V15 Series Standard Basic Switch, 22 A, straight lever, 6,35 mm x 0,80 mm quick connect terminals, SPDT, 100 gf [0,98 N]

V15H22-CZ100A02-K
MICRO SWITCH V15 Series Standard Basic Switch, 22 A, straight lever, 6,35 mm x 0,80 mm quick connect terminals, SPDT, 100 gf [0,98 N]

V15H22-CZ100A03
MICRO SWITCH V15 Series Standard Basic Switch, 22 A, long straight lever, 6,35 mm x 0,80 mm quick connect terminals, SPDT, 100 gf [0,98 N]

V15H22-CZ100A05
MICRO SWITCH V15 Series Standard Basic Switch, 22 A, roller lever, 6,35 mm x 0,80 mm quick connect terminals, SPDT, 100 gf [0,98 N]