Industrial Fixed
FS24X Plus
Triple IR Flame Detector
Overview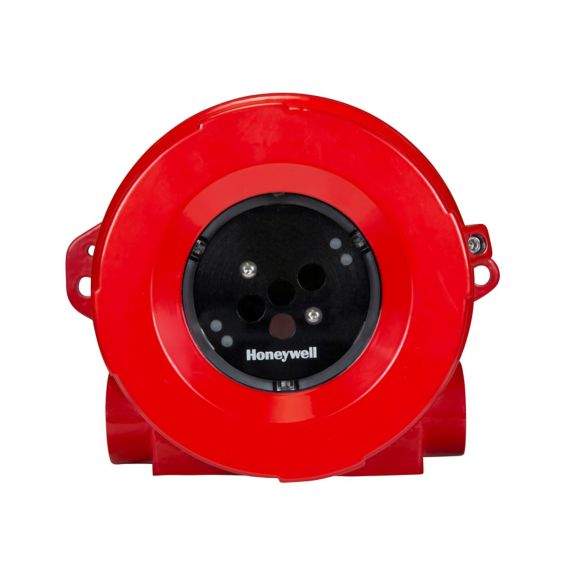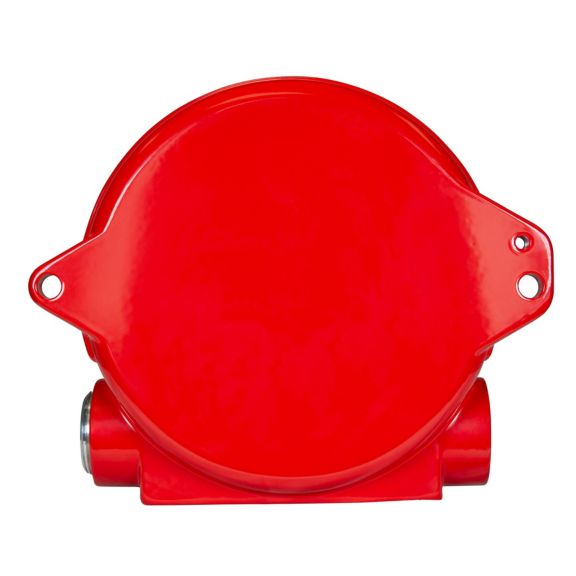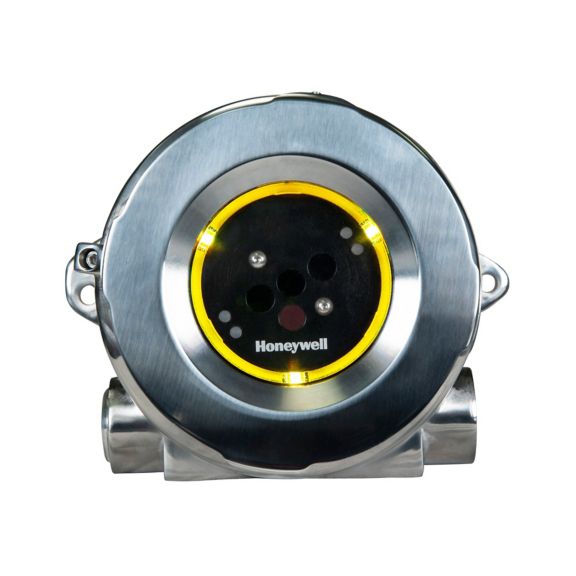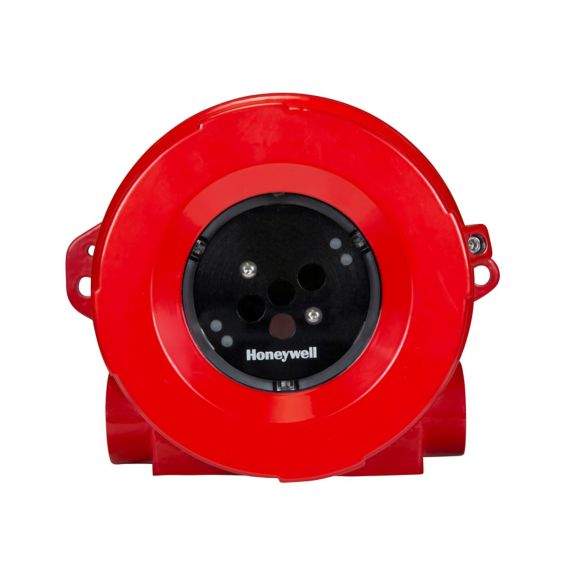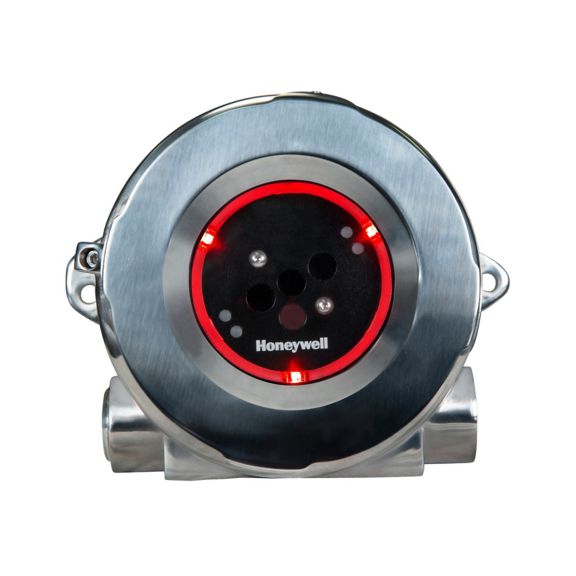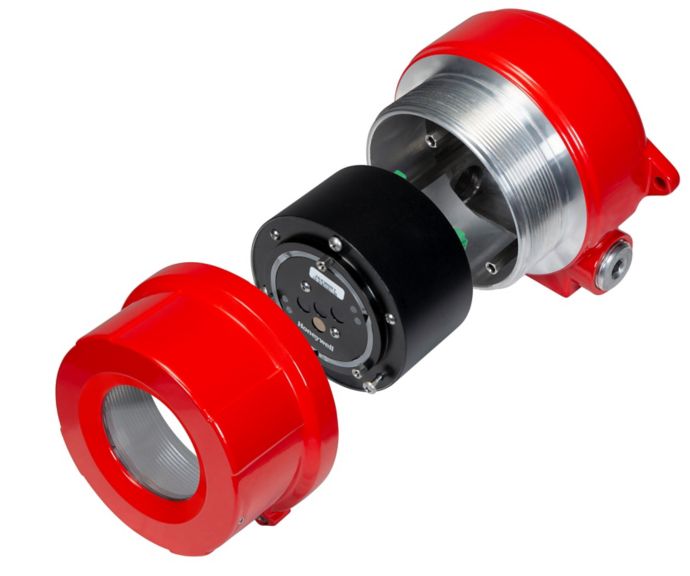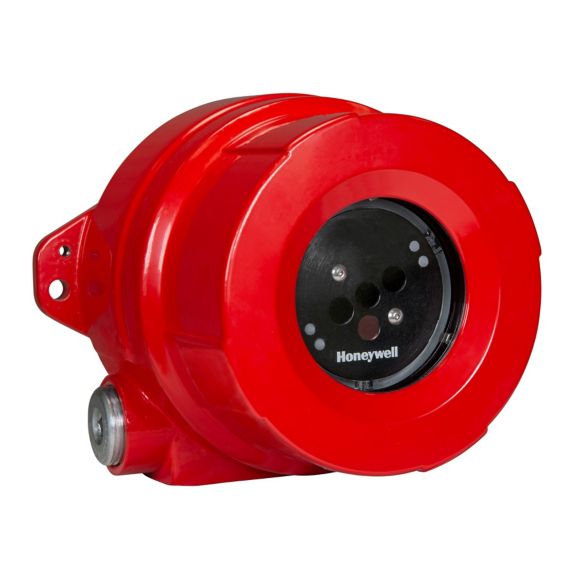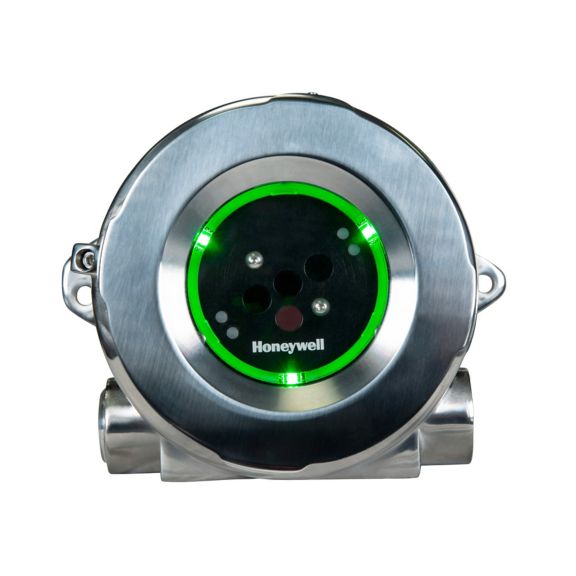 The FS24X Plus is a triple IR flame detector using Honeywell's WideBand IR™ infrared technology to detect hydrocarbon and hydrogen fires quickly and reliably — before they grow — even in the presence of environmental inhibitors like rain, fog, and smoke.
Designed for hazardous locations, the FS24X Plus has several marine certifications and is SIL2 rated for safety instrumented system applications.Features & Benefits:
Reliable Detection
Fast response to a wide range of hydrocarbon and hydrogen fires even in low visibility conditions
Advanced diagnostics including window clarity to maintain site protection Easy to Use
Sunshade and standard or marine mounting bracket included for quickly and easily positioning the detector in an optimal location.
Powerful FlameManager software replaces legacy dip switches for detector configuration and provides simplified diagnostics and post event FirePics™.
At a Glance Instrument Status
High Visibility, Multi Color LED HALO ring provides clear indication of device status from up to 50ft (15m) away, even in bright outdoor environments
Quick Specs:
Long-range, wide-angle sensors detect fires at 200ft (60m) for 1ft2 (0.1m2) n-Heptane
Multiple outputs including 4-20mA, Relays, HART®, and Modbus communication all standard
Responds to a wide range of hydrocarbon fires such as n-Heptane, Methane, Butane, Propane, Ethanol, Methanol, Diesel, Kerosene, JP-4, and IPA as well as Hydrogen
Speed of response typically 5 seconds
Dimension & Weight
Weight range

Aluminum: 1.7 kg (3.7 lbs), Stainless Steel: 3.4 kg (7.4 lbs)
Analog
Analog Output Signal Type
Number of Analog Outputs
Certifications
Certifications - Performance

EN54-10: Class1 (Medium, High, Very High Sensitivities), Class 2 (Low Sensitivity)

FM3260

Certifications - Hazloc

ATEX: II 2 G Ex db IIC T5 Gb; II 2 D Ex tb IIIC T135° C Db IP66/67;

CCC - Pending

CUTR - Pending

IECEx: Ex db IIC T5 Gb; Ex tb IIIC T135° C Db IP66/67;

INMETRO

cFMus: Class I, Div 1, Grps A,B,C,D; Class II/III, Div 1, Grps E,F,G NEMA 4X

Certifications - Other

IEC61508 SIL 2 Certified by TUV Sud

Maritime Type approved to ABS, Lloyds, BV, DNV
Connector
Connector Type

2 x M25 or 2 x ¾" NPT Entries
Datalogging
Datalogging

5000 events and ten 30-second FirePics™
Features & Benefits
Features

High-visibility halo light ring

Modbus, HART®, 4-20 mA, Relays Standard

Mounting bracket and sunshade included

Multiple marine certifications

Proved triple IR sensor technology

Benefits

Calibration free

Easy installation and commissioning

Robust false alarm avoidance

Simple maintenance

Superior performance in adverse weather conditions (through smoke, rain, mist and fog)
Material
Material

316 Stainless Steel

Low Copper Aluminum with Marine Grade Paint
Relay
Relay Output Configuration

Alarm, Fault, and Auxiliary

Relay Activation Settings

Single Pole Double Throw (SPDT)

Relay Rated Load
Relay Included
Voltage & Current
Operating Current

1.8 Watts (Nominal)

12 Watts (max) = with heater ON 100% duty cycle.

2.4 Watts (Alarm)
Additional Specifications
Number of Relay Outputs
Ingress Protection
Visual Indicators

LED halo light ring - Green, Yellow, Red

Replacement Parts
Response Time

Typically, 5 Seconds and a maximum of 10 Seconds

NEMA Rating
Dimension & Weight
Weight range

Aluminum: 1.7 kg (3.7 lbs), Stainless Steel: 3.4 kg (7.4 lbs)
Analog
Analog Output Signal Type
Certifications
Certifications - Performance

EN54-10: Class1 (Medium, High, Very High Sensitivities), Class 2 (Low Sensitivity)

FM3260

Certifications - Hazloc

ATEX: II 2 G Ex db IIC T5 Gb; II 2 D Ex tb IIIC T135° C Db IP66/67;

CCC - Pending

CUTR - Pending

IECEx: Ex db IIC T5 Gb; Ex tb IIIC T135° C Db IP66/67;

INMETRO

cFMus: Class I, Div 1, Grps A,B,C,D; Class II/III, Div 1, Grps E,F,G NEMA 4X

Certifications - Other

IEC61508 SIL 2 Certified by TUV Sud

Maritime Type approved to ABS, Lloyds, BV, DNV
Connector
Connector Type

2 x M25 or 2 x ¾" NPT Entries
Datalogging
Datalogging

5000 events and ten 30-second FirePics™
Features & Benefits
Features

High-visibility halo light ring

Modbus, HART®, 4-20 mA, Relays Standard

Mounting bracket and sunshade included

Multiple marine certifications

Proved triple IR sensor technology

Benefits

Calibration free

Easy installation and commissioning

Robust false alarm avoidance

Simple maintenance

Superior performance in adverse weather conditions (through smoke, rain, mist and fog)
Material
Material

316 Stainless Steel

Low Copper Aluminum with Marine Grade Paint
Relay
Relay Output Configuration

Alarm, Fault, and Auxiliary

Relay Activation Settings

Single Pole Double Throw (SPDT)
Voltage & Current
Operating Current

1.8 Watts (Nominal)

12 Watts (max) = with heater ON 100% duty cycle.

2.4 Watts (Alarm)
Additional Specifications
Visual Indicators

LED halo light ring - Green, Yellow, Red

Response Time

Typically, 5 Seconds and a maximum of 10 Seconds
Weight range : Aluminum: 1.7 kg (3.7 lbs), Stainless Steel: 3.4 kg (7.4 lbs)
Humidity Range : 0–99% relative humidity
Analog Output Signal Type : 4-20mA standard
Number of Analog Outputs : 1
Certifications - Performance : EN54-10: Class1 (Medium, High, Very High Sensitivities), Class 2 (Low Sensitivity)|FM3260
Certifications - Hazloc : ATEX: II 2 G Ex db IIC T5 Gb; II 2 D Ex tb IIIC T135° C Db IP66/67;|CCC - Pending|CUTR - Pending|IECEx: Ex db IIC T5 Gb; Ex tb IIIC T135° C Db IP66/67;|INMETRO|cFMus: Class I, Div 1, Grps A,B,C,D; Class II/III, Div 1, Grps E,F,G NEMA 4X
Certifications - Other : IEC61508 SIL 2 Certified by TUV Sud|Maritime Type approved to ABS, Lloyds, BV, DNV
Connector Type : 2 x M25 or 2 x ¾" NPT Entries
Datalogging : 5000 events and ten 30-second FirePics™
Features : High-visibility halo light ring|Modbus, HART®, 4-20 mA, Relays Standard|Mounting bracket and sunshade included|Multiple marine certifications|Proved triple IR sensor technology
Benefits : Calibration free|Easy installation and commissioning|Robust false alarm avoidance|Simple maintenance|Superior performance in adverse weather conditions (through smoke, rain, mist and fog)
Material : 316 Stainless Steel|Low Copper Aluminum with Marine Grade Paint
Relay Output Configuration : Alarm, Fault, and Auxiliary
Relay Activation Settings : Single Pole Double Throw (SPDT)
Relay Rated Load : 2A at 32 VDC
Sensing Method : Triple IR
Operating Current : 1.8 Watts (Nominal)|12 Watts (max) = with heater ON 100% duty cycle.|2.4 Watts (Alarm)
Number of Relay Outputs : 3
Ingress Protection : IP66/67
Visual Indicators : LED halo light ring - Green, Yellow, Red
Replacement Parts : FS24XP-PUCK
Response Time : Typically, 5 Seconds and a maximum of 10 Seconds
Data Sheet
Name
Description
File Size
Date
Size
FS24X Plus - Data Sheet
application/pdf 157.45 KB
3/9/2023
157.45 KB
Manuals and Guides
Name
Description
File Size
Date
Size
FS24X Plus - Quick Reference Guide
application/pdf 12.42 MB
3/9/2023
12.42 MB
FS24X Plus - User Manual
application/pdf 6.57 MB
3/9/2023
6.57 MB
FS24X Plus - FM Performance Appendix
application/pdf 12.25 MB
3/9/2023
12.25 MB
FS24X Plus - Safety Manual
application/pdf 4.86 MB
4/27/2023
4.86 MB
Software
Name
Description
File Size
Date
Size
FS24X Plus - Hart FDI
application/zip 19.26 MB
5/12/2023
19.26 MB
FS24X Plus - Hart EDD
application/zip 199.57 KB
5/12/2023
199.57 KB
Honeywell FlameManager V2.07.9
application/zip 23.32 MB
2/15/2023
23.32 MB
Brochure
Name
Description
File Size
Date
Size
FS24X Plus - Brochure
application/pdf 2.96 MB
3/9/2023
2.96 MB
Name
Description
File Size
Date
Size
Name
Description
File Size
Date
Size
FS24X Plus - Data Sheet
157.45 KB
3/9/2023
FS24X Plus - Quick Reference Guide
12.42 MB
3/9/2023
FS24X Plus - User Manual
6.57 MB
3/9/2023
FS24X Plus - FM Performance Appendix
12.25 MB
3/9/2023
FS24X Plus - Safety Manual
4.86 MB
4/27/2023
FS24X Plus - Hart FDI
19.26 MB
5/12/2023
FS24X Plus - Hart EDD
199.57 KB
5/12/2023
Honeywell FlameManager V2.07.9
23.32 MB
2/15/2023
FS24X Plus - Brochure
2.96 MB
3/9/2023