General Purpose Handheld
HH492 Handheld 2D Area-Imaging Performance Scanner
HH492 is designed for business environment requiring fast scanning solution with industrial grade durability, delivering optimal scanning capabilities.
Overview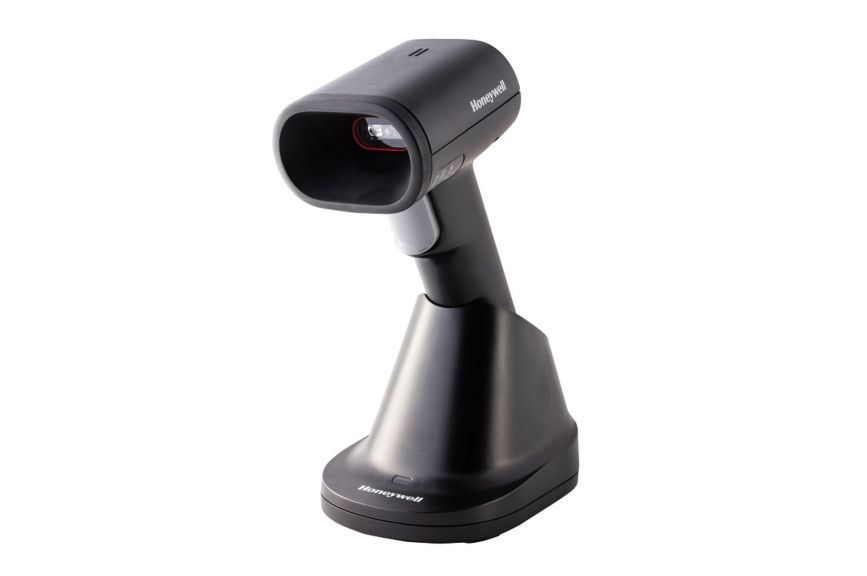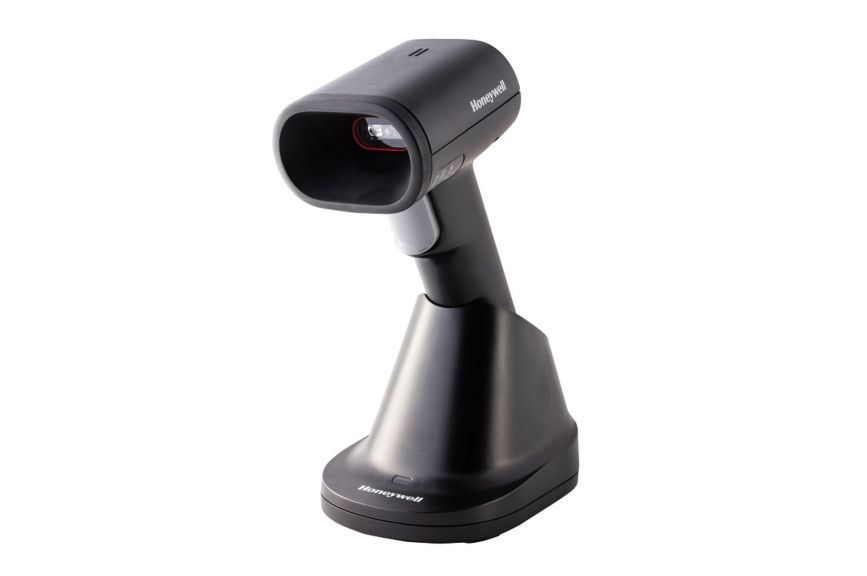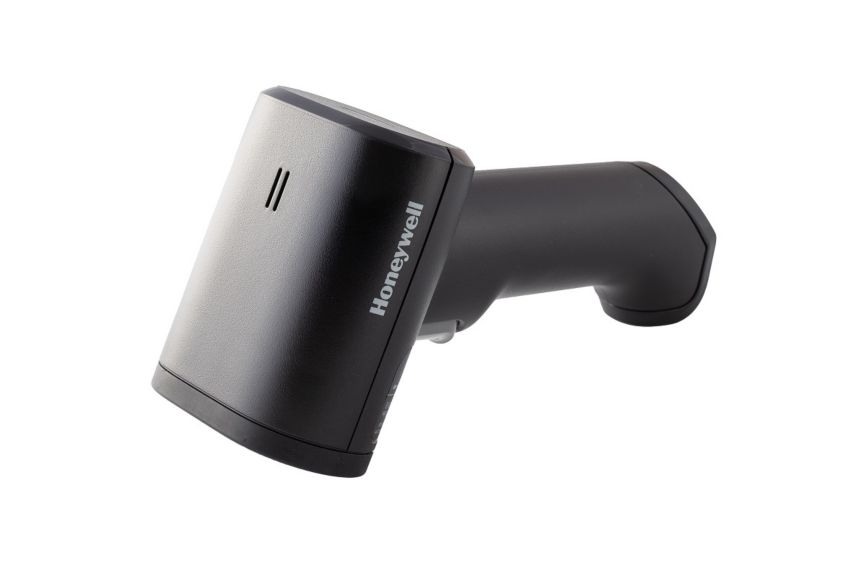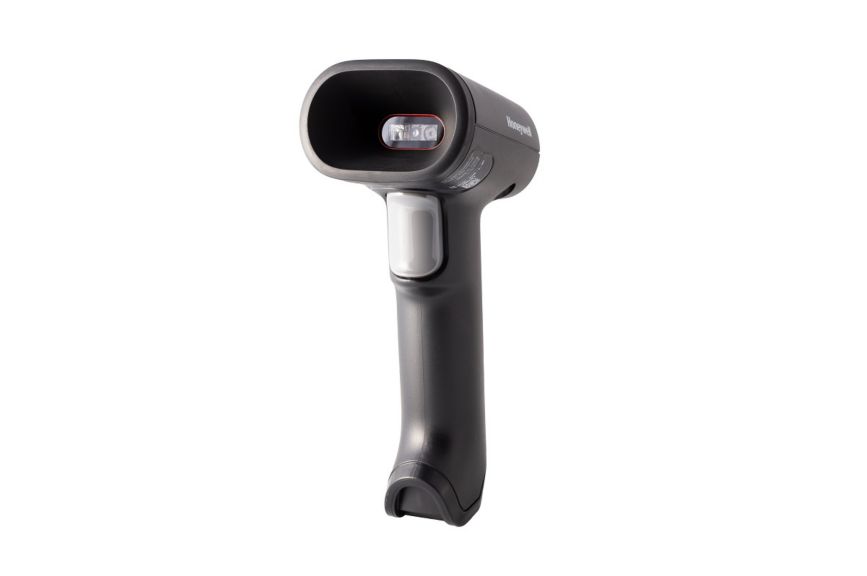 As Honeywell's new-generation 2D image wireless scanner, HH492 integrates GEN7 platform and 1472 module to decode all standard 1D/2D barcodes. The base allows for data transmission through the BLE module while also charging the device. These key features make the HH492 a valuable asset in inventory management in government departments, distribution centers express delivery outlets, retail, where fast barcode scanning and identification are required.

The Honeywell HH492 makes scanning easier and faster helping users quickly obtain data and minimizing input errors, which allows for increased productivity and simplified workflow.
Dimensions
Overall Dimensions

Charger/Communication Base: 130 mm x 86 mm x 85 mm (5.1 in x 3.4 in x 3.3 in)

Dimensions (L x W x H): 64 mm x 166 mm x 84 mm (2.5 in x 6.5 in x 3.3 in
Scanning Specifications
Decode Capability
Motion Tolerance

25cm/s (9.8in/s) for 13 mil UPC at optimal focus

Number of Scans

Up to 50,000 scans per charge

Scanning Range

Max: 400mm for 13 mil UPC

Min: 5mm for 20 mil QR

Depth of Field

Up to 400mm for 13 mil UPC

Scan Pattern

Area Imager CMOS (1040 x 720 pixel array)
Network
Bluetooth Specifications
Bluetooth
Hardware
Wireless
Host System Interface
Engine Type
Aimer Type
Environmental
Storage Temperature Range

Scanner/Communication Base: -40°C to 60°C (-40°F to 140°F)

Operating Humidity

0% to 95% relative humidity
Standards & Approvals
Drop Specifications

Communication Base: 1.0m (3.3ft) concrete floor

Scanner: 1.5m (4.9ft) concrete floor

Protection Ratings
Others
For Use With

Charge and Communication base

USB Dongle

Form Factor

Charger/Communication Base: 130 mm x 86 mm x 85 mm (5.1 in x 3.4 in x 3.3 in)

Dimensions (L x W x H): 64 mm x 166 mm x 84 mm (2.5 in x 6.5 in x 3.3 in

Application
Battery Capacity
Operating Power

2.5 W (500mA @ 5V USB input)

5W (1000mA @ 5V Adaptor input)

Operating Temperature

Communication Base: Charging: 5°C to 40°C (41°F to 104°F) Non-Charging: 0°C to 50°C (32°F to 122°F)

Scanner: Charging: 5°C to 40°C (41°F to 104°F) Non-Charging: -20°C to 50°C (-4°F to 122°F)

Warranty Duration
Power Connector Type

Charge and Communication base

USB Dongle
Dimensions
Overall Dimensions

Charger/Communication Base: 130 mm x 86 mm x 85 mm (5.1 in x 3.4 in x 3.3 in)

Dimensions (L x W x H): 64 mm x 166 mm x 84 mm (2.5 in x 6.5 in x 3.3 in
Scanning Specifications
Motion Tolerance

25cm/s (9.8in/s) for 13 mil UPC at optimal focus

Number of Scans

Up to 50,000 scans per charge

Scanning Range

Max: 400mm for 13 mil UPC

Min: 5mm for 20 mil QR

Depth of Field

Up to 400mm for 13 mil UPC

Scan Pattern

Area Imager CMOS (1040 x 720 pixel array)
Environmental
Storage Temperature Range

Scanner/Communication Base: -40°C to 60°C (-40°F to 140°F)

Operating Humidity

0% to 95% relative humidity
Standards & Approvals
Drop Specifications

Communication Base: 1.0m (3.3ft) concrete floor

Scanner: 1.5m (4.9ft) concrete floor
Others
For Use With

Charge and Communication base

USB Dongle

Form Factor

Charger/Communication Base: 130 mm x 86 mm x 85 mm (5.1 in x 3.4 in x 3.3 in)

Dimensions (L x W x H): 64 mm x 166 mm x 84 mm (2.5 in x 6.5 in x 3.3 in

Operating Power

2.5 W (500mA @ 5V USB input)

5W (1000mA @ 5V Adaptor input)

Operating Temperature

Communication Base: Charging: 5°C to 40°C (41°F to 104°F) Non-Charging: 0°C to 50°C (32°F to 122°F)

Scanner: Charging: 5°C to 40°C (41°F to 104°F) Non-Charging: -20°C to 50°C (-4°F to 122°F)

Power Connector Type

Charge and Communication base

USB Dongle
For Use With : Charge and Communication base|USB Dongle
Form Factor : Charger/Communication Base: 130 mm x 86 mm x 85 mm (5.1 in x 3.4 in x 3.3 in)|Dimensions (L x W x H): 64 mm x 166 mm x 84 mm (2.5 in x 6.5 in x 3.3 in
Application : Manufacturing|Retail|T&L
Overall Dimensions : Charger/Communication Base: 130 mm x 86 mm x 85 mm (5.1 in x 3.4 in x 3.3 in)|Dimensions (L x W x H): 64 mm x 166 mm x 84 mm (2.5 in x 6.5 in x 3.3 in
Decode Capability : 1D|2D|DotCode|PDF
Motion Tolerance : 25cm/s (9.8in/s) for 13 mil UPC at optimal focus
Number of Scans : Up to 50,000 scans per charge
Scanning Range : Max: 400mm for 13 mil UPC|Min: 5mm for 20 mil QR
Depth of Field : Up to 400mm for 13 mil UPC
Scan Pattern : Area Imager CMOS (1040 x 720 pixel array)
Bluetooth Specifications : 5.0
Host System Interface : HID|USB
Engine Type : Area Imager Scanning
Battery Capacity : 2730 mAh
Operating Power : 2.5 W (500mA @ 5V USB input)|5W (1000mA @ 5V Adaptor input)
Storage Temperature Range : Scanner/Communication Base: -40°C to 60°C (-40°F to 140°F)
Operating Temperature : Communication Base: Charging: 5°C to 40°C (41°F to 104°F) Non-Charging: 0°C to 50°C (32°F to 122°F)|Scanner: Charging: 5°C to 40°C (41°F to 104°F) Non-Charging: -20°C to 50°C (-4°F to 122°F)
Operating Humidity : 0% to 95% relative humidity
Drop Specifications : Communication Base: 1.0m (3.3ft) concrete floor|Scanner: 1.5m (4.9ft) concrete floor
Protection Ratings : IP40
Warranty Duration : 3 years
Power Connector Type : Charge and Communication base|USB Dongle
Data Sheet
Name
Description
File Size
Date
Size
HH492 Scanner Data Sheet - EN
application/pdf 64.13 KB
8/7/2023
64.13 KB
Manuals and Guides
Name
Description
File Size
Date
Size
Quick Start Guide: HH492 (HH492-EN-QS-01 Rev B)
application/pdf 202.1 KB
9/27/2023
202.1 KB
User Guide: HH492 - English (HH492-EN-UG-01 Rev B)
application/pdf 1.57 MB
9/27/2023
1.57 MB
Regulatory Information
Name
Description
File Size
Date
Size
HH492VGA OSS License
application/pdf 8.39 MB
10/18/2023
8.39 MB
Name
Description
File Size
Date
Size
Name
Description
File Size
Date
Size
HH492 Scanner Data Sheet - EN
64.13 KB
8/7/2023
Quick Start Guide: HH492 (HH492-EN-QS-01 Rev B)
202.1 KB
9/27/2023
User Guide: HH492 - English (HH492-EN-UG-01 Rev B)
1.57 MB
9/27/2023
HH492VGA OSS License
8.39 MB
10/18/2023

HH492-R1-1USB
Scanner KIT,HH492,Wireless,2D,BLK,Charge and Communication Base(Base-100-2-492),1.5m USB CBL(50177360-001),India

HH492-R1-1USB-5
Scanner KIT,HH492,Wireless,2D,BLK,Charge and Communication Base(Base-100-2-492),1.5m USB CBL(50177360-001)

HH492-R1-1USB-5-I
HH492,Wireless,2D,BLK,Charge and Communication Base(Base-100-2-492),1.5m USB CBL(50177360-001),India

HH492-R1-1USB-I
Scanner KIT,HH492,Wireless, 2D,BLK,DONGLE, 1.5m USB CBL(50177348-001) for Charging, India

HH492-R1-1USB
Scanner KIT,HH492,Wireless,2D,BLK,Charge and Communication Base(Base-100-2-492),1.5m USB CBL(50177360-001),India

HH492-R1-1USB-5
Scanner KIT,HH492,Wireless,2D,BLK,Charge and Communication Base(Base-100-2-492),1.5m USB CBL(50177360-001)

HH492-R1-1USB-5-I
HH492,Wireless,2D,BLK,Charge and Communication Base(Base-100-2-492),1.5m USB CBL(50177360-001),India

HH492-R1-1USB-I
Scanner KIT,HH492,Wireless, 2D,BLK,DONGLE, 1.5m USB CBL(50177348-001) for Charging, India