General Purpose Handheld
Voyager 1400g General Duty Scanner
Voyager 1400g General Duty Scanner
Overview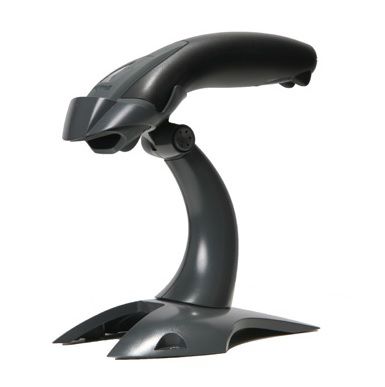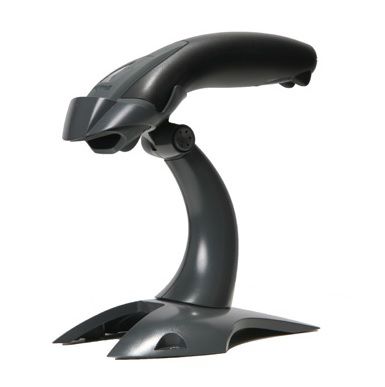 The Voyager™: 1400g upgradeable scanner lets you ramp up to area-imaging at your own pace –: and in the most cost-effective way. Buy the 1D version today and reserve the option to affordably upgrade the device to enable PDF and 2D barcode scanning at any point in the future, as your data capture needs evolve.
Remote MasterMindTM Ready: Reduces total cost of ownership by providing a turnkey remote device management solution that easily manages and tracks usage of installed devices.
Flexible Licensing Solution: Meets diverse scanning requirements by offering models with basic functionality –: purchase software licenses to enable additional functionality as the need arises.
Future-Proof: Delivers affordable scanning of 2D barcodes, allowing enterprises to meet their current and future barcode scanning needs with a single device.
Reliable Data Collection: Offers omnidirectional reading of virtually all linear barcodes and the most widely used 2D barcodes, including poor-quality and mobile barcodes (2D decoding available in select models).
Across many industries, 2D barcoding is becoming the new standard. Not only is it possible to hold much more data in a 2D code, but government regulations and supplier mandates are requiring their adoption.Enterprises are also looking to leverage emerging trends that require area-imaging technology –: today or in the near future –: without the need to purchase additional scanning hardware, or settle for reduced scanning performance.The Voyager 1400g wired scanner allows enterprises to embrace area imaging at their own pace, and in the most cost-effective way.The Voyager 1400g scanner delivers omnidirectional reading of linear barcodes, plus the ability to affordably upgrade the devices to enable PDF and 2D barcode scanning –: either at the time of purchase, or as your data capture needs evolve.And for those who only need the ability to read linear and 2D barcodes, the Voyager 1400g is an ideal solution.By excluding additional area-imaging features such as advanced image capture and processing applications, Honeywell can keep costs down while still offering aggressive linear and 2D scanning at an attractive price.The Voyager 1400g scanner is an excellent value for enterprises that require the versatility of area-imaging technology today or may need it in the future.
Features
Features

Mobile Phone Reading

Upgradeable Decode Capability
Dimensions
Overall Dimensions

18 x 6.6 x 4.3 cm

7.1 x 2.6 x 1.7 in
Scanning Specifications
Skew
Decode Capability
Motion Tolerance

Up to 10 cm/s (4 in/s) for 13 mil UPC at optimal focus

Scanning Range
Print Contrast
Depth of Field
Scan Pattern
Brightness
Pitch
Network
Bluetooth Specifications
Bluetooth
Hardware
Host System Interface
Engine Type
Aimer Type
Wireless
Environmental
Storage Temperature Range

- 40 - 140 °F

- 40 - 60 °C

Operating Humidity
Standards & Approvals
Drop Specifications

30 1.5 m (5 ft) drops to concrete

Protection Ratings
Others
Form Factor
Operating Power
Input Voltage
Operating Temperature
Warranty Duration
Brand
Power Connector Type
Features
Features

Mobile Phone Reading

Upgradeable Decode Capability
Dimensions
Overall Dimensions

18 x 6.6 x 4.3 cm

7.1 x 2.6 x 1.7 in
Scanning Specifications
Motion Tolerance

Up to 10 cm/s (4 in/s) for 13 mil UPC at optimal focus
Environmental
Storage Temperature Range

- 40 - 140 °F

- 40 - 60 °C
Standards & Approvals
Drop Specifications

30 1.5 m (5 ft) drops to concrete
Features : Mobile Phone Reading|Upgradeable Decode Capability
Overall Dimensions : 18 x 6.6 x 4.3 cm|7.1 x 2.6 x 1.7 in
Decode Capability : 1D/2D
Motion Tolerance : Up to 10 cm/s (4 in/s) for 13 mil UPC at optimal focus
Scanning Range : Standard range (SR)
Depth of Field : 1 - 14 in
Scan Pattern : Area Image
Brightness : 0 - 100000 lux
Bluetooth Specifications : N/A
Host System Interface : KBW|RS-232|RS-485|USB
Engine Type : 1D Upgradable|2D|PDF
Input Voltage : 4 - 5.5 V DC
Storage Temperature Range : - 40 - 140 °F|- 40 - 60 °C
Operating Temperature : 0 - 40 °C|32 - 104 °F
Operating Humidity : 0 - 95 %
Drop Specifications : 30 1.5 m (5 ft) drops to concrete
Protection Ratings : IP42
Power Connector Type : Corded
Data Sheet
Name
Description
File Size
Date
Size
Voyager 1400g Area-Imaging Scanner Data Sheet
application/pdf 132.22 KB
10/7/2021
132.22 KB
Manuals and Guides
Name
Description
File Size
Date
Size
User Guide: Network and Security for Honeywell Scanners (ALLSKU-SC-EN-SG-01 Rev A)
application/pdf 1.16 MB
11/17/2023
1.16 MB
Voyager 1400g Series Corded Area-Imaging Scanner Quick Start Guide (VG1400-QS, Rev A)
application/pdf 515.05 KB
10/7/2021
515.05 KB
Voyager 1400g Series Area-Imaging Scanner User's Guide - English
application/pdf 1.88 MB
10/7/2021
1.88 MB
Linux Keyboard Layouts for Honeywell scanners (KBDCTY-L-EN-AD-01 Rev C)
application/pdf 197.41 KB
4/10/2023
197.41 KB
Regulatory Information
Name
Description
File Size
Date
Size
Regulatory Sheet: Voyager 1400 (RegSht-1400-02 Rev A)
application/pdf 938.24 KB
2/16/2023
938.24 KB
Name
Description
File Size
Date
Size
Name
Description
File Size
Date
Size
Voyager 1400g Area-Imaging Scanner Data Sheet
132.22 KB
10/7/2021
User Guide: Network and Security for Honeywell Scanners (ALLSKU-SC-EN-SG-01 Rev A)
1.16 MB
11/17/2023
Voyager 1400g Series Corded Area-Imaging Scanner Quick Start Guide (VG1400-QS, Rev A)
515.05 KB
10/7/2021
Voyager 1400g Series Area-Imaging Scanner User's Guide - English
1.88 MB
10/7/2021
Linux Keyboard Layouts for Honeywell scanners (KBDCTY-L-EN-AD-01 Rev C)
197.41 KB
4/10/2023
Regulatory Sheet: Voyager 1400 (RegSht-1400-02 Rev A)
938.24 KB
2/16/2023

1400G1D-2USB
1400G Scanner, 1D Black, USB Kit

1400G1D-2USB-1
1400G Scanner, 1D Black, USB Kit, Pres. Stand

1400G2D-2USB-EZ
1400G Scanner, 2D Black, USB Kit, EZ Software

1400G2D-2USB-TFDL
1400G Scanner, 2D Black, USB Kit, EZDL

1400G1D-2USB
1400G Scanner, 1D Black, USB Kit

1400G1D-2USB-1
1400G Scanner, 1D Black, USB Kit, Pres. Stand

1400G2D-2USB-EZ
1400G Scanner, 2D Black, USB Kit, EZ Software

1400G2D-2USB-TFDL
1400G Scanner, 2D Black, USB Kit, EZDL