Industrial
PM65 Industrial Printer
The Honeywell PM65 industrial printer offers high quality printing along with remote configuration and diagnostics functionalities that increase production efficiency and supply chain transparency.
Overview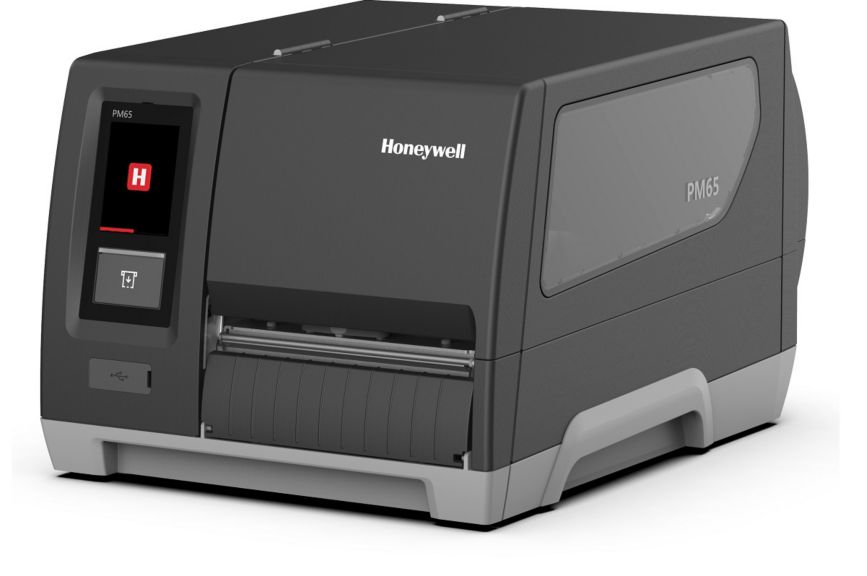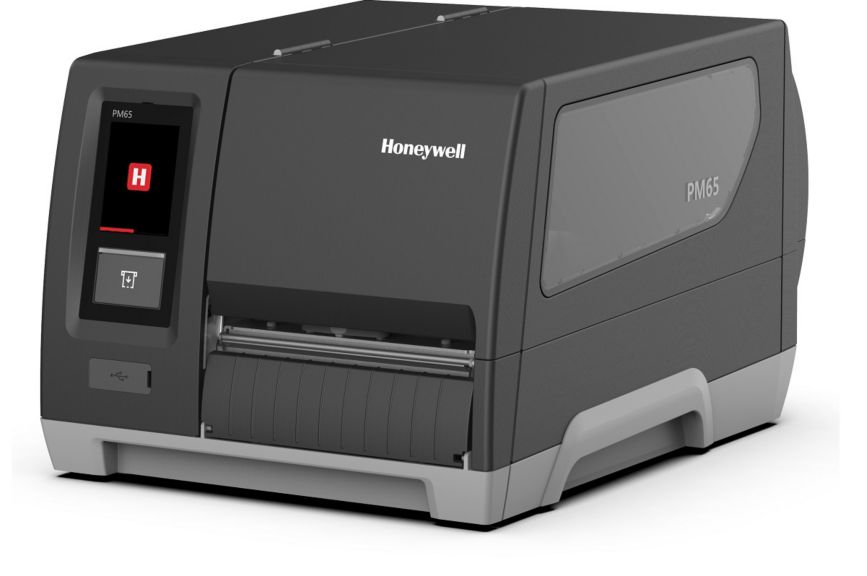 Efficiency and reliability of printing operations are essential for successful workflows. Honeywell Printer Edge™ provides centralized management and real-time monitoring of your printer network and may help reduce printer downtime and improve the speed and accuracy of printer operations. With effortless integration, a user-friendly interface, enhanced security, and
a single software toolkit, you can keep your operations running smoothly while helping reduce costs and maximize productivity.
The PM65 supports printer remote control, so you can see and control the printers from a remote computer and provide real-time diagnosis and technical support. Print Set MC application enables you to quickly connect and configure the printers from your preferred Android™ or iOS device, and optional Honeywell Operational Intelligence enables the printers with the capability of remote management for issues diagnostics and output performance tracking.
The PM65 includes WWAN connectivity to enable deployment with minimal limitation from site network topology. These printers are also scalable to incorporate RFID, parallel, industrial, and applicator interfaces to address your unpredictable business needs in the future.
The PM65 can support a wide range of media – including ink-in and ink-out ribbons with one-inch core size – enhancing the time between media resupply. The PM65 printer is easy replacement for existing Honeywell or mixed printers. Rugged, all-metal print mechanism, easy printhead, and tool-free platen roller replacement, help minimize downtime and maintenance needs.
Features
Compatible Software

BarTender

Nicelabel

Operational Intelligence

SOTI Connect

Teklynx Labelview

Compatible Drivers

CUPS Driver for Linux

Certified Device Types for SAP

InterDriver Windows

Application

Automative

Manufacturing

Oil&Gas

Warehouse and distribution center

Features

Broad connectivity options

Ingenious construction
Dimensions
Overall Dimensions

L x H x W: 484 mm x 292mm x 350 mm (19.1 in x 11.5 in x 13.8 in)

Weight

13.7 kg (30.2lbs) kilogram
Software & Firmware
Downloadable Font Type

Bitmap Font

OpenType Font (TrueType based)

TrueType Font

Linear Barcodes
2D Barcodes
Printer Command Language

C# Smart Printing

DPL

Direct Protocol (DP)

Fingerprint (FP)

Intermec Printer Language (IPL)

PDF

XML-enabled for SAP AII and Oracle WMS

ZSim2 (ZPL-II)

Image File Format
Font Engine

Monotype Font Engine

WTLE for Global Language Support
Printing Specifications
Print Speeds
Print Method

Direct Thermal

Thermal Transfer

Resolutions
Media
Maximum Ribbon Length
Printer Media Type
Maximum Media Roll Diameter
Network
Wireless Communication

IEEE 802.11 a/b/g/n/ac/ax

WWAN Radio

dynamic, EAP PEAP,EAP TTLS, LEAP, EAP FAST, EAP TLS

Bluetooth Specifications
Network Specifications
RFID Specifications
Memory & Data
Memory

External Multi-GB USB memory device (FAT16/FAT32)

Flash Memory
RAM Memory
Hardware
Printer Connection Interface

Applicator Interface

Industrial interface

Parallel Interface (IEEE 1284)

RS-232

USB 2.0 Host x2
Electrical
Operating Frequency
Operating Voltage
Environmental
Operating Temperature

+5°C to +40°C (+41°F to +104°F)

Operating Humidity
Storage Temperature

-20°C to +70°C (-4°F to +152°F)

Storage Humidity
Service Terms
Warranty Duration

One year factory warranty
Features
Compatible Software

BarTender

Nicelabel

Operational Intelligence

SOTI Connect

Teklynx Labelview

Compatible Drivers

CUPS Driver for Linux

Certified Device Types for SAP

InterDriver Windows

Application

Automative

Manufacturing

Oil&Gas

Warehouse and distribution center

Features

Broad connectivity options

Ingenious construction
Dimensions
Overall Dimensions

L x H x W: 484 mm x 292mm x 350 mm (19.1 in x 11.5 in x 13.8 in)

Weight

13.7 kg (30.2lbs) kilogram
Software & Firmware
Downloadable Font Type

Bitmap Font

OpenType Font (TrueType based)

TrueType Font

Printer Command Language

C# Smart Printing

DPL

Direct Protocol (DP)

Fingerprint (FP)

Intermec Printer Language (IPL)

PDF

XML-enabled for SAP AII and Oracle WMS

ZSim2 (ZPL-II)

Font Engine

Monotype Font Engine

WTLE for Global Language Support
Printing Specifications
Print Method

Direct Thermal

Thermal Transfer
Media
Maximum Media Roll Diameter
Network
Wireless Communication

IEEE 802.11 a/b/g/n/ac/ax

WWAN Radio

dynamic, EAP PEAP,EAP TTLS, LEAP, EAP FAST, EAP TLS
Memory & Data
Memory

External Multi-GB USB memory device (FAT16/FAT32)
Hardware
Printer Connection Interface

Applicator Interface

Industrial interface

Parallel Interface (IEEE 1284)

RS-232

USB 2.0 Host x2
Environmental
Operating Temperature

+5°C to +40°C (+41°F to +104°F)

Storage Temperature

-20°C to +70°C (-4°F to +152°F)
Service Terms
Warranty Duration

One year factory warranty
Compatible Software : BarTender|Nicelabel|Operational Intelligence|SOTI Connect|Teklynx Labelview
Compatible Drivers : CUPS Driver for Linux|Certified Device Types for SAP|InterDriver Windows
Application : Automative|Manufacturing|Oil&Gas|Warehouse and distribution center
Features : Broad connectivity options|Ingenious construction
Overall Dimensions : L x H x W: 484 mm x 292mm x 350 mm (19.1 in x 11.5 in x 13.8 in)
Weight : 13.7 kg (30.2lbs) kilogram
Downloadable Font Type : Bitmap Font|OpenType Font (TrueType based)|TrueType Font
Linear Barcodes : All major 1D barcodes
Print Speeds : 50-300mm/s (2-12 ips)
Print Method : Direct Thermal|Thermal Transfer
Resolutions : 203 dpi|300 dpi
2D Barcodes : All major 2D barcodes
Maximum Ribbon Length : 450 m (1476 ft) foot
Printer Media Type : Label|Linered|RFID|Tag
Wireless Communication : IEEE 802.11 a/b/g/n/ac/ax|WWAN Radio|dynamic, EAP PEAP,EAP TTLS, LEAP, EAP FAST, EAP TLS
Printer Command Language : C# Smart Printing|DPL|Direct Protocol (DP)|Fingerprint (FP)|Intermec Printer Language (IPL)|PDF|XML-enabled for SAP AII and Oracle WMS|ZSim2 (ZPL-II)
Memory : External Multi-GB USB memory device (FAT16/FAT32)
Image File Format : BMP|GIF|PCX|PNG
Flash Memory : 512 MB megabyte
RAM Memory : 256 MB megabyte
Printer Connection Interface : Applicator Interface|Industrial interface|Parallel Interface (IEEE 1284)|RS-232|USB 2.0 Host x2
Operating Frequency : 50 - 60 Hz
Operating Voltage : 100 - 240 V AC
Operating Temperature : +5°C to +40°C (+41°F to +104°F)
Operating Humidity : 20 - 85 % non-condensing
Warranty Duration : One year factory warranty
Maximum Media Roll Diameter : 213 mm (8.38 in) inch
Bluetooth Specifications : Bluetooth Classic 5.2
Network Specifications : Ethernet 10/100 Mbps
Storage Temperature : -20°C to +70°C (-4°F to +152°F)
RFID Specifications : RFID
Storage Humidity : 5 - 90 % non-condensing
Font Engine : Monotype Font Engine|WTLE for Global Language Support
Platform : Honeywell Printer Edge
Data Sheet
Name
Description
File Size
Date
Size
PM45/PM65 Series Printer Datasheet
application/pdf 119.95 KB
6/6/2023
119.95 KB
Manuals and Guides
Name
Description
File Size
Date
Size
PM45 and PM65 Industrial Printers Accessories Guide
application/pdf 525.07 KB
6/6/2023
525.07 KB
User Guide: Printer Network and Security (ALLSKU-PR-EN-SG-01 Rev F)
application/pdf 303.43 KB
6/13/2023
303.43 KB
Command Reference User Guide: IPL (IPL-EN-CR Rev C)
application/pdf 2.38 MB
6/14/2023
2.38 MB
Command Reference User Guide: ZSIM (ZSIM-EN-CR-01 Rev E)
application/pdf 661.97 KB
6/13/2023
661.97 KB
Command Reference Guide: Fingerprint (FP-EN-CR Rev A)
application/pdf 4.92 MB
6/13/2023
4.92 MB
User Guide: Honeywell Smart Printing Software Developer Kit (SDK-SP-EN-UG-01 REV E)
application/pdf 357.19 KB
8/16/2023
357.19 KB
Command Reference Guide: ESIM (ESIM-EN-CR-01 Rev B)
application/pdf 825.47 KB
6/13/2023
825.47 KB
Command Reference User Guide: DPL (DPL-EN-CR Rev E)
application/pdf 1.07 MB
6/13/2023
1.07 MB
Regulatory Information
Name
Description
File Size
Date
Size
Regulatory Sheet: PM65 Desktop Printer (PM65-ML-RS-01 Rev B)
application/pdf 2.81 MB
6/13/2023
2.81 MB
Brief
Name
Description
File Size
Date
Size
Application Brief: Print PDF Directly to Honeywell Printer (PRT-PDF-EN-AB-01 Rev C)
application/pdf 81.73 KB
6/13/2023
81.73 KB
Application Brief: Honeywell Device Types For Use With SAP® Systems (PRT-SAP-EN-AB-01 Rev D)
application/pdf 1.22 MB
6/13/2023
1.22 MB
Application Brief: CUPS Printing in Linux/UNIX® for Honeywell Printers (PRT-CUPS-EN-AB-01 Rev C)
application/pdf 74.17 KB
6/13/2023
74.17 KB
Name
Description
File Size
Date
Size
Name
Description
File Size
Date
Size
PM45/PM65 Series Printer Datasheet
119.95 KB
6/6/2023
PM45 and PM65 Industrial Printers Accessories Guide
525.07 KB
6/6/2023
User Guide: Printer Network and Security (ALLSKU-PR-EN-SG-01 Rev F)
303.43 KB
6/13/2023
Command Reference User Guide: IPL (IPL-EN-CR Rev C)
2.38 MB
6/14/2023
Command Reference User Guide: ZSIM (ZSIM-EN-CR-01 Rev E)
661.97 KB
6/13/2023
Command Reference Guide: Fingerprint (FP-EN-CR Rev A)
4.92 MB
6/13/2023
User Guide: Honeywell Smart Printing Software Developer Kit (SDK-SP-EN-UG-01 REV E)
357.19 KB
8/16/2023
Command Reference Guide: ESIM (ESIM-EN-CR-01 Rev B)
825.47 KB
6/13/2023
Command Reference User Guide: DPL (DPL-EN-CR Rev E)
1.07 MB
6/13/2023
Regulatory Sheet: PM65 Desktop Printer (PM65-ML-RS-01 Rev B)
2.81 MB
6/13/2023
Application Brief: Print PDF Directly to Honeywell Printer (PRT-PDF-EN-AB-01 Rev C)
81.73 KB
6/13/2023
Application Brief: Honeywell Device Types For Use With SAP® Systems (PRT-SAP-EN-AB-01 Rev D)
1.22 MB
6/13/2023
Application Brief: CUPS Printing in Linux/UNIX® for Honeywell Printers (PRT-CUPS-EN-AB-01 Rev C)
74.17 KB
6/13/2023
SKUs

PM65A00000000200
PM65A,ICON,ETH,F HGR,T203,US&EU PC

PM65A00000000210
PM65A,ICON,ETH,F HGR,D203,US&EU PC

PM65A00000000300
PM65A,ICON,ETH,F HGR,T300,US&EU PC

PM65A00000000310
PM65A,ICON,ETH,F HGR,D300,US&EU PC

PM65A10000000200
PM65A,FT,ETH,F HGR,T203,US&EU PC

PM65A10000000206
PM65,FT,ETH,F HGR,T203,CN&IN PC

PM65A10000000300
PM65A,FT,ETH,F HGR,T300,US&EU PC

PM65A10000000306
PM65,FT,ETH,F HGR,T300,CN&IN PC

PM65A10000030200
PM65A,FT,ETH,F HGR,REW+LTS,T203,US&EU PC

PM65A10000030206
PM65,FT,ETH,F HGR,REW+LTS,T203,CN&IN PC

PM65A00000000200
PM65A,ICON,ETH,F HGR,T203,US&EU PC

PM65A00000000210
PM65A,ICON,ETH,F HGR,D203,US&EU PC

PM65A00000000300
PM65A,ICON,ETH,F HGR,T300,US&EU PC

PM65A00000000310
PM65A,ICON,ETH,F HGR,D300,US&EU PC

PM65A10000000200
PM65A,FT,ETH,F HGR,T203,US&EU PC

PM65A10000000206
PM65,FT,ETH,F HGR,T203,CN&IN PC

PM65A10000000300
PM65A,FT,ETH,F HGR,T300,US&EU PC

PM65A10000000306
PM65,FT,ETH,F HGR,T300,CN&IN PC

PM65A10000030200
PM65A,FT,ETH,F HGR,REW+LTS,T203,US&EU PC

PM65A10000030206
PM65,FT,ETH,F HGR,REW+LTS,T203,CN&IN PC