Anchorage Systems
Söll MultiRail® Aluminium System
The Söll MultiRail® Aluminium Horizontal Rail System conforms to the latest European standard EN 795:2012 type D and CEN/TS 16415:2013 regulations for horizontal anchor devices.
Overview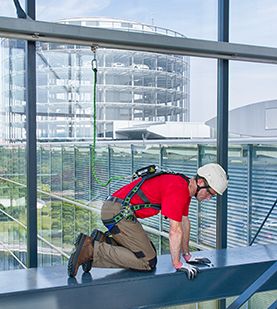 Key Features
Key features
The Söll MultiRail® Aluminium Horizontal Rail System conforms to the latest European standard EN 795:2012 type D and CEN/TS 16415:2013 regulations for horizontal anchor devices. Söll MultiRail Aluminium is not only for installation at foot level or overhead but can also be installed sideways for use as a handrail. The high quality aluminium system provides the best price-quality solution for low-corrosive work environments.
Söll MultiRail Aluminium System offers an adapted solution for any industrial building or wind energy turbine. The elegant design of the aluminium solution makes it an aesthetic safety solution for commercial and historical buildings.
Various fixation possibilities are available for different structures. Just a few bolts and tools are required for a quick and easy assembly of the rail system.

Söll MultiRail Aluminium provides fall protection for up to 6 workers across a maximum span of 6m, depending on the rail configuration. If a fall occurs, this effective system ensures that structural damage is prevented through energy absorption by the several intermediate brackets and the end-fixing devices.

Four different runners ensure smooth movement of the worker along the rail: closed runner for frequent use of the same rail, openable runner for flexible use on several rail systems, wheeled runner for overhead applications and a lockable runner for working situations where the shuttle should not move.
Robust rail system that is quick and easy to install

In case of a fall, the energy is reduced by the bending of the rail, thereby the structure remains protected. The low friction mounting brackets transmit in the event of a fall the absolute minimum impact to the structure. In conformity with the EN795:2012 standard, the rail can absorb forces up to 70 kg without permanent deformation.
The rail is not fixed into mounting brackets and therefore compensates for thermal expansion. Easy connection of curves, T- and X-junctions, allow the system to be easily customized to any structure.
A worker connected to the Söll MultiRail Aluminium system can pass safely along vertical sections up to 1 m high. 
The Söll MultiRail Aluminium horizontal anchor device is often used in the following sectors:
• Flat or steep roofs
• Working platforms on masts and buildings
• Hangars, shipyards, cranes
• Industrial plants
• Wind nacelles
• Water treatment
Söll MultiRail Aluminium can also be used as an overhead solution in combination with a self retractable lifeline attached to a wheeled shuttle for example in following applications:
• Truck cleaning
• Maintenance
• Loading bay
Hazards
Regulations
Conforms to EN 795:2012 type D standard
Warranty Information
We sincerely believe that our fall protection equipment is the best in the world. Our products endure rigorous test to ensure that the fall protection equipment you trust is manufactured to the highest standards. Miller fall protection products are tested to withstand normal wear and tear, but are not indestructible and can be damaged by misuse. Our warranty does not apply to abusive treatment of the product. In the unlikely event that you should discover defects in either workmanship or materials, under our warranty of one year after delivery, we will repair or replace the product at our expense. If a replacement is necessary and your product is no longer available, a comparable product will be substituted. Should a product issue surface, contact us at +33 248 53 08 97 (France, Spain, Portugal, North Africa) or +49 9281 8302 0 (Northern and Central Europe, Italy). Manufacturing specifications are subject to change without notice.