Anchorage Systems
Söll Xenon® 2.0 Horizontal Lifeline System
Söll Xenon® 2.0 HLL is an innovative height safety solution that conforms to new EN795:2012 standards and regulations.
Overview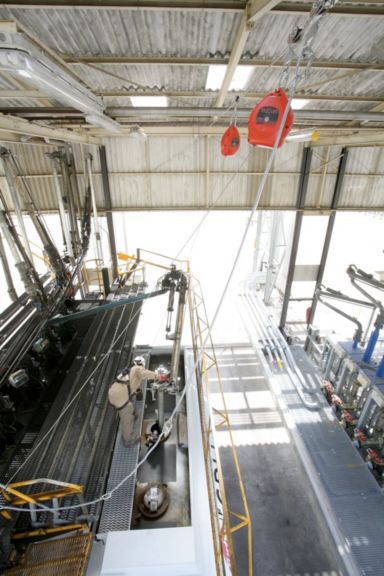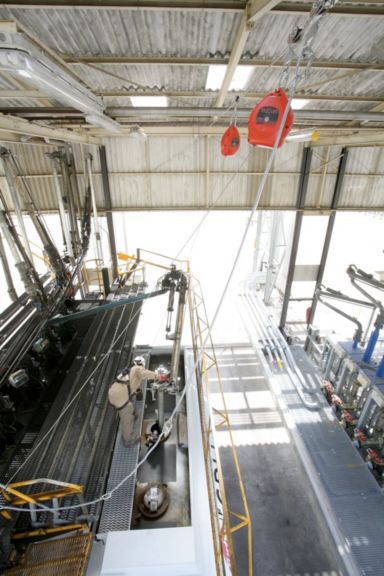 Key Features
The Söll Xenon® 2.0 Horizontal Lifeline System ensures that structural damage is prevented in case a fall occurs. The system also doubles as an anchorage point to easily rescue workers should they fall.
The Horizontal Lifeline System incorporates a unique, state-of-the-art shock absorber, which uses patented Miller 'Force-dispersal Technology' to provide fall protection for up to seven workers across a maximum span of 20m (1x19 cable, 8mm wide), depending on the line configuration.
The shock absorber takes the strain
The Söll Xenon multifunction shock absorber has been designed to disperse energy during a fall to protect both workers and the structure. Its patented 'Force-dispersal Technology' ensures that energy is distributed evenly when the shock absorber is deployed. The four-in-one device incorporates a tension indicator, a cable tensioner, an energy absorber and a fall indicator. Tensioning is quick and easy to do by rotating the shock absorber horizontally. Only one energy absorber is necessary for all installations, irrespective of whether it's an overhead or standard installation (on posts or against walls). The device is available with or without swages to suit the equipment available for installation.

Söll Xenon® automatic pass through shuttles
The ergonomically designed Miller shuttle self-aligns for smooth passthrough of intermediate and corner brackets. A double-locking mechanism ensures the shuttles are secure yet can still be operated with one hand.

Söll Xenon® intermediate brackets
These versatile brackets can be configured as free-floating, springloaded or locked. As the brackets are assembled on the cable it means they can easily be replaced.
ATEX certified Söll Xenon® overhead application
An appropriate selection of SKUs for an overhead installation of the Söll Xenon system has been additionally certified to be used in potentially explosive atmospheres (according to Directive 94/9/EC).
Recommended Industries/Use
Hazards
Regulations
Meets EN 795:2012 standard (and all applicable OSHA, ANSI and AS/NZS standards)
Warranty Information
We sincerely believe that our fall protection equipment is the best in the world. Our products endure rigorous test to ensure that the fall protection equipment you trust is manufactured to the highest standards. Miller fall protection products are tested to withstand normal wear and tear, but are not indestructible and can be damaged by misuse. Our warranty does not apply to abusive treatment of the product. In the unlikely event that you should discover defects in either workmanship or materials, under our warranty of one year after delivery, we will repair or replace the product at our expense. If a replacement is necessary and your product is no longer available, a comparable product will be substituted. Should a product issue surface, contact us at +33 248 53 08 97 (Southern Europe) or +49 9281 8302 0 (Northern Europe). Manufacturing specifications are subject to change without notice.