Harnesses, Belts & Accessories
Miller Amax.2 Full Body Sit Harness
The New AMAX.2 Harness is A work positioning harness with padded leg straps specially designed • for working in suspension for long periods of time.
Overview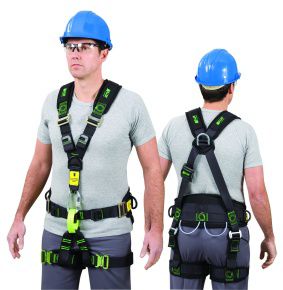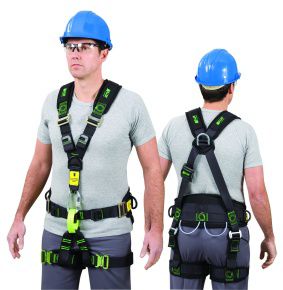 Key Features
Rear Dorsal Fall Arrest D‐Ring

Front fall Arrest D‐Ring

Work positioning kick out side D‐Rings for working with Pole Straps

Quick re‐lease buckles on leg straps and openable front for ease of donning

Extra wide back & removable shoulder pads offering greater support & comfort

when hanging or working for long periods of time.

Padded leg straps for increased comfort.

All padding complete with moisture absorbing 3D mesh panel

Contrasting colours on all load bearing sew patterns making it easier to inspect.

Tool loops to attach equipment temporarily when working at height

Fully adjustable waist and shoulder straps

Equipped with a label pack housing all relevant harness information including donning instructions, connection instructions, AS/NZS 1891.1 2007 certification and inspection grid.
Recommended Industries/Use
Hazards
Regulations
Certified to Australian and New Zealand Standards AS/NZS 1891.1 ‐ 2007
Warranty Information
MILLER FALL PROTECTION PRODUCT TOTAL SATISFACTION ASSURANCE At Sperian Protection, we have been providing quality Miller brand fall protection equipment to millions of workers worldwide since 1945. LIMITED LIFETIME WARRANTYBACKED BY OVER 60 YEARS IN THE FALL PROTECTION BUSINESS We sincerely believe that our fall protection equipment is the best in the world. Our products endure rigorous tests to ensure that the fall protection equipment you trust is manufactured to the highest standards. Miller fall protection products are tested to withstand normal wear and tear, but are not indestructible and can be damaged by misuse. Our Limited Lifetime Warranty does not apply to normal wear and tear or abusive treatment of the product. In the unlikely event that you should discover defects in either workmanship or materials, under our Limited Lifetime Warranty, we will repair or replace the product at our expense. If a replacement is necessary and your product is no longer available, a comparable product will be substituted. Should a product issue surface, contact us at 1300 139 166 (Aust customers) or 0800 322 200 (NZ customers) Manufacturing specifications are subject to change without notice.
Data Sheet
Name
Description
File Size
Date
Size
Miller Amax 2 Full Body Sit Harness Datasheet
application/pdf 261.13 KB
10/12/2021
261.13 KB
Name
Description
File Size
Date
Size
Miller Amax 2 Full Body Sit Harness Datasheet
261.13 KB
10/12/2021
261.13 KB
Name
Description
File Size
Date
Size
Miller Amax 2 Full Body Sit Harness Datasheet
261.13 KB
10/12/2021